Rutgers Welcomes Medical School Class of 2023 at White Coat Ceremonies
More than 300 students at Robert Wood Johnson Medical School and New Jersey Medical School donned their white coats for the first time this month as they began their journeys to becoming physicians.
"Wearing the white coat represents a commitment to upholding the standards of medicine, as set forth in the Hippocratic Oath," said Robert L. Johnson, interim dean of Rutgers Robert Wood Johnson Medical School (RWJMS) and dean of Rutgers New Jersey Medical School (NJMS). "It should serve as a reminder throughout the next four years of training to value humanism and practice compassion when caring for patients."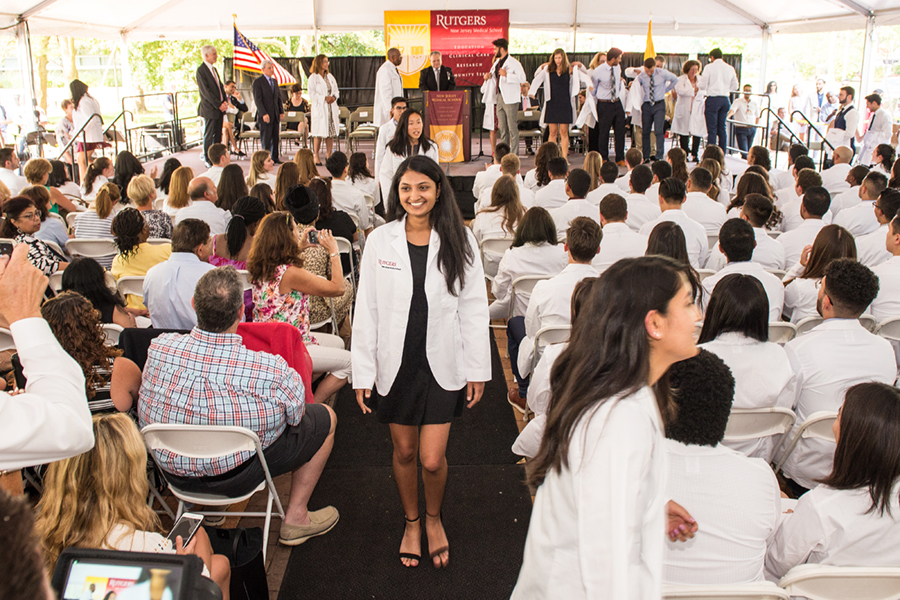 Students at New Jersey Medical School donned their white coats for the first time on Thursday (Photo: Keith Bratcher)
---
Johnson welcomed 165 students last week during the RWJMS ceremony that was held at The State Theater in New Brunswick. He was also scheduled to address 178 members of the Class of 2023 today during the Barbara and Norman Seiden white coat ceremony at New Jersey Medical School in Newark. Both medical schools were among the first in the nation to hold a white coat ceremony when they embraced the tradition in 1994.
Today, nearly all medical schools across the United States have adopted this tradition, and it remains a cherished rite of passage for students nationwide. Rutgers School of Dental Medicine will also hold its white coat ceremony on Aug. 14 for an incoming class of 129 students.
The white coat ceremonies at the medical schools mark the end of orientation for the incoming class and signifies the students' entrance into the medical profession. At both ceremonies, students recite the Hippocratic Oath where they agree to adhere to the high professional standards of patient care and the practice of medicine. 
The Class of 2023 is diverse in culture, as well as in experience. At NJMS, 22 percent of the incoming class comes from groups that are traditionally underrepresented in the medical fields. Members of the NJMS incoming class speak 35 different languages and represent 20 different countries and 17 states and hold degrees from some elite universities including New York University, Johns Hopkins, University of Virginia, Barnard College, Carnegie Mellon University, Columbia University, and Georgetown University, with the largest number of students – 51 – coming from Rutgers.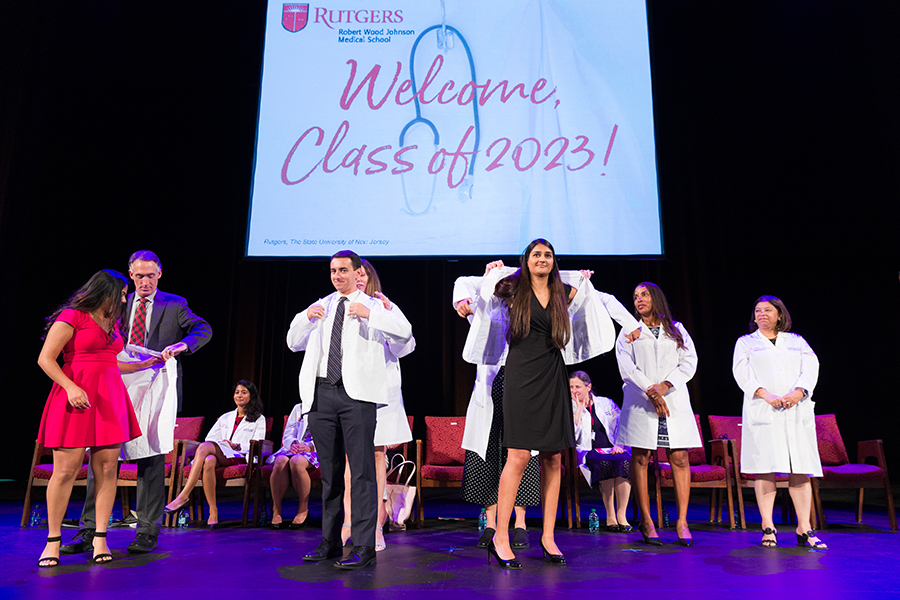 Members of the incoming class of Rutgers Robert Wood Johnson Medical School are coated by members of the faculty during the white coat ceremony. (Photo: Steve Hockstein)
---
Nearly half of the class at RWJMS pursued another career or advanced education between earning their undergraduate degree and becoming a medical student. Sixteen percent of the RWJMS class are entering with either master's or doctorate degrees, including four students who are part of the medical school's unique dual-degree program with Rutgers Ernest Mario School of Pharmacy, in which they earned a doctoral in pharmacy before matriculating at Robert Wood Johnson Medical School.
At NJMS, 17 percent of the class is entering with either master's or doctoral degrees, with three students enrolled in a new accelerated 3-year primary care track.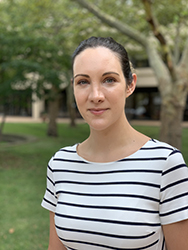 Service to the community – locally and globally – and mentorship are also common threads among the class, which includes 46 students at RWJMS who hold bachelor's degrees from Rutgers.
The class includes students like Richard Lisi III, of Cranston, Rhode Island, who will pursue a dual-degree in the RWJMS MD/MBA program. He was inspired to become a physician because of the care he received as a premature infant, born at 28 weeks and weighing less than 2 pounds.
"The sentiment shared by my family and I has been that the care I received in the NICU saved my life. Thus, becoming a doctor is my way of paying it forward," Lisi said. "I hope to transition from a medical student looking to learn medical knowledge to a young doctor looking to learn about people, and how medicine and health impact their daily life."
Kate Kim, of Chatham, New Jersey, also is looking forward to improving care by developing a bond with patients. "As a medical school student, I am really excited to learn the skills it takes to become an exceptional physician," said Kim, who explored other careers, including consulting for federal policymakers, before deciding to pursue medicine at RWJMS.
"I want to learn what it is like to have truly meaningful relationships with patients, how to handle challenging ethical scenarios, and how to simultaneously be a strong leader and supportive team member,'' Kim said. "I believe that my training and education and Robert Wood Johnson Medical School will allow me to gain the confidence to address any hurdle or challenge I experience along the way in my journey to becoming a physician."
The incoming class at NJMS also includes many standout students such as Beth Al Kik, who went to work as a firefighter and paramedic in her home state of Georgia after high school, when college seemed out of reach.
"I enjoyed serving the Atlanta community through my role in emergency medical services, but during my time training and working as a paramedic the calling to care for patients and have the resources to do more for them in the role of a physician became louder and louder,'' Al Kik said. "I was attracted to NJMS because of their clear commitment to humanism in medicine, which focuses on building a compassionate relationship between physicians and their patients.''
Al Kik said she wants to work in emergency medicine in underserved communities. "I believe NJMS's emphasis on humanism, relationships, and social justice will help me become the best possible physician and patient advocate,'' she said.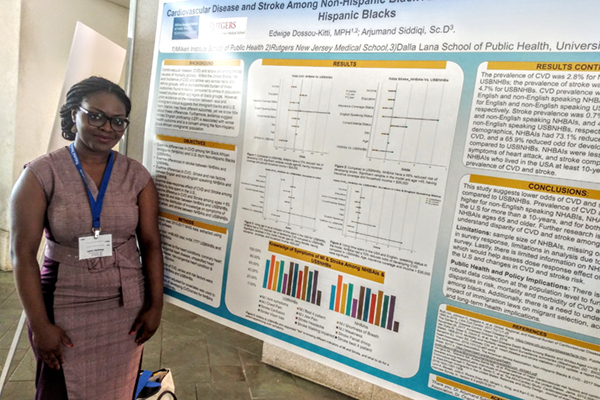 Her classmates include Edwige Dossou-Kitti, a first-generation student who is the first woman in her family to pursue higher education. She was selected as a fellow at the school's Healthcare Foundation Center for Humanism and Medicine. 
Dossou-Kitti, who emigrated from Togo to Brooklyn at age 6, is a strong advocate for victims of gender-based violence, including female genital mutilation, and was recently selected as a recipient of a Global Woman Award by the Global Peace Foundation. At NJMS she plans to advocate to have issues surrounding female genital mutilation incorporated into the curriculum.
"I anticipate expanding into researching different areas of health disparity, creating policy issues of disparity, and engaging in advocacy for those who are voiceless,'' Dossou-Kitti said. "I believe NJMS will help me achieve my goals of becoming a physician and an advocate for the underserved by providing me with the resources to develop the competencies expected from a physician, and by giving me numerous opportunities to engage with the Newark community early in my career.''
---
Watch a livestream of the NJMS white coat ceremony and watch the RWJMS ceremony.