University calls for support for 12 world-changing Rutgers-led projects to tackle public health, climate resilience, social justice, and more
In late 2018, Rutgers issued a challenge to its 23,000 faculty and staff: "Bring us your most imaginative, disruptive, and visionary proposals for bold initiatives that will positively transform our community and change the world."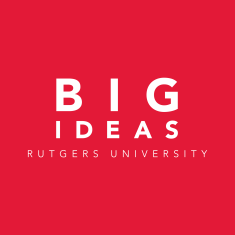 The initiative, called Big Ideas, prompted the submission of more than 200 world-changing proposals, covering a range of research disciplines, services, and locations. As part of the challenge, proposals had to be multidisciplinary and large-scale—valued from $5 million to more than $25 million—to be considered.
Of those 200+ submissions, 40 teams went on to pitch their projects at a symposium on October 4, 2019, before hundreds of community leaders, philanthropists, and innovators who gathered to learn more about how Rutgers was making the world a better place and fueling widespread, equitable societal change. They provided feedback to help refine the proposals.
In 2020, Rutgers President Jonathan Holloway, along with academic leaders and the chancellors at Rutgers University–New Brunswick, Rutgers University–Camden, Rutgers University–Newark, and Rutgers Biomedical and Health Sciences, deliberated to select the final 12 Big Ideas addressing the critical issues of our time, including public health, climate resilience, social justice, access to education, the human microbiome, artificial intelligence, and much more. 
"Most importantly, these Big Ideas have the capacity to improve the human condition," says Holloway. "By leveraging Rutgers' standing as an academic, health, and research powerhouse, our university is poised to lead the nation and world toward a more just and sustainable future. These projects could not come at a more critical time. At what may seem to be a dark hour in human history, Big Ideas promise to light a way forward."
"The solutions to the complex issues confronting us today will require interdisciplinary research, creative thought, and concerted action, including philanthropic investment," says Nevin E. Kessler, president of Rutgers University Foundation and executive vice president for development and alumni engagement. "We are grateful to the faculty and university leadership, students, alumni, donors, and supporters who have collaborated to advance Rutgers and tackle these grand challenges. This truly is a cooperative effort."
Advancing Urban Public Health: An Equity and Social Justice Approach
Alleviating health inequities by improving structures and systems
Dreams Fulfilled
Making a Rutgers education accessible, affordable, and successful for hard-working students
Minds and Machines
Using science and responsible innovation for public good in the age of intelligent tools
Earth 2100
Improving planetary stewardship through science and technology
The Center for COVID-19 Response and Pandemic Preparedness
Learning from our recent past and preparing, now, for what is to come
The Rutgers University Microbiome Program
Harnessing microbiomes to improve human health
Art Matters
Creating a center for socially engaged art and design
Cancer Immunology and Metabolism Center of Excellence at Rutgers Cancer Institute
Saving lives through cutting-edge cancer research and treatment
The Rutgers Advanced Institute for the Study of Entrepreneurship and Development
Fostering urban entrepreneurship through fundamental, applied research
The Rutgers Crime Lab Unit
Detecting and preventing crime through an innovative new approach
Rutgers Center for Healthy Aging
Improving population health by reshaping research, practice, and policy
Rutgers–Camden Innovation Community Hub: From Local to Global
Creating sustainable socio-economic growth in vulnerable communities