Rutgers University-New Brunswick Recognizes its Highest Academic Achievers
The top 2 percent of graduates inducted into the Matthew Leydt Society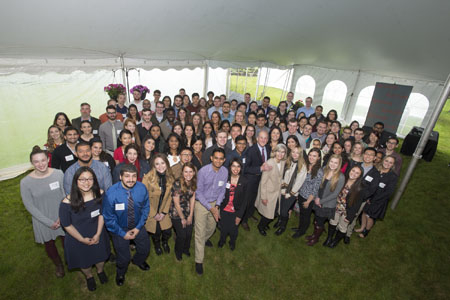 Rutgers top graduates were honored by university President Robert Barchi this weekend and inducted into the Matthew Leydt Society, which spotlights the highest academic achievers at New Jersey's only Big Ten University.
"You represent the top of your programs in terms of academic performance," Barchi told those who braved the inclement weather and attended an afternoon tea in a tent set up on the grounds of the home of the president and his wife, Francis, an assistant professor in the School of Social Work, on Saturday.  "We are very proud of you and your parents should be as well."
The society, launched in 2015, spotlights top graduates at Rutgers University-New Brunswick and the university's medical division, Rutgers Biomedical and Health Sciences. The afternoon event celebrated 171 students handpicked by the university for their achievement in the classroom, in laboratories and in the arts. The students ranked in the top 2 percent academically and were selected from about 8,600 undergraduates who earned degrees from Rutgers-New Brunswick and RBHS this academic year.
"It is always nice to be recognized by the university, come to these university events and see what other students at Rutgers have accomplished," said Jennifer Coulter, a Matthew Leydt inductee and physics major in the School of Arts and Sciences who graduated with three national graduate fellowships and will continue her education at Harvard University in the fall.
The Manasquan resident, who graduated with a 3.99 GPA, and is considered to be one of the most nationally recognized students in Rutgers history, was joined by Rutgers-New Brunswick graduates Vandana Apte, Alex Linn, Jennifer Noji and Linda Cook, who received fellowships and special honors before also being inducted into the Matthew Leydt Society.
"Given the thousands and thousands of students graduating this year and the small number in the Matthew Leydt Society, this recognition is a tribute to what you have been able to do," Barchi said, after telling the students that they should wear their society pins with pride.
The Matthew Leydt Society is named for the first and only 1774 graduate of Queen's College, New Brunswick. At that first commencement, Leydt delivered orations in Latin, Dutch and English and, after graduation, earned his license to enter the ministry of the Dutch Reformed Church. At Queen's College, he studied under Frederick Frelinghuysen, the college's first tutor, and Rev. Jacob Rutsen Hardenbergh, who would later become the college's first president in 1786.
In 1825 Queen's College was renamed Rutgers College in honor of Col. Henry Rutgers, a trustee and Revolutionary War veteran.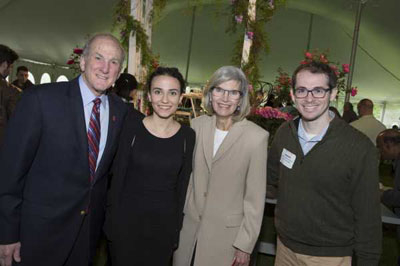 On Saturday afternoon Barchi told the 300 graduates and their guests who attended the commencement reception that his wife broached him about starting the honor society because she thought top achievers from Rutgers-New Brunswick, and not just from individual schools, needed to be recognized.
Many of those being honored agreed that receiving recognition outside of their individual schools made them feel more connected to others throughout the university.
"My biggest surprise being here is just how many people I don't know," said Priyesh Shah, who graduated from the School of Engineering with a 4.0 GPA and is off to Seattle, Washington, in August to begin a job at Amazon as a software engineer. "But I have to say, coming to Rutgers was a good choice for me."
Desmond Nathanson, who graduated from Rutgers Biomedical and Health Sciences School of Nursing and received the dean's award for exemplary leadership and service to the school, said being inducted into the honor society was rewarding.
"I am incredibly excited because I worked really hard on this," said Nathanson who graduated with a 3.8 GPA and entered the nursing program after receiving an undergraduate degree, almost completing a master's degree in computer science and engineering, and working on Wall Street for two years.
"I never felt that working on Wall Street was a great fit for me," said Nathanson. "Nursing is different. I can see myself working in the emergency department and really enjoying the challenges you face every day."