New Jersey Board of Public Utilities program helps fund construction of $10 million project on Livingston Campus
NEW BRUNSWICK, N.J. – President Richard L. McCormick of Rutgers, The State University of New Jersey, today joined commissioners of the New Jersey Board of Public Utilities (BPU) and other university officials to break ground for the construction of a seven-acre solar energy facility – the largest system on a single campus in the United States.
Photovoltaic solar energy, which converts sunlight into electricity, is one of the cleanest renewable energy sources. The 1.4 megawatt solar "farm" will generate approximately 10 percent of the electrical demand of the Livingston Campus and reduce the university's carbon dioxide emissions by more than 1,200 tons per year.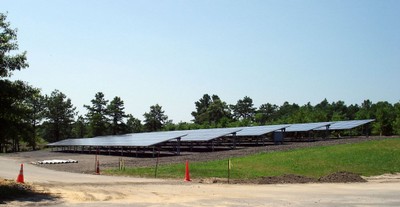 "The wide array of research conducted by Rutgers plays an important role in addressing the critical issues of climate change and conservation," said McCormick. "As an institution, Rutgers is a national leader in bringing environmentally sound practices to higher education. By partnering with the New Jersey Board of Public Utilities to construct this remarkable solar energy facility, Rutgers demonstrates our commitment to responsible environmental stewardship. We believe this project will serve as a model that other institutions can emulate."
Rutgers will fund approximately half the $10 million cost of the project – $5.1 million – but the balance will be subsidized by a rebate through the BPU's Clean Energy Program. The program is aimed at public agencies and institutions to help them defer the cost of implementing solar projects.
"We are proud to be a part of Rutgers' commitment to fostering renewable energy in the state of New Jersey," said BPU Commissioner Joseph L. Fiordaliso. "New Jersey's colleges and universities are continually leading the nation in their dedication to innovation on a broad range of issues. By taking advantage of New Jersey's innovative solar financing program to create the largest campus-based solar energy farm in the nation, Rutgers is demonstrating that investment in clean energy is good for the environment, good for the economy and good for the future of this state."
Besides receiving rebates, Rutgers will capitalize on the BPU's Solar Renewable Energy Certificate (SREC) program. SRECs are tradable certificates that represent the clean energy benefits of electricity generated from a photovoltaic system. The SRECs can be sold to electric suppliers to provide a source of revenue that helps the university offset the costs of installing the solar farm.
"This project makes good sense economically and environmentally," said Antonio Calcado, Rutgers' vice president for Facilities and Capital Planning. "The solar array will generate more than 1,500 megawatt hours of electricity in the first year, offsetting the need to purchase power from PSE&G or draw on the capacity of the university's gas and oil-fired cogeneration plant."
According to Calcado, the solar energy project will save Rutgers more than $200,000 in its first year of operation, rising to more than $300,000 in annual savings by the end of the 15-year program.
The more than 7,000 ground-mounted photovoltaic modules comprising the solar farm will be installed by SunDurance Energy of South Plainfield, N.J. SunDurance develops, designs and builds large-scale solar power facilities for private and public entities.
 The solar farm will be sited on a parcel of land at the northeast corner of the Livingston Campus in Piscataway, bordered by Berrue Circle, Road 2 and Suttons Lane. It is expected by to be in operation in the spring of 2009.
The solar energy facility is only the latest in a series of cost-saving and environmentally friendly initiatives implemented by Rutgers:
•        Rutgers has begun a five-year program to retrofit or replace lighting fixtures. When completed, the university expects to see annual energy cost savings of $4 million to $5 million, and reduce electricity use by more than 42 million kilowatt hours per year.
 •        Rutgers is replacing 40-year-old underground, high-temperature water lines on the Busch and Livingston campuses with new, energy-efficient pipes. By the end of the project in 2010, Rutgers expects to realize fuel savings of more than $2 million per year.
•        The university is implementing a software program at its cogeneration plant that will allow more efficient operation of the facility.
•        Rutgers has started a ceiling tile recycling program. Since July 1, the university has recycled more than 45,000 square feet of ceiling tiles and saved more than $10,000 in landfill costs.
•        In April, Rutgers captured the "Gorilla Prize" in RecycleMania 2008, by collecting more than 2.7 million pounds of recyclables during the 10-week contest.
•        The federal Environmental Protection Agency (EPA) has honored Rutgers with the "Gold Achievement Award" for excellence in food organic and traditional recycling programs.
•        The EPA named Rutgers "WasteWise Partner of the Year for 2007" for its organics recycling, traditional recycling efforts and Chemical Reclamation Program. During the 2007 reporting period, the university's waste prevention initiatives resulted in more than 15,800 tons of material that was either recycled or reused, saving Rutgers almost $840,000 in landfill costs.
Media Contact: E.J. Miranda
732-932-7084, Ext. 613
E-mail: emiranda@ur.rutgers.edu