Bonnie Wong and Stephanie Enriquez, working on literacy project to help migrant children in China, chosen among thousands of youth globally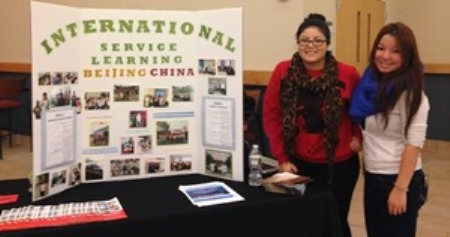 Undergraduates Bonnie Wong, a social work major, and Stephanie Enriquez, a history and political science major, are among nine Rutgers students chosen to attend the Clinton Global Initiative University (CGI U) meeting at Arizona State University, March 21-23.
Their proposed CGI U Commitment to Action, a literacy initiative to assist migrant children in China, will receive up to $3000 in seed funding through the CGI University Network, of which Rutgers is a member. 
"Bonnie and I were crying when we found out that our project had been chosen by CGI U.  These migrant children have so little and yet they are so happy and loving.  Providing any sort of additional resources will mean a great deal to them and be very appreciated," says Enriquez.
Each year, CGI U, a program of the Clinton Global Initiative, brings together college students  to develop innovative solutions to global challenges in areas such as education, environment and climate change, human rights, poverty alleviation, and public health. CGI U 2014 attendees will have access to more than $750,000 in seed funding to implement their Commitments to Action.
Hoping to assist the migrant students, Wong and Enriquez submitted a commitment called, "Breaking Borders through Imagination" to CGI U.  The goal is to install a reading room in a low-income school for migrant children, promoting literacy.  They also hope to develop ongoing pen-pal relationships with US students, and already created a film with the Chinese students for the Pen Pal Project: http://www.youtube.com/watch?v=DUxh0VBE4pI  
"We are proud of their initiative and thrilled that they have been chosen for this prestigious conference, which will provide important insights for launching their program.  Our students are leaders both at home and internationally and their concern for people is global," says Cathryn Potter, dean of the School of Social Work.
In June, Wong and Enriquez visited Beijing, China as part of an International Service Learning program, hosted by the School of Social Work's Huamin Research Center, and the Center for Global Education at Rutgers. They were moved by the plight of the children of migrant workers, most of whom receive inadequate schooling in crumbling buildings with overcrowded classes taught by unlicensed teachers.  There are an estimated 262 million rural migrant workers, and their children have limited access to education and can be separated from their parents for years.
Traveling down unpaved roads to reach remote schools, Wong and Enriquez witnessed youngsters trying to learn in outdated buildings with unusable bathrooms. Classrooms were crowded with students who were anxious to learn English.  For the majority of these grade school students, this will be the only education they receive as poverty prevents most from continuing to high school.
"We were deeply affected by the shocking conditions in the rural areas. Migrant students often experience discrimination, and most are not encouraged or allowed to attend free public school.  The government pays migrant schools only about 20 dollars per student each year so they are substandard to the public schools," says Wong.
Wong and Enriquez will return to China in June through Huamin Research Center and Center for Global Education and they look forward to exposing the children to more educational opportunities. 
"Through this project, Bonnie and Stephanie will expand migrant children's access to resources and enable them to have more promising futures," says Chien-Chung Huang, director of the Huamin Research Center.
---
For media inquiries, contact Beth Salamon,  bsalamon@ssw.rutgers.edu, 848-932-5340