Rutgers Translates COVID-19 Information for New Jersey's Diverse Population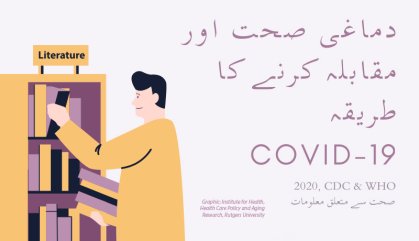 The Rutgers Institute for Health, Health Care Policy and Aging Research has launched a social media campaign to provide New Jersey's minority and immigrant communities with information and resources they need to stay informed in their own languages about COVID-19.
"The Institute for Health is proud to be able to respond to this public health crisis in this way and promote social justice by ensuring communities have access to critical information," said institute director XinQi Dong.
While the current global coronavirus pandemic is impacting people throughout the world, it is disproportionately affecting those in minority and immigrant communities – where English is not the primary language. About 31 percent of New Jersey residents speak a language other than English at home, according to U.S. Census data.
Updates from New Jersey's official COVID-19 response website as well as messages from Gov. Phil Murphy's daily press briefings are translated each day in Hindi, Urdu, Korean, Tagalog and Spanish by research assistants at the institute. The information is then shared on Twitter, using specific hashtags to help users follow along with the latest.
The research assistants regularly work with minority communities and translate information in these languages as part of the institute's ongoing research activities.
Over the past several weeks, the translations have reached thousands on Twitter, gaining the attention and significant engagements from the governor's office as well as other networks and organizations across the state that serve minority communities. The original tweet announcing the translation campaign has more than 50,000 impressions and received more than 1,000 engagements, resulting in an increase of followers and traffic across the institute's accounts.
You can find the campaign by searching for #IFHTranslates, and following these individual accounts and hashtags:
Hindi / हिंदी: @sk_translation or #NJCovidInfoHindi
Urdu / اردو: @IFHUrdu or #NJCovidInfoUrdu
Spanish / Español: @jonasattilus or #NJCovidInfoSpanish
Tagalog: @wikaNiGrasya or #NJCovidInfoTagalog
Korean / 한국어 or 한글: @IFHKorean or #NJCovidInfoKorean