Rutgers Teams Advance in Hult Prize Competition After Regional Victories
The groups hope to follow in the steps of Roshni Rides, the Rutgers team that won the $1 million prize last year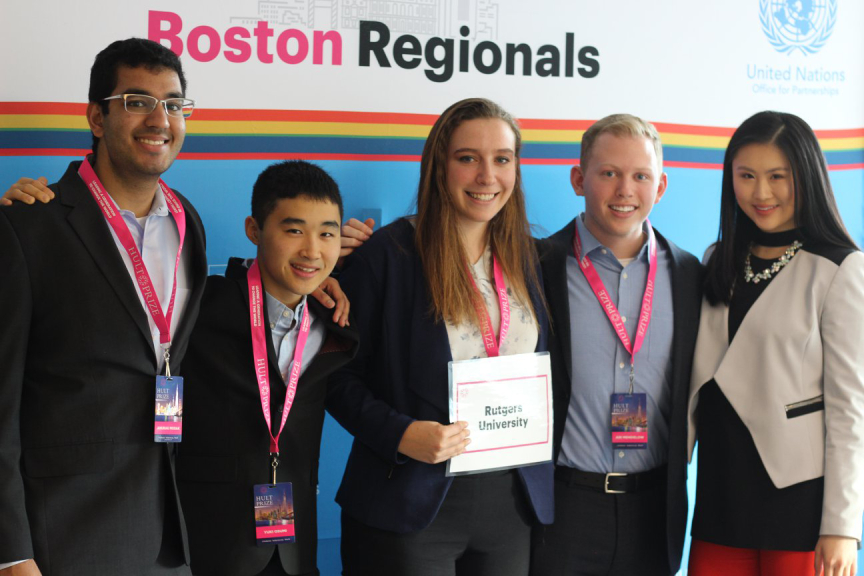 "This is a testament to Rutgers' ability to inspire students to step outside traditional academic rigors . . . I think witnessing Rutgers students take home the grand prize last year was a validation of the potential for all of us to be able to realize our entrepreneurial ambitions.''

 

– Joshua Kao
The challenge: Find a way to harness the power of energy to transform the lives of 10 million people in less than a decade. The prize: $1 million in seed money to support a sustainable start-up business that addresses a humanitarian need.
Rutgers students came up with two award-winning solutions to address access to clean drinking water for residents in developing countries that enabled them to advance in the Hult Prize competition. One idea – a device that harnesses the power of the sun to sanitize water – grew out of a class that promotes social innovation at the Rutgers-New Brunswick Honors College. Students named their project Sulis, which draws on the culture and language from civilizations around the world alluding to Sol, the Latin root for sun; Surya, the Hindu Sun God and Sulis Minerva, the Romano-British Goddess of Springs.
The second proposal – for a system named LivingWaters that captures, filters and purifies – rainwater developed out of another student's research into the daily challenges of people living in settlements throughout Sub-Saharan Africa, the Middle East, and South Asia that don't have access to electricity.
The success of both groups set a historic benchmark for Rutgers: It's the first time that two teams from the same university won top honors in Hult Prize regional competitions. Their success also comes one year after a team representing Rutgers Business School won the $1 million Hult Prize for Roshni Rides, a rickshaw transportation business designed to improve the lives of refugees overseas.
"This is a testament to Rutgers' ability to inspire students to step outside traditional academic rigors,'' said Joshua Kao, the inventor and team leader for LivingWaters. "There is real momentum and a fast-growing start-up scene here. I think witnessing Rutgers students take home the grand prize last year was a validation of the potential for all of us to be able to realize our entrepreneurial ambitions.''
This summer Sulis and LivingWaters will be among 50 teams – selected from an initial pool of about 50,000 applicants – to participate in an intensive eight-week business accelerator program in London, where they will receive mentoring and other assistance from a global network of business leaders. From there they hope to be selected as one of six finalists to present their pitches in the Hult Prize Global Finals this fall for a chance to win the $1 million prize.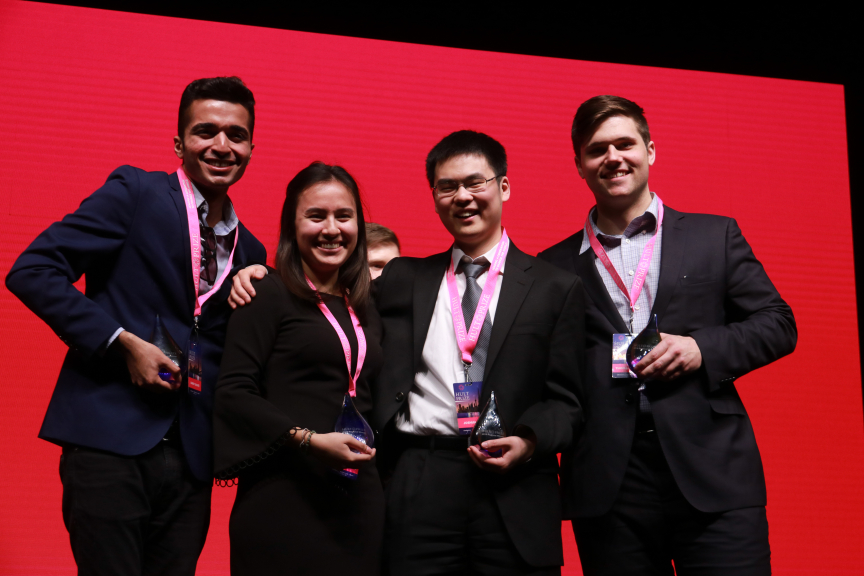 Kao, a junior majoring in both marketing at Rutgers Business School and religious studies in the School of Arts and Sciences, assembled a team that includes seniors Thomas Irving, also from Rutgers Business School, and Shrey Ghate and Jane Peterken, both from Rutgers-New Brunswick's School of Engineering. The LivingWaters team recently won the Hult Prize regional competition in Shanghai, beating more than 50 of the top Asian university teams present.

This is Kao's second year competing for the Hult Prize. He said he was drawn in by the mission to create a for-profit business that tackles some of society's biggest challenges. While doing research for the competition he learned that relief agencies that oversee specific settlements in Kenya oftentimes are only able to provide a fraction of the drinking water needed to sustain the camp's total population.
"We see our device contributing in a huge way to bridge that deficiency and provide supplementary clean water for families in off-grid communities throughout Jordan, Kenya, and India, areas isolated from basic water infrastructure and that experience prolonged dry seasons, by filtering and collecting heavy rainfall through a simple device,'' Kao said.
The Sulis team is made up of three sophomores from Rutgers-New Brunswick's Honors College, led by Anurag Modak, a cell biology and neuroscience major. He is working with Honors College students Sarah Pomeranz from Rutgers Business School; Yuki Osumi, a chemistry and sociology major in the School of Arts and Sciences, and Ari Mendelow, a senior in the School of Engineering. The team won a pitch competition held by the Hult Prize chapter at Rutgers in December and went on to recently win the regional competition in Boston.
Modak traces the inspiration for Sulis to his early childhood in West Bengal, India, where he remembers seeing residents in rural areas use the same water source for drinking, bathing, cooking and washing clothes.
"It's an unsanitary situation to be using a communal pond for all those purposes. I saw that there was a serious problem that was not being addressed," Modak said.
He began doing research for a social innovation project that is part of the Honors College curriculum and discovered recent studies that show certain metals can interact with sunlight to sanitize water – which became the basis for Sulis.
When he first came to Rutgers, Modak planned to focus on his premed track, but the Hult competition has opened new doors for him.
"I didn't really see myself engaging in entrepreneurial endeavors, but now I realize there are so many opportunities that I hadn't considered before,'' Modak said.
Matt Matsuda, academic dean of the Honors College, said the students have demonstrated an impressive drive as they develop their project.
"The success of the Sulis team is not by happenstance,'' Matsuda said. "They have spent countless hours researching, testing, refining and pitching their innovation at the Honors College. Their determination, commitment and desire to make a positive impact embodies our shared core mission of doing well by doing good.''