Rutgers Supplies Hospitals With PPE to Battle COVID-19
Schools across the university are collaborating to create face shields and intubation boxes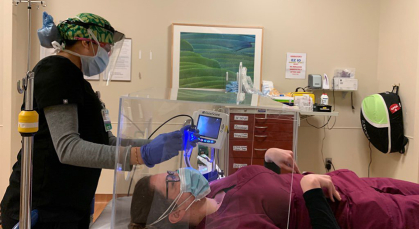 Faculty, students and staff across Rutgers are coming together to produce face shields and intubation boxes with off-the-shelf materials to help relieve the PPE shortage at area hospitals as a worldwide shortage of such lifesaving equipment continues. 
In the largest universitywide initiative to protect frontline hospital workers, the RU 3D PPE project is bringing together more than 70 people from the School of Engineering, School of Arts and Sciences, School of Environmental and Biological Sciences, Rutgers Robert Wood Johnson Medical School and Rutgers New Jersey Medical School. The collaboration also includes the RWJMS COVID-19 Innovation Task Force students as well as staff from Rutgers Makerspace, among many others. While the majority of face shields are being made in Rutgers–New Brunswick's Makerspace due to its cutting-edge 3D printing capabilities, laser cutters and other tools, face shields are also being made in nearby labs with procurement, legal and logistical help from staff at Rutgers–Newark and Rutgers–Camden.
The equipment is being made according to set design specifications to permit consistent fabrication and facilitate assembly. The first batch of more than 180 face shields, which can be sanitized for reuse, was delivered recently, with a projection for producing more than 500 a week by May. The initial feedback has been positive and the goal is to streamline efforts to effectively produce and distribute the highest amount of PPE to workers in need, said Sacha Patera, associate vice president for Rutgers Corporate Engagement Center.
"Even in the assembly process, everyone is keeping proper social distancing precautions, wearing masks and gloves and keeping the number of people in the Makerspace and other spaces to a minimum," Patera said. "The shields themselves that are packed and assembled are disinfected and sanitized, so equipment delivered to hospitals is completely ready for use."
Joseph Hanna, an assistant professor at Rutgers RWJMS and an acute care surgeon at Robert Wood Johnson University Hospital, purchased his first 3D printer several years ago and is now volunteering to create face shields and eye shields for frontline workers.
"Anyone who needs it, I would love to help," he said. "If we can mobilize the 3D printing community to use the tested patterns that are out there, it would be a great way to help meet what is needed."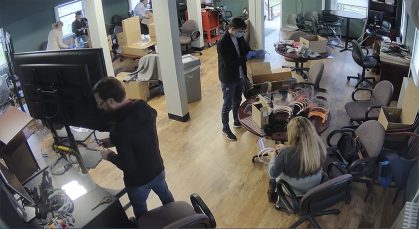 Alejandro Alex Ruiz, associate director and university safety officer with Rutgers Environmental Health and Safety, is facilitating several efforts on campus, including the RU 3D PPE project, to create, distribute and decontaminate PPE for use in RWJBarnabas Health, University Hospital in Newark and Robert Wood Johnson University Hospital in New Brunswick. He also plans to distribute the PPE to other area hospitals. 
"We want 80 percent of this PPE to go to protecting Rutgers employees, but we also want to make enough to keep as many frontline workers safe in the community as we can," Ruiz said. "The RU 3D PPE project works to create shields, but Rutgers also has efforts to create aerosol intubation boxes through a team of biomedical engineers." 
Robert Eisenstein, chair of the Department of Emergency Medicine at Rutgers RWJMS and chief of Ambulatory Services at Robert Wood Johnson University Hospital, asked the Rutgers Department of Biomedical Engineering if the new Biomedical Engineering Device/PPE Working Group could replicate aerosol boxes designed by a doctor in Taiwan who shared instructions on creating  intubation boxes. Intubation is used when a patient can't breathe well enough on their own to maintain adequate oxygen in their bloodstream. An endotracheal tube is inserted through the patient's mouth past their vocal chords to hook them up to a ventilator, a common procedure for advanced COVID-19 patients.
"Doctors performing this procedure, like emergency physicians and anesthesiologists, are at increased risk during this aerosolizing procedure, which can spread the virus farther in the air. This puts them at the highest risk for contracting the virus," Eisenstein said. 
Eisenstein enlisted Aaron Mazzeo, an associate professor in mechanical and aerospace engineering and a faculty fellow in the Rutgers-New Brunswick Honors College, as well as Jay Sy, a professor in biomedical engineering, to design the concept for the first nine intubation boxes. There was also coordination from biomedical engineering faculty Troy Shinbrot, David Shreiber and Natalie Macon. With the help of Mazzeo's family and Ramendra Pal, a postdoctoral associate, the team completed the boxes within 24 hours in the College Avenue Makerspace. The group facilitated delivery of the boxes to Robert Wood Johnson University Hospital, where they were tested on mannequins and used on patients in a matter of days. 
Since then, the boxes have been modified slightly, and Keith Bull of the Zimmerli Art Museum, also a member of the BME Device/PPE Working Group, has produced 20 more boxes, which are being sent to Robert Wood Johnson University Hospital.
"The Rutgers Makerspaces and labs across the campus have been instrumental in supporting this and all PPE efforts across the university, and it's great to be in a university that has the resources to make something like this happen," Mazzeo said.