Tie for third place among research universities ranks Rutgers with prestigious Big Ten and Ivy League schools
Rutgers University students and alumni received 26 Fulbright Grants this year, a record number for the university.
The prestigious grants offer students and young professionals the opportunity to do graduate study, advanced research, university teaching, and primary and secondary school teaching in more than 140 countries worldwide.
The Fulbright U.S. Student Program, which administers the grants, reported that Rutgers is tied for third place among research universities nationwide for the number of students and alumni receiving grants. Rutgers is joined in the top 10 by two other Big Ten universities – Michigan and Northwestern – along with other prestigious schools such as Columbia, Harvard, Princeton, and Yale.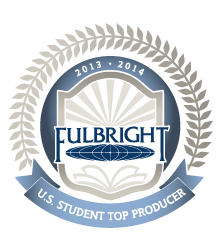 "These grants reflect on the quality of our students and the rigor and breadth of the programs they pursue here," said Robert Barchi, president of Rutgers University. "This is the first year that Rutgers has been among the top 10 recipients of Fulbright Grants, and the third year that Rutgers has made significant gains in the numbers of students and alumni who have earned them."
The Rutgers recipients who pursued the program's independent research and study grants are involved in fields as diverse as art history, geography and public policy, and are studying in Bangladesh, India and Italy. Those who pursued the program's English teaching assistantships are teaching in Brazil, Germany, Indonesia, Malaysia and other countries.
While most of the people applying for grants are seniors about to graduate, alumni and graduate students are eligible as well.
"We have been encouraging more and more students to apply for this program," said Arthur Casciato, director of Rutgers' Office of Distinguished Fellowships. "Last year, 129 Rutgers people applied, the most ever in the history of the university."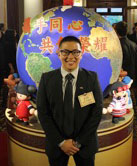 Alumnus Kevin Apodaca first applied for a Fulbright English teaching grant in 2010 when he was doing undergraduate work in biological sciences and classical humanities. The Columbus, N.J. resident was not offered a grant that year, so he took a Teach for America position in Newark after graduating in 2011.
"I still wanted to do the Fulbright and provide myself with that experience of teaching abroad, so I expressed interest and applied again," he said. This time he received a grant with an assignment in Taiwan, where he teaches in two elementary schools in Kaiohsiung, less than two hours south of Taipei via high-speed train.
Apodaca finds his work challenging, as he has some students who know English well and others who don't know it at all. He provides more guidance and resources to those first learning the language and helps those who are proficient to use English resources such as dictionaries. He also leads students in reading theaters using scripts he writes based on popular stories such as "Where the Wild Things Are."
"It's a great experience and very fulfilling," he said. "The people here are very welcoming. My co-teachers have shown me all the local attractions that I should find and experience."
When Apodaca returns from his assignment next year, he plans to pursue a master's degree in public health. He has applied to five universities, including Rutgers.
The Fulbright Program is the flagship international educational exchange program sponsored by the U.S. government and is designed to increase mutual understanding between the people of the United States and the people of other countries. It was established in 1946 after Senator J. William Fulbright called for the use of surplus war property to fund the "promotion of international good will through the exchange of students in the fields of education, culture, and science." The Fulbright U. S. Student Program awards approximately 1,900 grants annually.