Mason Gross BFA/EdM candidate Kyle Marsh considers artistic expression a 'basic human right'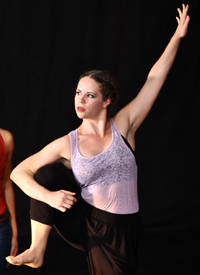 As a child, Kyle G. Marsh struggled with dyslexia. But when she began studying dance at age 13, she says she realized that "there is a nonverbal expression that can be found through movement and dance that makes intrinsic sense."  In 2014, Marsh will earn her Master of Education degree in Dance  Education
.
 The five-year joint BFA/EdM degree in Dance Education track, a partnership of the Mason Gross School of the Arts and the Graduate School of Education, leads to pre-K-12 dance teacher certification. It is the only program in the country that links BFA degree major requirements to a master's-level degree in dance education and dance-teacher certification.  Here are some of Marsh's thoughts on the program, on helping students to express themselves via movement and on getting inspired.  
Rutgers Today: Why did you choose the EdM at Mason Gross? 
Marsh: I believe that because every human has a body, we all have a basic human right to better understand ourselves through moving and dancing. We tend to separate the intellectual from the physical and fail to recognize that different people learn in different ways.
Rutgers Today: How has the EdM program changed you as a dancer?
Marsh: The BFA program at Mason Gross not only strengthened and challenged me but almost single-handedly turned me into a real pre-professional dancer. Dancing at Mason Gross has helped me organize a lot of the raw material that I had in my body into something tangible that I know how to use and access.
Rutgers Today: Who has inspired you as a dancer and a teacher?
Marsh: One of my most inspirational and influential teachers was a woman named Kay Fulton. She didn't want us being robots who just knew how to move our legs and arms; she also wanted us to understand where the movements came from. She wanted us to develop an internal commentary for ourselves as dancers and performers. She wanted our bodies to be just as strong as our minds, and vice versa. As a teacher, I think I am currently most inspired by those who care. I am also inspired by anyone who teaches and is wise enough to understand that you must be willing to learn just as much from your students as they are willing to learn from you.
Rutgers Today:  Can you talk about your early learning problems and what led you to dance?
Marsh:  I think I have always been one of those people who was able to understand the world better through movement. As a child I had a lot of extra energy. Growing up I was really dyslexic and struggled with learning disorders. There is a non-verbal expression that can be found through movement and dance that makes intrinsic sense to me. The meditative and challenging nature of dance appeals to me more than any other art form, and when I have dance in my life I believe that it makes me a better person.
Rutgers Today: Why do you want to teach?
Marsh: I'm inspired by the openness and creativity of young people. It brings a smile to my face when I am able to experience and see a child or young person express himself or herself through art. I believe it's a basic human right to have access to this type of expression, and through teaching can only hope to make this medium more accessible to more people.  
Catch Marsh's choreography along with that of student Carlo Antonio Villanueva in a free performance at 6 p.m. Oct. 14 at Loree Dance Theater. The event also will feature the Rutgers Center For Digital Filmmaking's original documentary on Israeli choreographer Danielle Agami's collaboration with Mason Gross dancers and choreography by Inbal Pinto. Learn more about the EdM Dance Education program by visiting www.masongross.rutgers.edu/dance.