Rutgers Senior Heads to Venice for Prestigious Guggenheim Internship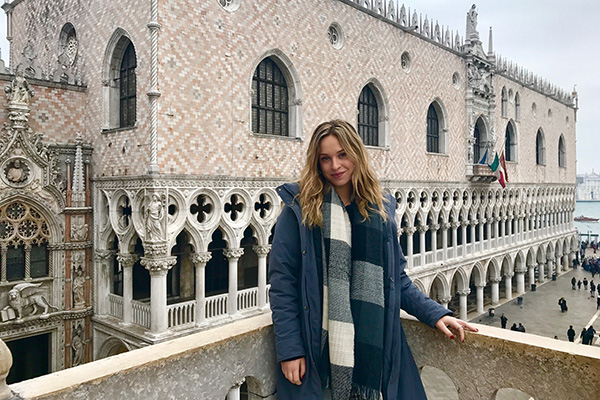 Peggy Guggenheim was a glamorous American heiress who spent much of her life traveling throughout Europe, assembling a collection of Cubist, Surrealist and abstract expressionist masterpieces.
Joanna Zotti is the cheerful daughter of an actuary and a radiologist from Roseland, N.J., who has spent her last four years at Rutgers University-New Brunswick studying Italian and art history.
Their stories are about to intersect in a surprising, and delightful, way.
Zotti, who graduates this May, has been chosen for a prestigious autumn internship at the Peggy Guggenheim Collection in Venice, Italy.  
Housed in a gorgeous palazzo on the Grand Canal, the museum is an open-to-the-public treasure displaying the famed collector's carefully curated legacy, including pieces by De Chirico, Braque, Kandinsky, Picasso and Guggenheim's husband, Max Ernst.
It takes a lot of work to keep it running. Zotti can't wait to dig in.
"The internship lasts from September through November, and it's designed to show you what it's actually like to work in a museum," Zotti explains. "I'll be rotating through different departments, working in visitor services, assisting the curators and interacting with the public."
It's a highly coveted job, and Zotti was uniquely qualified. A prerequisite for the internship is a degree of proficiency in Italian. Zotti has been studying Italian, the language her grandfather grew up with, since middle school. 
She continued taking Italian classes her first year at Rutgers to fill a requirement as a student in the School of Arts and Sciences Honors Program and stayed with it.
"After the first year I thought, why don't I just double major?'' Zotti said. "And I love the department – it's full of amazing, wonderful professors."
It was a decision that opened up a door to the Guggenheim internship after college.
While Zotti's love of Italian started at Rutgers, her love for art history, which also paved the way for the internship, began in high school.
"I remember enrolling in AP Art History as a high school sophomore and just falling in love with it," Zotti says. "And I remember my teacher saying, 'Just watch – once you take one course, you start looking at everything differently. You start to see differently.'"
Her desire to study art then led her to Rutgers.
"I only applied to Rutgers and the University of Michigan, and as it came close to decision time, I thought, why would I go to Michigan when I can be an hour from New York City and the best museums in America?" Zotti says. "I already knew I wanted to be an art history major."
Despite the language skills that set her apart, Zotti was still surprised to be selected. As an undergrad, her own art interests weren't particularly oriented towards modern art, which makes up the Peggy Guggenheim Collection. Her senior honors thesis was on a Renaissance sculptor.
But she had exposure this past fall as an intern at the Center for Italian Modern Art in New York.
"That introduced me to a lot of great work,'' Zotti said. "Last spring I studied abroad in Ferrara, which is only about an hour from Venice, and I was able to visit the city a number of times."
Her professors have no doubt that this internship, and this intern, are a perfect match.
"She's a superb student," says Sarah Blake McHam, a distinguished professor in Rutgers' Department of Art History. "She just finished writing a 70-page thesis with me on the first known female sculptor, a complicated piece of research that required work in Italian as well as in English. She was awarded highest honors in both departments."
"I met Joanna as a freshman and she was one of the best students in my class," echoes Benjamin Paul, an associate professor in the art history department. "There was no way to tell that she was new to this. Afterwards, we stayed in touch and Joanna impressed me by means of her determination and eagerness to learn."
Paul was a Peggy Guggenheim himself and said the experience was life-changing.
"It is a very competitive fellowship and brings together a group of young, ambitious students and post-graduates from all over the world,interested in art history and the museum world,'' Paul said. "It is a great first experience."
Where it will lead, Zotti hasn't quite decided. Although she enjoys picking up a brush occasionally, "that's definitely a pastime – not a talent," she says with a laugh. She does hope the Guggenheim internship will lead to meeting new people, forging new connections.
And afterward?
"I'll be coming back for the new year and finding a job," she says. "I do want to go on to graduate school, for a master's in art history,'' Zotti said. "After that, I don't really know. I'd love to get into academia. I'd love to be at a museum where I had something of a say. Either way, it's going to take a lot more school."
But she is now getting ready for the challenge of preparing for life in Venice, including finding an apartment.
"There are a lot of logistics to deal with,'' she said. "And I have to read up on the collection, on Peggy Guggenheim – there's a whole recommended bibliography.
"I suppose the most apt word for what I'm feeling right now is 'nervous,''' Zotti said. "You're a little worried, a little excited, and you really hope you'll make some nice friends. It's like getting ready for the first day of school!"