Before he became an activist encouraging young people to get involved in politics, senior Shakee Merritt found his voice at Rutgers-Newark.
"I think the professors, my education and my connections have prepared me to be fearless," he says.
Merritt, 22, grew up in Englewood and graduated from Dwight Morrow High School. He came to Rutgers-Newark to follow a crush that didn't pan out. Although the relationship was not what he hoped, he found himself at a university that cultivated his activism and desire to make a difference. Now he is preparing to launch a political action committee to encourage more members of Gen Z to become politically active.
When Merritt started college, he said he was at first "timid in my leadership.''
He just came out as queer and said he had come from spaces that often negated the idea of a Black queer leader. "I was nervous being a leader in that space," he said. But Rutgers gave him the confidence to shine.
"I needed to have my voice heard because I had a lot to say," Merritt said, who became involved in the ​​Black Student Caucus. He was picked to be interim chair and then elected as chair.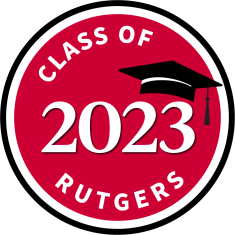 After a policy advising role with the Rutgers University Newark Student Governing Association, Merritt launched his campaign for president of the group. Running on a progressive platform, Merritt says he leaned into critical issues students were facing at the time, during the pandemic, including more access to mental health services and better financial support. He became the first Black male student to be president. "To be the first and to be a radical, not somebody who's an institutionalized person but somebody who believes in fundamental radical change, to be in that place meant the next person who came after me knows that they can just push that ball a little bit further," he says.
His academic journey also helped him find his voice. Calling himself a "political junkie," Merritt decided to pursue a double major in africana studies and political science.
"I knew I wanted to study Black folks and their political spaces and the liberation of Black folks to do political work and policy," says Merritt, who will graduate in August after completing his credits over the summer. "I also knew I was supported by really, really good professors who allowed me to be the activist and leader that I would soon become. … I saw myself, and I saw professors who looked like me telling me that I existed and that I was real and that my history was real."
Lacey Hunter, a professor in the Africana studies department, was influential in Merritt's choice of major and passion for activism.
"Shakee is one of the most engaged students I have ever taught," says Hunter. "He reflects on the content he is learning and works to find ways of applying his education in the world around him. His dedication to activist-based ideals is truly an outgrowth of his willingness to make himself and his education relevant in the communities around him."
After being involved with political campaigns on and off campus, Merritt says he is now working on launching the GENNEX Political Action Committee, "a PAC dedicated to educating, empowering and energizing Generation Z to run, vote and partake in the democratic system one hundred percent."
He wants the PAC to be active for the 2024 presidential and congressional races. "I think now more than ever we need to have young folks organizing and fundraising for candidates who will actually do what we want them to do," says Merritt, listing affordable health care and an assault weapons ban as two top issues for the PAC. His goal is to have the PAC encourage younger people to run for office by donating to their campaigns because raising money for a race can be an obstacle to aspiring candidates.
Merritt is applying to be an intern with the Congressional Black Caucus on Capitol Hill for the fall. He also plans to study for the LSATs so he can obtain a law degree, ideally with an MBA too and hopes to eventually earn his doctorate in Africana studies.
But the question he can't get away from – especially from friends and family – is when does he plan to run for office.
"When it happens, it happens. But I will one day run for office," says Merritt, adding he wants to be governor, ultimately.
He is undeterred in his quest to involve more people in politics, whether that's himself on a ballot one day or members of Gen Z in the 2024 election cycle.
"To be a young Black queer boy in politics oftentimes means that folks are not going to look at you as a means for understanding or smarts or things like that," says Merritt.  "But Rutgers and being in spaces where I've always been told I'm here, we see you, we recognize you, we want to hear your voice, I feel now more than ever that I am that fearless leader, and I know that I can do anything I put my mind to. Nothing is impossible."