When Daniel Toth was living on campus, he would report at 5:30 a.m. for a fitness regimen followed by a naval science class — all before starting his days as a student at Rutgers University. The Navy ROTC midshipman's favorite workout has been the "strip swim." Dressed in uniform and boots, he and his colleagues would jump into a pool, then take off an article of clothing every 250 meters they swam. "You don't see the swim team doing that!" he said.
After four years of hard work, Toth found out in a recent tense moment that he achieved his goal: getting to serve aboard the USS John S. McCain, based in Yokosuka, Japan.
"It's all paid off – all that work and all the early mornings. Getting your first choice of ships is hella-nice!" Toth said, as soon as he found out during the annual midshipman selection ceremony.
The Navy ROTC ship selection ceremony involves sitting before a live video feed with the Navy Bureau of Personnel in Millington, Tennessee. Students reveal where they hope to serve and then find out if they get their first choice.
The electrical engineering major at Rutgers University-New Brunswick ranked 20th out of 300 Navy ROTC midshipmen at 77 colleges nationwide in the Surface Warfare Officers-Nuclear track. His odds on selection day were good, but there was no guarantee the 19 midshipmen ahead of him wouldn't nab the one slot he sought.
But when the time came, the host called his name, and Toth's image appeared next to hers on the screen. He gave a polite greeting, then calmly announced his choice. The host turned her head to the right for a few seconds, then turned back and said, "You got it!"
A grin spread across Toth's face and applause erupted in the headquarters of the Rutgers University/Princeton University Navy ROTC Unit in New Brunswick.
The 22-year-old Middletown native said he is "beyond excited. I've been ready to go for a year!" Toth will become an ensign at the Navy ROTC's commissioning ceremony, which will be held virtually this year on May 18.
Toth is one of 42 students from Rutgers ROTC programs, and one of nine from the Navy ROTC, who completed the extra challenge of military training while working on their Rutgers degree. Eight students are graduating in the ROTC Air Force program and 25 are graduating from the Army ROTC. 
Toth's mother, Joli, watched the draft on YouTube, and said she was thrilled for him. "We're all very proud," she said. "He's very driven in everything he does."
Joli Toth said her father served in the Navy, and she has long hoped that one of her five children would join the military. Daniel Toth's mother, father and older brother are all Rutgers alumni, and his sister is a sophomore at Rutgers-New Brunswick.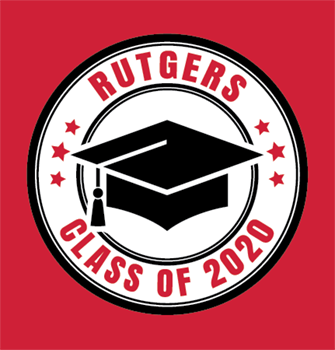 During the 18 to 24 months on the USS John S. McCain, Toth will be assigned a division and oversee 10 to 30 sailors. He'll also learn to drive the destroyer. "That will be his real introduction to the Navy," said Lt. Mark Hammerquist, who oversees the Surface Warfare Officer-Nuclear midshipmen. "We're very excited for him."
"He worked really, really hard to get this opportunity to serve in the fleet," said Capt. Andrew F. Smith, commanding officer of the Rutgers University/Princeton University Navy ROTC Unit. Toth will spend the following two years training to operate nuclear reactors, which power the Navy fleet.
Growing up by the Jersey Shore, Toth said he happily spent his days on the beach. He never so much as stepped foot on a boat until enrolling in a U.S. Naval Academy program on a whim the summer before his senior year of high school. He applied to the Navy ROTC that fall.
Since then, he's spent summers training on ships. "I really like the technical side of things," Toth said.
Balancing the demands of the Navy ROTC program and maintaining a 3.7 GPA in Rutgers Honors College during his college career has been a challenge.
Toth's leadership responsibilities with his 65-member Navy ROTC unit have increased over his years at Rutgers. Last fall, he organized its Navy birthday ceremony and military ball. As busy as his schedule is, he still finds time to participate in intramural volleyball and softball, he said.
Toth said he has not traveled internationally – his family spends vacations visiting family in Hawaii, his mom said. He chose the USS John S. McCain in large part for the overseas experience it offers. "I want to sink my feet into a totally new side of the world," he said.
The ship is also in what's considered a forward-deployed area, meaning that it is at sea more frequently than others and "the operational tempo is higher," Toth said. That, he expects, will allow him to acquire greater experience sooner.
Since Rutgers moved to remote learning for students in response to COVID-19 and no Navy ROTC activities happening for the rest of the semester, Toth will complete his engineering classes online and continue to work out five or six days a week from home.
"It's kind of an anticlimactic end to a pretty eventful four years," he said. While he's disappointed there will be no in-person commencement this May, he's looking forward to spending three months at ship-handling training in San Diego before boarding the USS John S. McCain.