Benjamin Chin is Rutgers' second Luce Scholar; plans to work in a drug treatment facility to learn how other countries deliver recovery services
Benjamin Chin is a senior at Rutgers who knows firsthand the power of peer support to help young people overcome addiction and succeed as students.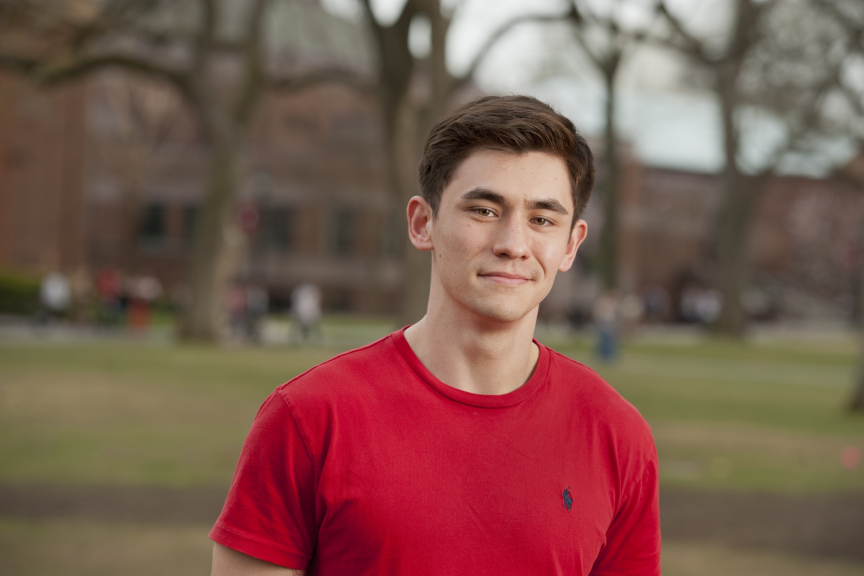 In long-term recovery now, Chin was a former user of alcohol and drugs. He spent his teenage years in and out of treatment programs, but he doesn't blame those programs for failing him.
Rather, it was the lack of a support network when he returned to school while living in the Bergen County community of River Edge. "There was no peer group, no one also in recovery," Chin said of his high school years.
While in a youth correctional facility for an assault conviction, Chin took advantage of the groundbreaking Rutgers University Mountainview Project, which provided him with college instruction and led to his admission at Rutgers. Though thrilled at the chance to pursue an advanced education, he feared entering a university community without support. Fortunately, Rutgers Recovery Housing was there for him. He credits that program with its on-campus residence hall, access to health resources, organized events and supportive advisors, alumni and peers for providing the environment he needed to succeed.
His success has been recognized with two major awards. Last year, Chin received a Truman Scholarship to fund graduate study for students committed to careers in public service. And this year, he has been named a Luce Scholar. This program sends students or recent graduates to Asia and gives them the chance to work in settings related to their professional aspirations. Chin is Rutgers' second Luce Scholar and ninth Truman Scholar.
Chin applied to the Luce program – funded by the Luce Foundation – because it combines professional experience with cultural immersion, something he hasn't done before. The linguistics major and public health minor in the School of Arts and Sciences will examine how recovery services are delivered to young people in other countries. He hopes to determine if the kind of peer support he received, and now provides to others, will work in different cultures.
"Empowering people in the community to deliver recovery services is a good model here, but will it work in Asia?" he asks, noting that the stigma surrounding substance abuse leads some countries to sentence abusers to internment and forced labor.
"I want to see what approaches and models my host country has, and whether there are parallels between those and the work I've done," he said.
While Chin is still waiting for the foundation to finalize his assignment, he anticipates working in a drug treatment facility in Bandung, Indonesia, that's known for its advocacy work and helping former injection drug users who have HIV and AIDS. He will leave for his host country in late June and take intensive language training, and then start his work assignment in late August.
"A lot of times, people think you have to come from the Ivies to apply for these awards," Chin said. "But Rutgers has exceptional students, and they can apply. We're doing great things right here."
At the end of his first semester in New Brunswick, Chin joined students from other college recovery communities at forums sponsored by the Substance Abuse and Mental Health Services Administration. Inspired by those meetings, he and 12 other recovering youth found Young People in Recovery (YPR), a national nonprofit dedicated to improving access to adequate recovery support services. YPR now has chapters in 17 states and has been celebrated by the White House.
Nearly two years later, he and a fellow YPR founder started a consulting firm, PTR Associates, to help municipalities and states improve how they organize and deliver recovery services. They recently helped a colleague with a program called "Clean Break," which offers students affordable spring break trips to Florida with events, concerts, local excursions and support activities, but without the alcohol or drugs that fuel stereotypical spring break experiences. PTR Associates used its networks to spread the word about Clean Break and survey potential participants about desired locations and activities as well as barriers to participating.
"Ben is a superlative candidate to be a Luce Scholar," said Arthur Casciato, director of the university's Office of Distinguished Fellowships. "He is smart, talented, committed and as deserving a candidate as any I have worked with in the past 14 years." With Chin's award, Rutgers students earned what Casciato calls a "rare trifecta" of exclusive national scholarships in the current academic year – the Mitchell, Luce and Churchill scholarships. Only one other school, the University of North Carolina, can claim similar success this year.
After completing his assignment in Asia, Chin plans to enroll in law school. But for now, he and his family are focused the coming year. He has a cousin in Malaysia on a fellowship and hopes to visit her. And his mother is very excited about his receiving a Luce Scholarship. "I told her she has to plan a trip to Asia," Chin said.
Benjamin Chin is just one of our outstanding students. Meet more of our national award winners here.