Rutgers Scientists Lead $3.2 Million Federal Grant to Develop Disease-Resistant Basil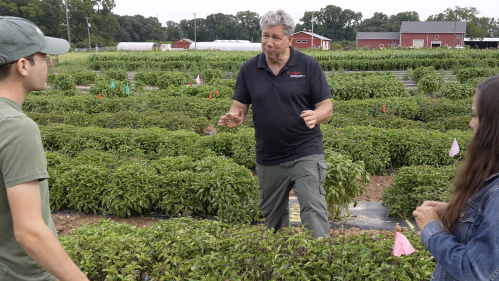 Researchers study the continued vulnerability of crops to threats of mildew and bacteria worldwide
Scientists from Rutgers University-New Brunswick are leading a new $3.2 million study that aims to continue developing sweet basil plants resistant to downy mildew and an emerging bacteria that has decimated the crops of the culinary herb for more than a decade.
The U.S. Department of Agriculture National Institute of Food and Agriculture provided funding to develop genetic tools over the next five years to combat the genetic vulnerability of sweet basil, a widely grown and economically influential herb used in foods as an antioxidant and as a source of essential oil for flavors and fragrances.
A plant pathogen known as basil downy mildew (BDM) was first discovered in the United States in 2007 and quickly spread throughout the nation and the world, destroying the global sweet basil industry. More recently, sweet basil has been threatened by a disease called bacterial leaf spot (BLS), in which small water-soaked lesions appear on leaves and quickly darken with age, impacting the uses of the plant.
"The USDA-NIFA grant will allow us to conduct the needed research to allow us a better understanding of the BDM pathogen and the genetic complexity of sweet basil," said James Simon, a Distinguished Professor of Plant Biology at Rutgers–New Brunswick. "With this opportunity, basil researchers, industry, and farmers will be able to address the ever-changing disease pressure that comes with climate change and impacts growers daily in many parts of the world."
Simon, who studies the genetics of the plant, leads the Rutgers basil breeding program along with Andy Wyenandt, an extension specialist in the Department of Plant Biology. In 2010, Rutgers researchers were the first to identify potential sources of basil (Ocimum) germplasm that carried BDM resistance, which could be used in breeding programs.
The two lead a team of scientists from the University of Massachusetts, University of Florida and Bar Ilan University in Israel. The consortium of basil researchers includes scientists who specialize in basic plant genetics, breeding and plant pathology. Along with generating new sweet basil lines, the researchers are studying genetic markers associated with resistance genes that can help develop new and stronger disease-resistant plants and improve other traits such as leaf size, shape and aroma.
Current BDM-resistant basil sweet basils, including those developed at Rutgers, have begun to display a breakdown in resistance in the U.S. and Europe, demonstrating how BDMs can already adapt and develop new races.  
One clear objective is to develop more BDM-resistant sweet basils and identify and breed BLS resistance into commercially acceptable cultivars. Currently, there are no commercial cultivars that reduce both BDM and BLS infection in commercial production operations, the researchers said. Developing new sweet basils with BDM and BLS resistance would greatly benefit growers in the U.S. and globally and provide solutions to commercial growers struggling with these problems.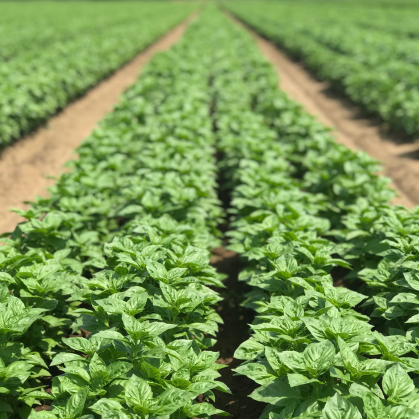 In 2011, and 2018, USDA-NIFA funded grants worth almost $4 million that brought these and other scientists and students together. The grants led to breakthrough research, the development of the first BDM-resistant basil breeding line and management strategies to control BDM. A separate grant of $103,000, supported by the U.S.-Israel Binational Agricultural Research and Development Fund in 2020, enabled further research into next-generation sequencing in sweet basil.
"Without innovation, emerging races of BDM and other disease threats such as BLS will again imperil the U.S. and global basil industry," concluded Simon. "This beautiful, attractive plant is economically important to so many different people, cultures, and agricultural industries worldwide."