Future farmers harvest wisdom through beginner training
Three years ago, administrative and faculty leaders at the Rutgers School of Environmental and Biological Sciences and the New Jersey Agricultural Experiment Station created a "beginner farmer" training program for people new to farming to address two related challenges: the aging of New Jersey farmers and the inexperience of many drawn to the profession.
Supported by a grant from the U.S. Department of Agriculture, the RU Ready to Farm program has attracted 130 participants and, through its faculty, is training would-be farmers on the complexities of running a farm business.
Professor William Hlubik, one of the program's creators and director of Rutgers Cooperative Extension of Middlesex County, and Christina Couch, the first beginner farmer to emerge from the program to start a business, discuss how the program is addressing the needs of the state and its farmers.
Why did you start RU Ready to Farm?
William Hlubik: The backbone of America's strength has always been the hard work and determination of the family farm community. The average age of farmers in New Jersey and the nation is approaching 60. Considering the increasing challenges of climate change and wavering global economies, we need a more sustainable local- and national-level agricultural product supply chain. About 90 percent of all farms are small family farms in the United States, with 88 percent of land operated by family farms. These small, midsize and large family farms provide more than 85 percent of the value of farm products. Now is the time to encourage beginner farmers to harvest the wisdom of our current generation. This could indeed bear fruit: a successful future for our nation.
Why did you decide to participate in this "Beginner Farmers" program?
Christina Couch: After studying agribusiness, working in vegetable production, cooking in restaurants and advising on food system projects, I have been exposed to the massive unpredictability of our existing agri-food supply chains. This had me eager to approach farming differently.
As a first-generation farmer, access to land and infrastructure to grow, source and distribute food are my greatest hurdles. This program allows me to put these challenges on hold while I experiment with regenerative growing practices, learn my local food system bottlenecks and establish a market with dependable relationships.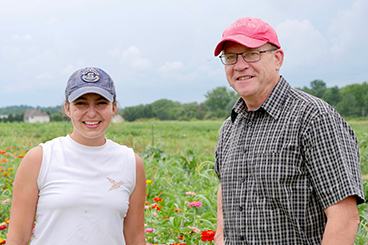 Q. How did you translate your years of experience into teachable ideas?
Hlubik: I have been most fortunate to have farmed with my family for over 50 years in Chesterfield.  I have also served as an agricultural agent and professor for 35 years and teach several agricultural production classes. I like to visit a variety of farm operations and have growers share their challenges and success stories with students. The questions and discussions generated with on-farm field tours provide the best laboratory for learning.
Q. What has the experience of participating in the program been like for you?
Couch: Familial and supportive, but farming is never short of emotional and physical challenges. This program provides wonderful technical training, resource assistance and connectivity to leading experts in New Jersey agriculture. Pura Farms launched in March 2023 and five months later, we are sourcing and producing food for farmers markets and chefs across the state. These programs are evolving admirably, and must continue to do so, in consideration of farmer mental health and long-term livelihood and career development.
Q. Is the program conceptual or practical? Or both?
Hlubik: The RU Ready to Farm program and my undergraduate classes are both conceptual and practical. Farming is a lifestyle choice and can occupy an inordinate amount of time and commitment. Successful farmers must be passionate, creative, intelligent and able to solve a myriad of challenges in real time. The successful farmer must be willing to evaluate his or her business each year and determine if changes are needed to keep the business sustainable.
One of the most important aspects of farming is to understand that it is never too late to change. Sometimes those changes can be quite significant. On my own family farm, we started out as dairy farmers and then shifted into truck crops such as tomatoes and potatoes. My family eventually embraced direct marketing and higher-value niche crops to improve profits and address the needs of local consumers. The challenge lies in producing unique products and establishing loyal customers that want to support your family farm business.
Farm families and farm businesses provide invaluable resources to their surrounding communities. Much of farming involves communication and community interaction. One of the most important concepts to understand is that you are not on your own. There is an extraordinary network of farmers that are willing to help one another become successful.
Q. Based on lessons learned in the program, what are your goals for the future?
Couch: At the surface, Pura Farms is a small-scale specialty vegetable and herb operation but dig a bit deeper and it reveals itself as the anchor of a much larger objective. We are building a more collaborative, localized food supply chain in New Jersey and with the vision of local food sovereignty organizations, I hope to integrate the farm into a larger, producer-owned collective.
Behind this lives the beating drum of my indigenous and Latina roots, and with that comes plans to strengthen ties within my community: Consistently distributing food to the last mile, hosting cultural events and introducing youths to food systems work. But for now, I am pushing for greater support of first-generation farmers and the programs that uplift us.