Scientists at Florida's Mote Marine Laboratory are using Rutgers University's submersible robot gliders to monitor the waters off Florida's Gulf Coast for signs that oil from the Deepwater Horizon oil spill is approaching the shore. One glider has already been deployed, and another is being prepared for deployment later this week or early next week, according to John Kerfoot, the software director of the Coastal Ocean Observation Laboratory in the Institute of Marine and Coastal Sciences. IMCS is part of the School of Environmental and Biological Sciences. 
The glider is the RU21, one of 27 Slocum Electric gliders operated by the Coastal Ocean Observation Laboratory. Rutgers scientists loaned the RU21 to their colleagues at Mote at the request of the National Oceanic and Atmospheric Administration.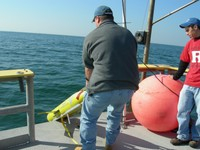 For this mission, the RU21's science bay includes a fluorometer, which measures the light emitted – the fluorescence – by the water as the glider travels through it. The fluorometer can be programmed to detect emissions of particular colors so scientists can deduce what kind of chemicals produced the emissions. 
In this case, scientists at Mote and at Rutgers will be looking for toxic chemical components of oil called polycyclic aromatic hydrocarbons, or PAHs. Kerfoot says RU21 has been programmed to surface every three hours and report its data. 
Along with the RU21 and its fluorometer, the Coastal Ocean Observation Laboratory sent Mote a second science package, including fluorometer, which scientists there will put in one of their own Slocum Electric gliders and deploy later this week, probably near the Florida Keys. The University of South Florida has also deployed a Slocum Electric glider off the west coast of Florida. Data from all the gliders is simultaneously available to Kerfoot and his colleagues at Mote and USF.  Click here to view a web page describing the contributions of Rutgers and its partners in tracking and understanding the spill.
As of May 24, none of the gliders has detected any oil threatening the Gulf coast of Florida.
Media Contact: Ken Branson
732-932-7084, ext. 633
E-mail: kbranson@ur.rutgers.edu