RiSE encourages bright undergrads to pursue graduate studies, especially at Rutgers
'RiSE students are coming back to Rutgers as graduate students, and Rutgers is being recognized as a national center for graduate education' - Beatrice Haimovich, associate director, RiSE
Illness got between Abigail Ameri and her future as scientist, but it's in the way no longer.
Ameri contracted Lyme disease in her teens and spent two years confined to a wheelchair, eventually progressing to a walker and later a cane. Now, 31 and able to walk normally, Ameri is getting ready to start her junior year as a bioinformatics major at Ramapo College. She's hopes to attend graduate school and her research focus is tick-borne diseases.
This summer, she worked with Kevin Chen in Rutgers' Department of Genetics to study the use ticks make of an enzyme that until recently was only found in plants and simpler animals."Ticks are second only to mosquitoes as vectors for human disease. So, it's important to understand what they do with their enzymes," says Ameri, one of 58 students who spent the summer and doing hands-on research as part of a Rutgers program known as RiSE.
RiSE (Research in Science and Engineering)is a selective 10-week program that seeks applicants from colleges and universities across the country. The program, geared to rising juniors and seniors, specifically looks for talented students from groups underrepresented in the sciences, math or engineering; from disadvantaged backgrounds; students who are the first of their families to go to college; and nontraditional students.
 "RiSE targets students at colleges that don't offer the opportunity for independent, cutting-edge research we offer at Rutgers," said Evelyn Erenrich, assistant dean of the Graduate School-New Brunswick and director of RiSE. "These are students who might not otherwise know about the exciting opportunities at Rutgers or career opportunities in the science and engineering workforce."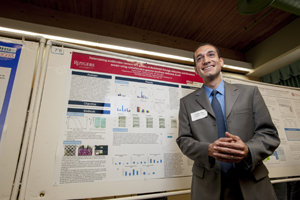 It is a joint program of Rutgers' Graduate School-New Brunswick and the Graduate School of Biomedical Sciences at Robert Wood Johnson Medical School, which became part of Rutgers on July 1.
"Our university benefits from having a diverse student body, and RiSE helps us identify students from all sorts of backgrounds, gives them a flavor of what research is and encourages them to pursue graduate studies," said Beatrice Haimovich, associate director of RiSE and associate professor of surgery at RWJMS. "RiSE students are coming back to Rutgers as graduate students, and Rutgers is being recognized as a national center for graduate education."
RiSE is funded by grants from the National Science Foundation, the New Jersey Space Grant Consortium, the Howard Hughes Medical Institute, internal university funding, private and corporate donors and the students' home schools. Each RiSE student works on his or her own research project and is carefully matched with a faculty mentor. Students receive a $4,000 stipend and up to $500 for their travel and live rent-free on campus. They receive help in preparing for the Graduate Record Exam, listen to distinguished scientists as guest speakers, and learn how to make scientific presentations themselves. At the end of the experience, they showcase their work in a poster session.
RiSE marked its 13th summer this year. Erenrich said the program has more than 370 alumni, of whom 97 percent have gone on to graduate or professional school, or are working in science or technical jobs in preparation for graduate school. Students from the early cohorts have become industrial and academic scientists, doctors and entrepreneurs.
Another RiSE participant, Carlos Paz, a junior at San Diego State University has spent the summer in green energy research. He studied duckweed, a possible substitute for corn in the production of ethanol, and a possible livestock feed, under Eric Lam in the Department of Plant Biology and Pathology.
Like Ameri, Paz had to confront serious illness to pursue his studies – not his own, but his mother's.  Paz's mother was diagnosed with breast cancer just after he entered San Diego State and her grueling treatment regimen made it impossible for Paz to continue his studies.
To help out financially, Paz took a job with a chain of sporting goods stores in southern California, worked his way up to supervisor, and was about to get promoted again two years ago when he paused to take stock. His mother was much improved. He liked his work; it wasn't a bad life. But the interest in science that originally drove him to go to college was still there. "I had the feeling that if I didn't go back to school now, that would be it," he said.
Paz returned to school to major in biochemistry and is now aiming for a Ph.D.
Both Paz and Ameri said their experience at RiSE opened new vistas and confirmed their career choice in research.
"I selected RiSE because it's a program that encourages nontraditional students and people who have faced life challenges to apply," Ameri said. "I've seen the world through the eyes of a severely disabled person, and I want to join the scientific community to help people in similar situations."