Rutgers Researchers Evaluate New Rapid COVID-19 Test
Researchers are evaluating a test that is fast and easy to perform without the need for a centralized laboratory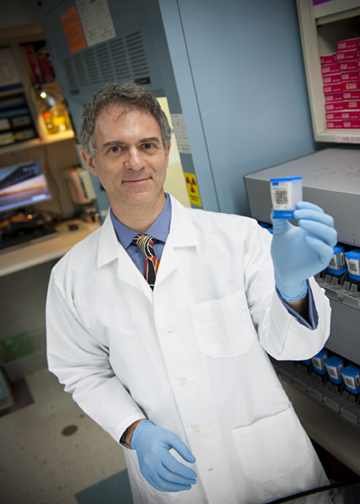 A Rutgers research team has completed the first evaluation of a new rapid COVID-19 test given emergency approval by the FDA. The test, developed by CEPHEID, a U.S. molecular diagnostics company, is fast and easy to perform without the need for a centralized laboratory. The company said the test would be available next week. 
David Alland, director of the Public Health Institute at Rutgers New Jersey Medical School, led the research team that assessed a late test prototype and subsequently the completely formulated test.
He talked with Rutgers Today about his team's role in developing the new test and what it means in the fight against the COVID-19 pandemic.
What were the findings of your evaluation and its accuracy? 
The test was able to identify extremely small amounts of genetic material from the SARS CoV2 virus, and when we repeated this test using live virus we also were able to identify very low levels. This strongly suggests the test will be highly effective at identifying COVID-19 cases. 
How is this test different from the ones currently available and how might it impact testing capabilities? 
Currently, tests are sent to a lab and results can take one to five days. The impact of rapid testing will be significant because results can be delivered in 45 minutes. It will be a game-changer for crucial medical decisions, including how to triage patients, when to isolate and how to treat. Additionally, as the world continues to manage COVID-19 in the coming years, the test has the potential to be used in doctor's offices, clinics and even in mobile units and could help detect new small outbreaks of disease before large-scale outbreaks reoccur.
How was your team involved in helping to develop this new test?
My laboratory has been working with CEPHEID for almost 20 years to develop a series of innovative diagnostic tests for infectious diseases. In our breakthrough test for tuberculosis, we contributed technology that enabled rapid detection of mycobacterium tuberculosis, the bacteria that causes TB. We also created technology that enabled easy identification of mutations associated with drug resistance in the organism. We worked with CEPHEID so that it could function as a self-contained diagnostics laboratory with an automated assembly line. The tuberculosis test has been in high demand throughout the world since its launch in 2010. This has helped get us to the point where COVID-19 tests can be rapidly designed, quickly produced and widely used. 
Given our experience designing and evaluating prototype CEPHEID tests, we believed we could partner with CEPHEID in creating various iterations of the COVID-19 test. We have superb facilities at the Rutgers Bio-containment Laboratories and could safely grow and work with SARS CoV2, the virus responsible for the COVID-19 disease. The first prototype we investigated performed beyond our expectations. We did not find a need for additional developmental work, clearing the way for product launch and a clinical study to further refine our understanding of test performance.  
Can you explain how the test works?  
A sample is obtained from a patient, usually using a swab. The swab is put into transport media and brought to a location where the test is performed. A small amount of the transport media is placed into the test cartridge, the lid is closed, the cartridge is placed into an open testing bay in a GeneXpert instrument, which runs the test, and the GeneXpert performs all test steps.  After less than 45 minutes, the test result is automatically reported. It's as simple as that. 
With an increased need for testing and the FDA responding with an emergency use waiver for this test, can you explain how Rutgers fast-tracked your research to make your evaluation happen so quickly?
Rutgers moved to allow this work to proceed with haste in the interest of public health. A research agreement that usually takes a month or more to negotiate was completed in less than three and a half days. My team rapidly wrote out experimental and safety protocols as required for this type of work. Bio-safety and human subject reviews that usually take place sequentially were performed at the same time. Each step of the review process was completed within a day or less. A facility at University of Texas-Medical Branch that had a supply of SARS CoV2 virus and genetic material mobilized to send it to us in less than 24 hours. Everything happened at lightning speed. 
What are the next steps for this test? 
Research and testing are ongoing to fulfill regulatory requirements. Additional studies to better understand how to use this test to control the spread of COVID-19 and to aid in treatment are planned and we hope to be able to begin them shortly.