Awards honor those who promote the value and importance of diversity at Rutgers and in society
The Human Dignity Awards were presented May 9, honoring Rutgers faculty, staff and organizations that strive to promote social justice and diversity.
The honorees include the associate director of the Tyler Clementi Center, an English professor who helped build the Department of Women's and Gender Studies and fought gender disparity on several fronts, and a community-based language partnership that strives to reduce discrimination and build cultural understanding.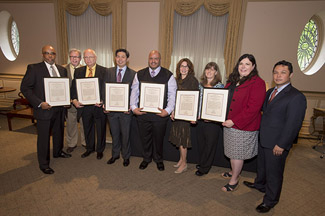 The awards, presented by the Committee to Advance Our Common Purposes, have been given annually since 1999. They honor individuals or groups who have demonstrated extraordinary achievement and commitment in promoting the value and importance of diversity at Rutgers and in society. 
"The Human Dignity Award is an important university honor as it recognizes the often invisible but vital work of people bringing vastly different communities together within and beyond the university,'' said Allan P. Isaac, chair of the Department of American Studies in the School of Arts and Sciences and faculty chair of the committee. "These honorees are able to create and build critical connections that the institution itself has yet to imagine."
The recipients are as follows: The Conversation Tree is an initiative created by the Rutgers Graduate School of Education and the Collaborative Center for Community-Based Research and Service that brings together Rutgers students, faculty and staff with local immigrant and English language-learning communities. The program promotes cultural understanding as Rutgers students learn about the challenges of being non-native speakers, while also giving adults learning English in New Brunswick and neighboring communities a chance to polish their language skills.
Rick H. Lee, associate director of Rutgers' Tyler Clementi Center and coordinator of Asian-American studies programming, has worked for more than a decade to build bridges across diverse disciplines and groups. Lee has brought intellectually rich and diverse programming to Rutgers through his dual roles in the Department of American Studies and at Rutgers' Tyler Clementi Center – which helps students with their transition to college and coming of age in the digital era. He developed the Asian American Studies Undergraduate Symposium, now in its fourth year.
Polly McLaughlin worked in Newark and New Brunswick for 25 years as a clinical alcohol and drug counselor and health educator. By nurturing, empowering and promoting involvement in initiatives and programs to lift self-esteem, McLaughlin has steered the most challenged students struggling with addiction toward a life of recovery. She has been a social justice pioneer, serving as one of the first LGBTQ allies at Rutgers University-Newark. She is director of the Rutgers University-Newark Alcohol & Other Drugs Assistance Program and associate director of the Rutgers University-Newark Counseling Center.
Jonathan Muse, assistant dean and director, School of Business-Camden, developed an outreach program with Camden high schools to increase college enrollment of first-generation students, which led to greater cultural and economic diversity on campus. He has been involved in other community projects to improve life for Camden residents by expanding access to healthy food, including an initiative that provides residents in South Camden an opportunity to grow their own gardens.
Ralph Normandia, university facilities grounds maintenance staff in New Brunswick, has devoted his life to maintaining the grounds of Rutgers as its landscape continues to evolve. He has a passion for community support, sustainable projects and collaborating with  leadership. He also serves as a resource to help students in need by introducing them to staff members and guiding them around campus.
Barry V. Qualls, University Professor in the Department of English in the School of Arts and Sciences, has maintained active and unflagging support for diversity throughout Rutgers during his decades as a leader at the university. He worked to build a community of scholars, administrators and students dedicated to feminist studies, queer studies, race and ethnic studies, sexuality studies and diversity of all kinds. He has worked to develop and support major institutions that nurture inclusiveness, civility, and justice. His vision and hard work were instrumental in developing the acclaimed Department of Women's and Gender Studies – with established minors in sexuality studies and social justice – and the innovative Douglass Residential College.
The Human Dignity Awards program is open to all university individuals, organizations, departments and units from the Camden, Newark and New Brunswick. Each recipient receives a citation and a monetary gift, all or a portion of which may be donated to an organization of the recipient's choice for diversity enhancements.