Rutgers Pledges to Defend and Support International Students
Rutgers joins universities across the United States opposing a policy change affecting international students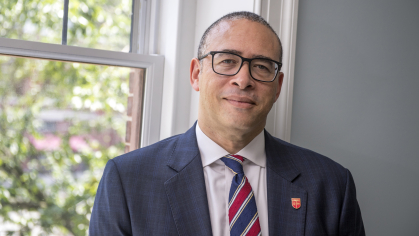 Rutgers University President Jonathan Holloway called a U.S. Immigration and Customs Enforcement policy that would require international students taking fully remote course loads in the fall to return home "deeply troubling" and pledged to take appropriate action to oppose the measure.
"Rutgers University strenuously disagrees with this rule change and the spirit of the change, which appears to target our vibrant international student community,'' Holloway said in a statement to the Rutgers community.
The new federal policy was announced earlier this week, on the same day that Holloway said Rutgers will operate in a hybrid mode during the fall 2020 semester, delivering courses predominantly via remote instruction with a limited number of in-person classes.
"The policies would have a devastating impact on our international students' ability to complete their Rutgers education,'' Holloway said. "Our university has a mission to educate and improve the lives of our community both locally and globally. Our international students are a critical part of that mission, and we will do everything in our power to defend their ability to remain in the United States.''
In the last academic year, Rutgers had a record total of 8,189 international graduate and undergraduate students enrolled.
Administrators across Rutgers are working to understand and respond to the new federal policy. Since the proposed rules were announced, Rutgers and its peer universities have been advocating for a congressional solution to this issue, Holloway said. He said the university is also committed to participating in any appropriate legal action to suspend the new guidance.
Rutgers also is working to explore and design course offerings that would meet the in-person learning requirements of the new guidance while also assuring the health and safety of students and faculty, Holloway said.
Other Rutgers leaders issued statements this week about the value and importance of international students at the university. 
''The policies put forward by U.S. Immigration and Customs Enforcement go against our culture of inclusiveness and we will do whatever we can to ensure our international students can continue their education with us,'' said Brian L. Strom, chancellor of Rutgers Biomedical and Health Sciences.
"The profound ideas, research and knowledge that are developed at RBHS are anchored in the diversity of our community, which includes a robust international population. This pandemic has shown that COVID-19 knows no borders and that an international effort from the health care and biomedicine fields will be key to solving this crisis,'' Strom said.
Rutgers University-Newark chancellor Nancy Cantor, Margaret Marsh, interim chancellor at Rutgers University-Camden and Rutgers University-New Brunswick chancellor Christopher J. Molloy all spoke to the important role international students play at the university.
"International students are essential members of our academic community, bringing perspectives and experiences to every aspect of our work and our lives on campus and in our communities that are indispensable to our intellectual and personal growth,'' Cantor said in a statement. "We are fully committed to finding solutions to the present situation reflecting that integral role in the fabric of our community and our caring for international students as irreplaceable members of the Rutgers-Newark family.''
Marsh said all members of the campus community – including international students – are integral to making the community thrive. 
"Rutgers University-Camden is home to an inclusive community of scholars and students from around the world,'' Marsh said in a statement. "Our intellectual climate is strongest when we are able to learn from different perspectives, and our international students are valued members of our campus community.''
Molloy said the broad diversity at the university, which includes students from around the world, contributes to a vibrant educational experience.
"Our international students enrich our culture in the classroom and beyond, and many help lead discoveries that benefit our nation and the world. We are committed to ensuring they are able to remain a part of the Rutgers family throughout these challenging times," Molloy said.
Rutgers Global is preparing guidance for Rutgers International students that will be updated as the university's plans develop.
"Rutgers understands the personal and the institutional impacts of these policies and will do all that we can to address them as quickly as possible,'' Holloway said.