Rutgers Pioneers a New Model for Synchronous Learning
New classroom initiative could serve as a blueprint for course sharing among Big Ten schools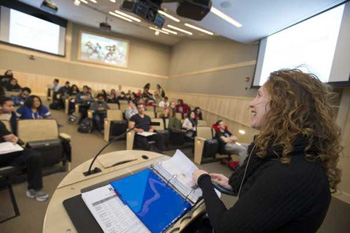 'I was skeptical about the whole experience, but it is like the professor is right here and it is easy to interact with her.'

 

– Omar Britton-Grant, a junior biology major
New technology at Rutgers is making it possible for a professor to be in two places at once while cutting down on the need for students to take a bus to class.
The university recently unveiled two new classrooms – one on the Cook/Douglass Campus and a second on the Busch Campus – outfitted with high-definition broadcast technology that divides lectures as large as 275 students into two locations.  
The way it works: The professor presents from the front of the classroom at one site and is streamed in life size on a large screen in the second location, creating the sense of being in both rooms at once. The students are also broadcast on large screens in both rooms, so instructors can engage with everyone taking the class – and the students at both locations can see, hear, and talk to each other. Students are also able to ask and answer questions as if they were in the same room with the professor, even when they are not. And professor alternates between each campus to make sure students have an equal experience throughout the semester.
"I was skeptical about the whole experience, but it is like the professor is right here and it is easy to interact with her,'' said Omar Britton-Grant, a junior biology major who takes exercise physiology in the new classroom on the Cook/Douglass Campus.
"It is really convenient because all of my classes are here,'' he said. "If I had to take this class on the Busch Campus, I would really be going out of my way.''
Rutgers is one of the first universities in the country to use broadcast technology to teach a course in multiple locations simultaneously on a large scale. The project, called the "Immersive Synchronous Lecture Initiative'' grew out of the University Physical Master Plan, which recommended using technology to cut down on the need for course-related travel between campuses at Rutgers University-New Brunswick, said Paul Hammond, assistant vice chancellor for technology and instruction.
"We want students to move around if they want to, but the goal is to turn transportation from more of a necessity to more of a convenience,'' Hammond said.
The project is being done in tandem with plans to introduce a new smart course scheduling system during the 2018-19 academic year that will take into account where students are located and where classes are being offered to cut down on the need for travel, Hammond said.
The new classrooms at Rutgers were modeled after similar technology used on a smaller scale at University of Pennsylvania's Wharton School of Business.  This semester Rutgers is offering 10 course sections in the two locations and is considering building additional lecture halls for the College Avenue and Livingston campuses, at Rutgers University-Newark and Rutgers University-Camden, and at Rutgers Biomedical and Health Sciences locations.
Hammond said the university wanted to design lecture halls that would make students feel connected to each other and to the professor, even while at different locations.
Hammond said the technology has the potential to make a difference beyond Rutgers by serving as a blueprint to enable course sharing between Big Ten schools.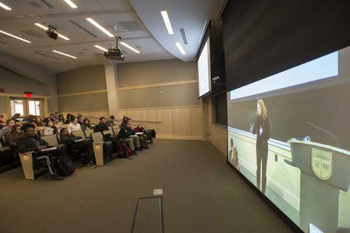 Interacting in the new classrooms has quickly become second nature for the professor and students.
"At the beginning I had in the back of my mind that I shouldn't forget the other class, but now it's totally natural,'' said Sara Campbell, an assistant professor in the Department of Kinesiology and Health, who teaches exercise physiology in the new rooms. "The cool part of the system is students in the other room can see me talking to them and they know who I am pointing to when they have a question. So even when I am not there, I feel I can call on them individually.''
Campbell said the technology makes it possible to teach students in the same way she would in a traditional class room.
"I can still write on the board, I can still show animations of muscle contractions and pull up an image of an obese mouse and show what leptin deficiency looks like,'' Campbell said. "I still feel like I have the full range of motion with the things I can do in class.''
Students also say they have quickly become comfortable with the technology and appreciate the convenience of being able to schedule classes closer together.
"I like that she is able to see both classrooms and you can ask questions and she can hear you, too, and I spend less time traveling to get here,'' said Jailyn Cepeda, a senior exercise science major.