Rutgers Physics and Math Major Honored with Goldwater Scholarship
Viktor Krapivin aims for a doctorate and a university professorship
As a young child, Viktor Krapivin peppered his parents with questions about the universe, and his dad bought him a reader-friendly book on quantum mechanics in sixth grade.
"Ever since, I've been really interested in figuring out how everything works," said Krapivin, 21, a junior physics and math major in the School of Arts and Sciences, Rutgers University-New Brunswick. "I took physics the earliest I could in high school and learned more about physics during weekend science programs. I always wanted to get a physics degree at a university."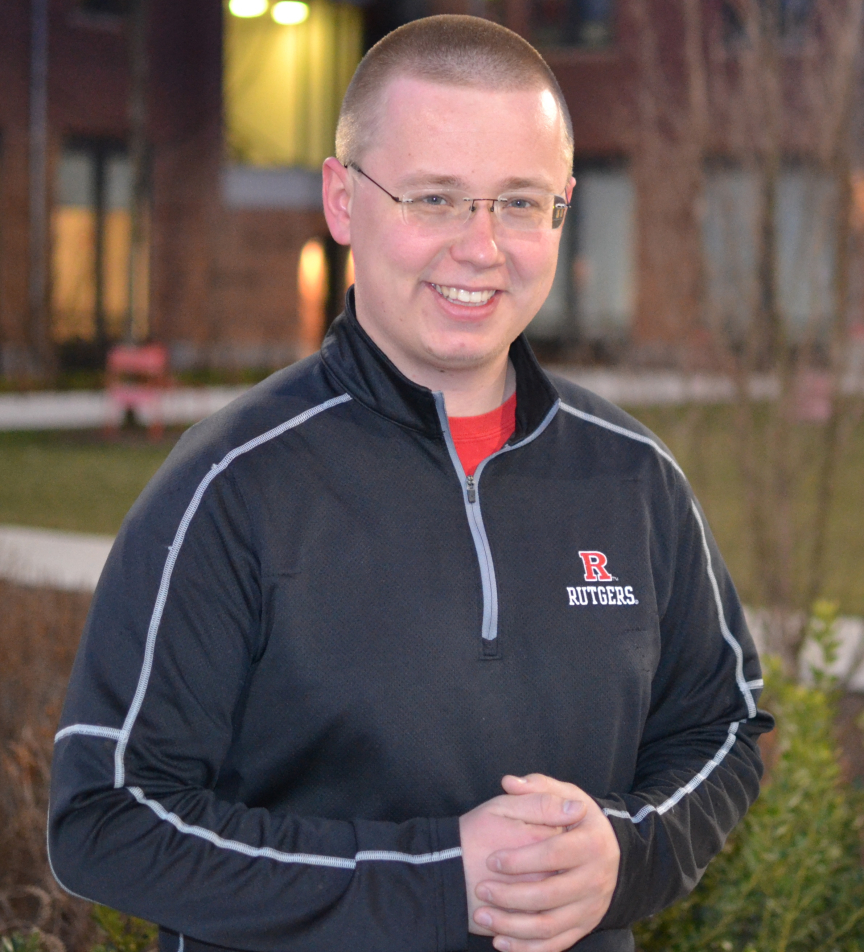 Krapivin's steadfast curiosity has been fruitful. He is one of 240 Goldwater scholars in the United States for the 2017-18 academic year. It's the top undergraduate award of its kind in the natural sciences, engineering and mathematics fields. An additional 307 nominees, including three other Rutgers juniors, earned honorable mentions.
Undergraduate students in Rutgers' Department of Physics and Astronomy have won Goldwater scholarships for eight consecutive years – and 14 overall.
The scholarships include up to $7,500 a year for tuition, fees, books and room and board for up to two years. Endowed by the federal government, the Barry Goldwater Scholarship and Excellence in Education Foundation honors the Arizona native who served for 30 years in the U.S. Senate.
"It's a very competitive award and it is further motivating me to pursue research as a career," said Krapivin, an immigrant from Moscow, Russia, whose dream is to become a physics professor.
Krapivin's dad, Aleksandr, a Ukraine native, emigrated from Moscow to the United States in 1998. Viktor, his brother, Andrew, and their mom, Yuliya, who is from Russia, arrived in the U.S. in 1999. All are now U.S. citizens and the family lives in Fair Lawn, New Jersey.
"My family came to the USA because of luck," said Krapivin, noting that his parents entered the Diversity Immigrant Visa Program lottery and won green cards. Both have expertise in computer programming.
---
Related Story:  
Rutgers Physics Major Named Goldwater Scholar
---
Krapivin, a graduate of Lawrence High School in New Jersey, arrived at Rutgers in 2014. After his freshman year, he worked in physics professor Girsh Blumberg's Rutgers Laser Spectroscopy Lab, thanks to the Aresty Research Assistant (RA) Program, which provides students their first authentic research experience working with professors. Krapivin also worked in Blumberg's lab during his sophomore year.
There, he studied unconventional properties of solids discovered in several classes of metals at low temperatures. Under the guidance of Hsiang-Hsi Kung, a senior graduate student, Krapivin acquired and analyzed complex experimental data. The results were published in two Physical Review Letters papers in a year – an extraordinary achievement, Blumberg said.
"Viktor is knowledgeable, organized and quite independent in his approach to research," Blumberg said. "He is modest, with a poised self-confidence that empowers him to pose essential questions and make new suggestions for research projects."
Last summer, Krapivin enjoyed a Science Undergraduate Laboratory Internship, supported by the U.S. Department of Energy, at Stanford University. He conducted research on a potential catalyst that, with electricity, could turn carbon dioxide in water into an alcohol that could be used to fuel cars and airplanes.
This summer, he will participate in a Research Experiences for Undergraduates (REU) program at Lehigh University, working with physics professor Jean Toulouse. REU is a National Science Foundation program.
"I've had tremendous research opportunities at Rutgers, tremendous opportunities to learn a lot, and I'm really grateful for that," said Krapivin, who is minoring in economics and wants to pursue a doctorate in physics.
He is the 21st Goldwater scholar from Rutgers in the decade since its Office of Distinguished Fellowships was established, said Arthur D. Casciato, director of the office.
"This is a record of consistency and achievement in which the entire Rutgers University community may take pride," Casciato said.
Rutgers honorable mentions for a Goldwater scholarship went to juniors Zoran Gajic and Christopher Markosian, both molecular biology and biochemistry majors; and junior Jonah Williams, who is majoring in chemical engineering and molecular engineering and biochemistry.  
---
For media inquiries, please contact science communicator Todd B. Bates at tbates@ucm.rutgers.edu or 848-932-0550.