Rutgers' Osher Lifelong Learning Institute Taps into a Thirst for Learning that Knows No Age Limit
Social connection among the 50+ community is as important as the intellectual stimulation
For Lynette Birkins, taking a class for older adults was a lifeline out of a depression that settled in after she retired from a 36-year career in education. A friend who knew about her love of writing encouraged her to take a creative writing class offered for the 50+ community. Now, 105 classes later, Birkins actually taught a class of her own last semester.  She credits the friends she made and the nurturing hand of the teachers with her recovery.
"It helped to save my life. I got involved with people and creative writing was a way to get all those feelings out that you push down. The best way was to write about it," says Birkins.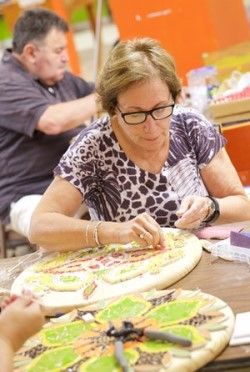 Birkins takes her classes at Osher Lifelong Learning Institute at Rutgers University (OLLI-RU), a place for mature education and social interaction for those over 50. She and many of her classmates continued to meet after their course ended, sharing a love of writing and celebrating birthdays together.
A group with poet Elizabeth Pallitto led to the publication of an anthology of their writing titled "Leaves of Autumn." Another group, led by former Rutgers faculty member Maxine Susman, culminated in a poetry reading last spring at OLLI-RU.
"The instructors are incredible. People slink in worried that they do not know what they are doing, and they come out stars. They had no idea what was inside of them," says Birkins.
For many mature learners, the courses are a chance to explore something completely new that always caught their interest but was not a part of their traditional careers and lives. Last spring OLLI-RU hosted a fine arts show and displayed the impressive submissions of adult learners.
Even though Donald Carugati has rock and roll in his blood, he cautiously agreed to sign up for an opera class with the encouragement of his wife, Janet Lorey, both of whom take two classes a week with OLLI-RU.  He was pleasantly surprised by the course, and enjoyed it as much as the other 79 courses he has taken since 2007.
"The classes give us something to look forward to and stretch us intellectually. They say mental gymnastics are good. You are certainly never too old to learn something new," says Carugati, a former educator and administrator.
Lorey, who enjoys physical activity, says the classes are intellectually stimulating, which is as important as exercise. "It makes your life exciting. We don't just sit around and watch TV," says Lorey, who has also attended many of the day trips offered.
From "Famous Playwrights and their Plays" to "Five Days of Law School" to "The British are Coming: Films from Across the Pond," OLLI-RU course offerings are an eclectic mix of history, culture, and the arts. Students can try calligraphy, participate in a poetry workshop, and explore the golden age of radio. OLLI-RU has 1,200 members and offers over 300 courses each year.
New Brunswick classes meet at the Reformed Church of Highland Park while Freehold classes meet at the Western Monmouth Higher Education Center at Brookdale Community College. Day trip are also offered. Courses are offered at low cost. Five-week courses cost $40-$45; 10-week courses cost $80-$100. OLLI-RU spring session ends the week of May 9 and a five-week summer session begins June 1. 
"The social connection among the 50+ community is as important as the intellectual stimulation. They have an opportunity to form friendships, have fun and be exposed to new areas of life. The classes are a source of enjoyment but also a lifeline of connection, which is important for health and well-being at any age," says Richard Novak, vice president for Continuing Studies and Distance Education at Rutgers. 
"It is important to never stop learning," says Novak. "Grandma Moses became famous for painting at age 78. You never know what talents you might discover." 
Osher Lifelong Learning Institutes are found in all 50 states and number more than 119 sites affiliated mostly with colleges and universities. With more than 150,000 participants, the institutes offer a variety of noncredit courses with no assignments or grades. Osher Learning Institutes also position themselves as places where older adults can expand their knowledge and their social circles with likeminded people.