Rutgers Opens State-of-the-Art Chemistry and Chemical Biology Building
The new facility's courtyard includes a giant replica of a caffeine molecule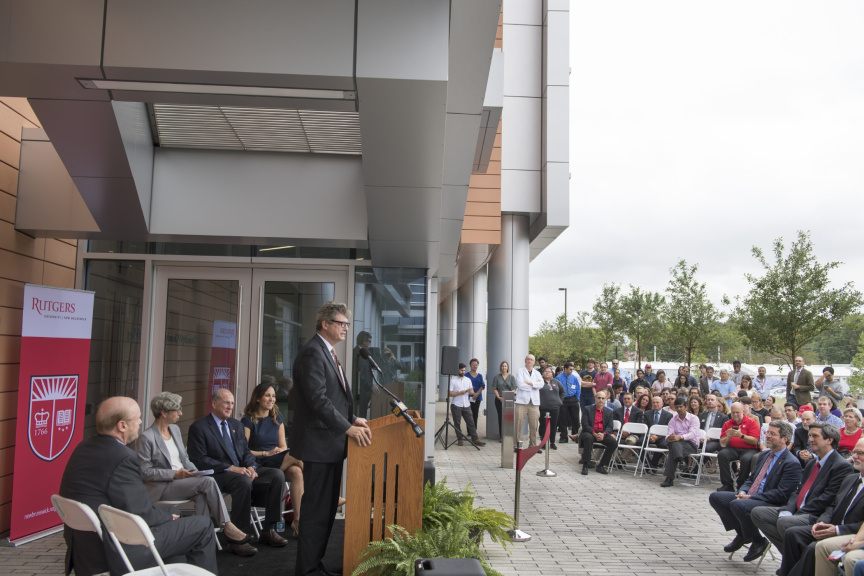 The new home for the Department of Chemistry and Chemical Biology at Rutgers University–New Brunswick, which provides expanded teaching, laboratory and support space, is open for classes and research.
Rutgers University President Robert Barchi and Rutgers–New Brunswick Interim Chancellor Christopher Molloy on Friday unveiled the building that launches a new era in research and education.
The four-story, 144,000-square-foot facility will help accelerate innovative work in biophysical chemistry related to human health, drug design and synthesis, alternative energy, biomaterials, nanotechnology and other fields. The $115 million project was funded largely by New Jersey's 2012 Building Our Future Bond Act.
"We're grateful to the people of the state for their investment in the bond act, and we've created a facility they can be proud of," President Barchi said. "It is both visually appealing in its architecture and equipped with state-of-the-art laboratories that will enable our scientists and students to make important new discoveries."
Interim Chancellor Molloy said, "Rutgers' chemistry and chemical biology research is discovering new ways to improve lives, from clean energy solutions, to potential new treatments for cancer and HIV, to high-speed computing. We're preparing students for success in fields from pharmaceuticals to flavors, from petroleum to semiconductors. This new building will allow us to do even more."
"The Department of Chemistry and Chemical Biology educates thousands of undergraduates and graduate students, and produces research that benefits health, energy, and the environment," said School of Arts and Sciences Executive Dean Peter March. "Now the department has a fitting 21st century home."
"Designed with an eye toward collaboration, combining instructional spaces with flexible research spaces, and inviting common areas, the building will enhance already excellent teaching and research," said Arts and Sciences Vice Dean of Research and Graduate Studies and Distinguished Professor of Chemistry Jean Baum. "The new possibilities will attract graduate students and new faculty and bolster our partnership with industry."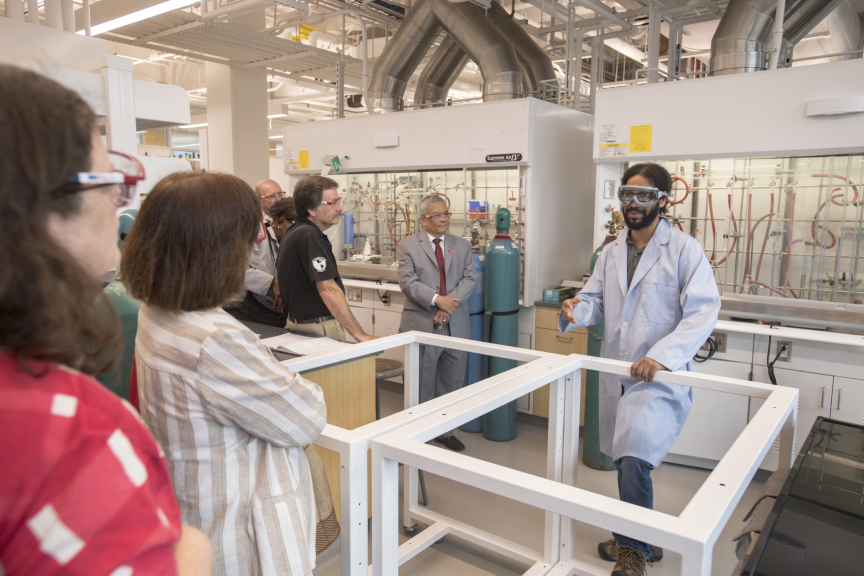 More than 6,000 Rutgers students take chemistry courses each semester, and they will benefit from the new classrooms and labs. The building allows the university to expand upon its tradition of collaborative research with leading academic labs, federal agencies and private companies in New Jersey and around the world. The building includes a microscopy suite and optical spectroscopy, nuclear magnetic resonance spectroscopy and X-ray crystallography laboratories. The facility's modular design and versatile infrastructure allow reconfiguration of labs and classrooms to respond as teaching methods and technology evolve and the needs of students and faculty change. Common areas are designed to promote collaborations.
Adjacent to the Wright-Reiman Chemistry complex on the Busch campus, the new building's front courtyard features The PhD Molecule, a 27-foot-tall sculpture by Larry Kirkland, which includes a stainless steel depiction of a caffeine molecule on a black granite base representing a blackboard with etched chemistry symbols.
In addition to conforming to New Jersey energy mandates and guidelines, Rutgers seeks to achieve a Leadership in Energy and Environmental Design (LEED) Gold certification for the building by reducing its energy usage. Green features include windows that maximize natural light and manage heat gain, advanced air handling and exhaust systems, construction materials made from a significant percentage of recycled content and native vegetation to encourage biodiversity and reduce the need for irrigation.