The building serves as program hub and communal space for Rutgers and the local community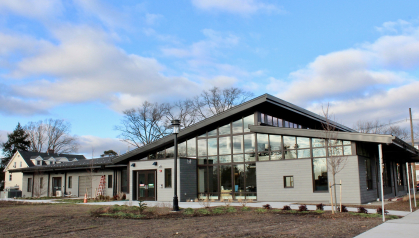 Rutgers has opened a new building to better serve adults with autism spectrum disorder through vocational and recreational programs, making it possible to expand existing programs to address a growing need in New Jersey, which has the highest autism rates in the country.
The Rutgers Center for Adult Autism Services Community Center, a 10,000-square-foot facility on the Douglass Campus of Rutgers University-New Brunswick, is the first of its kind at a higher education institution in the United States. The $9.5 million project was financed with philanthropic funds.
The state-of-the-art building includes vocational, social and life skills teaching areas, individual and group training rooms, a professional kitchen, recreational and common spaces, offices and meeting rooms. The center more than doubles the capacity of programs to provide employment, job training, psychological assessment and other services to Rutgers students and adults with autism.
"We are thrilled to make this unique building our new home," said Christopher Manente, executive director of the Rutgers Center for Adult Autism Services (RCAAS), who was involved with the design and construction of the Community Center. "There is no other university program as comprehensive and ambitious in terms of focusing on the success of adults on the spectrum in a multifaceted way. We hope this community center will serve as a model for other institutions." 
RCAAS, established in 2016, serves adults with autism by providing meaningful, paid employment and integration into the Rutgers community through its flagship Supporting Community Access through Leisure and Employment (SCALE) program. The center also provides individualized support services for Rutgers students on the autism spectrum through the College Support Program and assessment and psychological services for autistic adults through the Psychological Services Clinic.
Mel Karmazin, the former CEO of Sirius XM Radio, was a key leader in fundraising for the project along with his daughter Dina Karmazin Elkins, executive director of the Karma Foundation. Dina Karmazin's son, Hunter, was diagnosed with autism at age 2, and the Karma Foundation has been active in autism causes.
Autism and autism spectrum disorder are among the fastest-growing developmental disabilities in the United States. Rutgers-New Brunswick's Graduate School of Applied and Professional Psychology created the center to address the well-documented shortage of quality services that help adults with autism lead meaningful and productive lives, and to conduct research that can inform the development of other programs for adults with autism.
The building's architectural strategy uses nature and natural building materials and other features to make participants feel connected to the natural environment.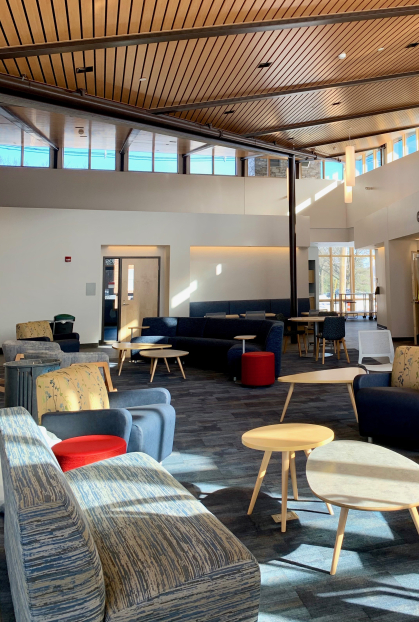 "Nature and natural materials such as wood and stone were chosen with great intention and played a vital role in every detail, such as the pitched roof, flooring, lighting and landscaping," said Manente.
Particular attention was paid to sensory impacts, such as using materials that reduce noise and alcoves with soft edges that allow for privacy. Also, the main room has diner-like seating, which is ideal for reading, one-on-one meetings or taking a break before rejoining a group activity. 
Visitors have access to Wi-Fi, classrooms for workshops, a game room, oversized restrooms, showers and wood-grained lockers for visitors, among other amenities. Forthcoming in 2021 will be a separate wing for the Intensive Outpatient Unit, a community-based resource for adults with autism that have complex, crisis-level support needs.  
"The building is a welcoming environment for the entire Rutgers and local community, not just adults with autism," said Manente. "This space opens doors to new relationships, renowned research and especially community. We look forward to a time when our program participants, Rutgers and the neighboring community can use the space together."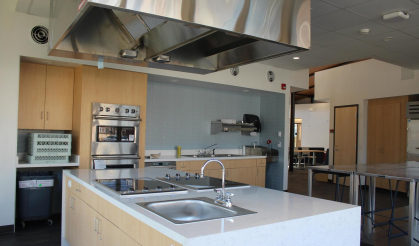 In light of COVID-19, the Community Center will only be accessible to RCAAS staff, participants and students at this time. The building will be open to the Rutgers and local community as soon as safely possible and in concert with the universitywide plans for repopulating public congregate spaces throughout campus.
For more information, visit facebook.com/RutgersCAAS.
To sign up for the RCAAS newsletter "On the Spectrum in Adulthood," fill out their sign up form.