Rutgers' New Women's Basketball Dream Team
The 2020 recruiting class is ranked by ESPN HoopGurlz at No. 8 in the nation and No. 1 in the Big Ten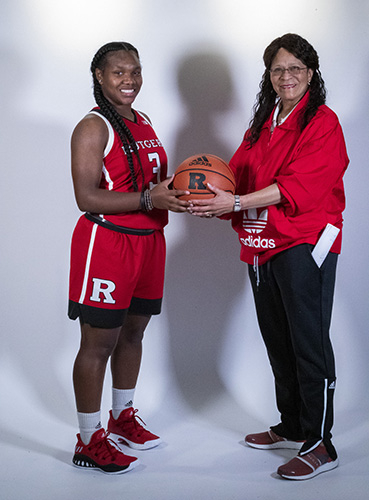 In the last year, high school all-American guard Diamond Johnson has been struggling after the death of her father, while growing into one of the best women's basketball players in the country.
Now she is headed to Rutgers, a member of the best women's basketball recruiting class since 2008. After losing one parent, what drew the Philadelphia native to New Jersey was the chance to work with legendary coach C. Vivian Stringer, who she sees as a second mother.   
"She's so different,'' Johnson said. "The love and genuineness is there. I think she's going to help me grow, help me reach my goals, to do things on my own.''
Johnson is one of the most sought-after recruits in the country who chose Rutgers. They are part of one of the top classes in the country, ranked by ESPN HoopGurlz at No. 8 in the nation, while BlueStar Report listed it at No. 5. Both recruiting services have them No. 1 in the Big Ten Conference.
The new recruits are all coming to Rutgers with dreams of playing in a national championship and were drawn by the chance to play under Stringer. They were recruited during an unusual time for the team, while Stringer was on leave last spring after being advised by doctors to take time off due to exhaustion.
She said the years of watching game film until 2 a.m., 6 a.m. practices, traveling the country on recruiting trips, and of having coached nearly 1,500 games, had taken its toll.
Although she took a backseat position during recruiting, Stringer, 71, met with all the players before they signed and became the reason they all chose to become Scarlet Knights.
"They were very family-oriented, all about family,'' said Erica Lafayette of Baton Rouge, LA. "And Coach Stringer is just amazing. You can feel her love just by her talking to you. She's so passionate about what she does. She was a great inspiration, really down to earth, real.''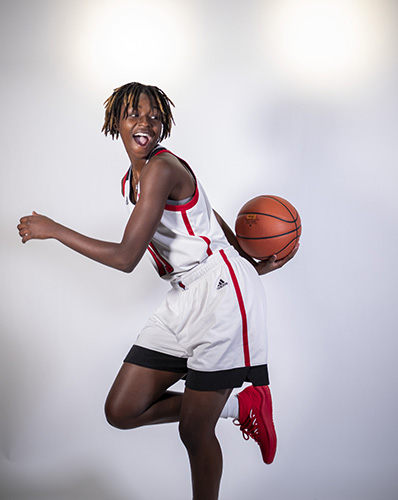 Lafayette, who comes from a very large family (12 siblings), wants to pursue a master's degree in landscape architecture, perhaps play pro ball and help her team win a national championship. "Yes. Of course,'' she said gleefully.
Three assistant coaches followed Stringer's long-time recruiting blueprint while she was off, including highlighting the incentive of training in the new crown jewel RWJBarnabas Health Athletic Performance Center. The five high school players who eventually signed include Johnson, who Stringer calls the best guard in the country.
"It all came together because of Coach Stringer,'' said Tim Eatman, who last season stepped into the role of head coach for the season's final six games.
 "We knew exactly the vision she wants in each position,'' he said. "I had the daunting task of putting the stamp on everybody before Coach would say, 'yes.' I needed to make sure Coach was going to be very happy with that.''
Although Stringer made only one trip to see Johnson, her role with this class was basically to come into her office, meet with the recruit and her parents, and seal the deal.
"From the time I stepped on campus I already felt part of the family,'' said Chyna Cornwell. "And the staff is amazing. Coach seemed like a second mom. She promised me she would take care of me. I knew right then, this is where I need to be. Where I belong.''
Cornwell plans on majoring in dentistry and shares her teammate's basketball goals. "I believe we will win a national championship before I graduate,'' she said.
She grew up in a small town in North Carolina, but Cornwell, 6-foot-3, put up big numbers last year, averaging 28 points and 20 rebounds a game.
The recruits are good kids, said fourth-year assistant Nadine Domond. "Humble,'' she said. "We want them to have good character, be willing to work and grow and become a young lady. The past years, there have been some struggles. But these kids, it's just been amazing. We're excited about them.''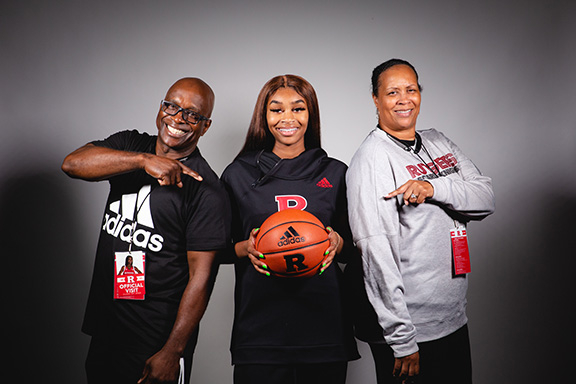 Liz Martino also comes from a small town, Upper Marlboro in Maryland. She and Johnson played AAU ball together, and she met Lafayette on their Rutgers visit. A 6-foot guard, she is home-schooled by her mother, who works in education. Her father is a pastor. She has athletic genes, as her dad played football at South Carolina State. Her career goal is to be a broadcaster.
Sakima Walker is another with athletic blood lines. A middle child with four brothers, her dad Samaki Walker, played in the National Basketball Association and has a championship ring from the 2002 Lakers. A resident of Columbus, OH – she turned down Ohio State – she wants to major in business marketing. On the court? "I want to go to the Final Four,'' she said. "I want to experience that.''
Johnson, who has four sisters, also wants to win a national championship. She's not sure of her major, but is considering sports management. In a recent game played on the one-year anniversary of her father's death, Johnson scored 53 points.
She sees Stringer as someone who can empower her to do her best.
That is the same approach Stringer takes with her staff, said long-time assistant Michelle Edwards. "The way we came together was beautiful. But coach left us that path to follow. Spiritually she was here, which is a great testament to her teachings.''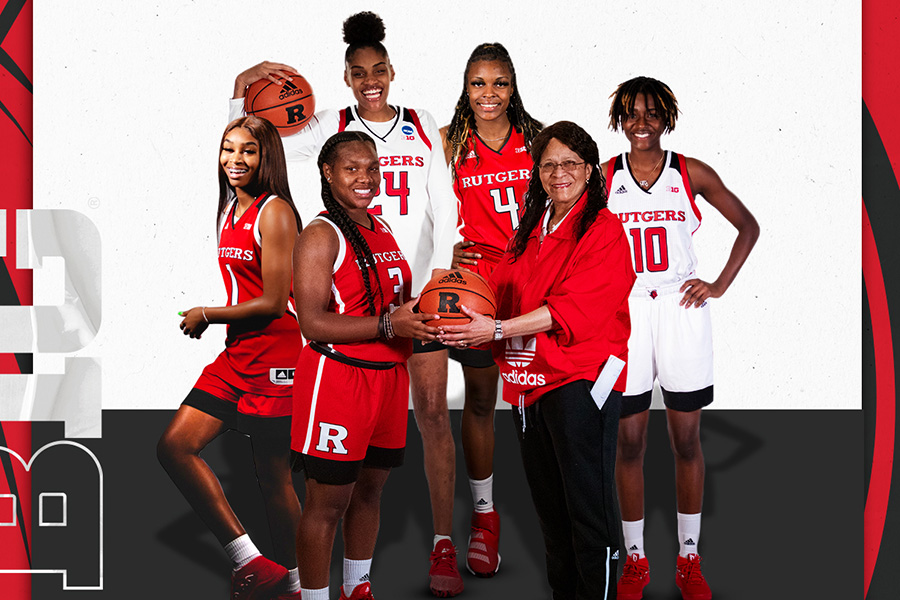 The 2020 recruiting class is ranked by ESPN HoopGurlz at No. 8 in the nation. (l to r.) Liz Martino, Diamond Johnson, Sakima Walker, Chyna Cornwell, C. Vivian Stringer, Erica Lafayette (Photo: Flynn Bluett)
---
Stringer remains diligent in moderating the nonstop pace. Not only for her health, but for allowing more balance in her life.
"There is something inside me that drives me, and I want excellence in everything I do. Basketball is such a part of me,'' she said. "But I really did need a rest. I've spoken to many coaches and tried to admonish them about giving everything up for the sake of basketball. Basketball is like a jealous god. It takes so much of your time.''
"As a family, we put a lot of time into this recruiting class,'' she said. "We're very proud with the direction of our program."