Rutgers-New Brunswick's Zimmerli Art Museum Selects New Director
Maura Reilly has held several leadership positions in the arts and curated dozens of exhibitions internationally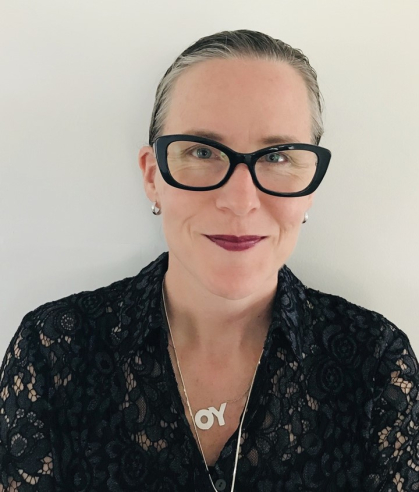 Maura Reilly, a curator, writer, art consultant and non-profit leader who has organized dozens of exhibitions internationally that focus on marginalized artists, has been named the new director of the Zimmerli Art Museum at Rutgers University–New Brunswick.
Reilly is the founding curator of the Elizabeth A. Sackler Center for Feminist Art at the Brooklyn Museum, where she developed and launched the first exhibition and public programming space in the United States devoted entirely to feminist art. While there, she organized several landmark exhibitions, including the permanent installation of Judy Chicago's The Dinner Party and the blockbuster Global Feminisms (co-curated with Linda Nochlin), among others.
She has also served as executive director and chief curator of the National Academy of Design and as senior curator at the American Federation of Arts. She will begin her new position Feb. 15.
Reilly succeeds Donna Gustafson, who served as Zimmerli's interim director and continues as curator of American and Modern Art/Mellon Director for Academic Programs. Gustafson took on the museum's temporary leadership role in 2020 following the death of Thomas Sokolowski, a noted HIV/AIDS activist who led the museum since 2017.
"Maura Reilly's leadership roles at the Brooklyn Museum and with exhibitions internationally, as well as her expertise on global contemporary art and curatorial practice, will make her an excellent leader for the Zimmerli, one of the largest and most distinguished university-based museums nationwide. We are proud to welcome her to Rutgers–New Brunswick," said Rutgers University–New Brunswick Chancellor-Provost Francine Conway.
Reilly said she is honored and excited to be named as Zimmerli Art Museum's new leader. In her new role she wants to build upon and strengthen the museum's reputation as one of the top 10 university art museums in the country.
"I am passionately committed to the museum's essential missions of research, teaching and community engagement," she said. "I look forward to collaborating with the museum's talented staff and board leadership on developing a new vision for the museum – one defined by empathy, compassion, mutual respect, and diversity, equity, access and inclusion (DEAI) principles. It is an exciting moment for 21st century art museums and the Zimmerli is poised to lead the way amongst its university museum peers in the effort towards creating more equitable museum and campus experiences where everybody feels not only welcome, but also recognized."
Some of Reilly's most notable exhibits that focused on marginalized artists include Miriam Schapiro: An American Visionary, Richard Bell: Uz v. Them, Nayland Blake: Behavior, Carolee Schneemann: Painting, What It Became, La Mirada Iracunda (The Furious Gaze), neo-queer, among others. Her more recently curated exhibitions include Wandamba yalungka.../Winds change direction for PERFORMA in New York (summer 2021) and the forthcoming transfeminisms (co-curated with an international team of curators) to open in 2023 at Mimosa House in London, followed by the Scottsdale Museum of Contemporary Art in 2024.
Reilly has published extensively on global contemporary art and curatorial practice, including most recently Curatorial Activism: Towards an Ethics of Curating, which received many accolades, including as one of the "Top 10 Best Art Books" of 2018 from The New York Times. Her other recent publications include Women Artists: The Linda Nochlin Reader, which was listed by The New York Times as a "Best of 2020" art book. Her next book, Museums & Social Justice, is forthcoming in 2024.
She has received several prestigious awards, including the President's Award from the Women's Caucus of Art, and Art & Auction magazine named her one of the "Top 100" most influential people in the international art world in 2015 in recognition of her advocacy for women artists.
Reilly received her M.A. and Ph.D. in art history from the Institute of Fine Arts at New York University. She has taught art history and museum studies at institutions in the United States and Australia, including Arizona State University, Bard College at Simon's Rock, Queensland College of Arts and Tufts University.