Rutgers-New Brunswick Supports Students During Pandemic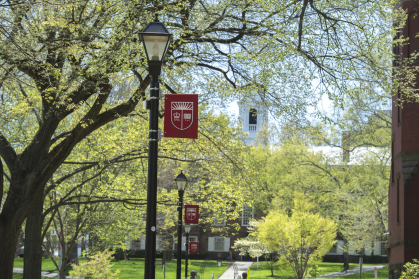 As the world adjusts to a new economic reality due to the coronavirus pandemic, Rutgers University–New Brunswick is using a variety of support programs and new funding to bolster students' health, wellness, and academic success.
At Rutgers and other schools nationwide, many students have had their work hours significantly reduced, while others have lost jobs they depend on to help pay for their education or support themselves and their families. Jair Pittman, a recent graduate of the School of Management and Labor Relations who lives in Parlin, N.J., lost his steady income as a part-time Uber driver when the pandemic hit. "Aside from the safety aspect, demand for rides had fallen so much that it just wasn't worth it," he said.
Across the Rutgers-New Brunswick campus, support and resources are being provided in various ways to help students during this unprecedented time. Students who were awarded Federal Work Study were paid the balance of their allocation despite not being able to complete on-campus employment due to the transition to remote learning. In March, the U.S. Department of Education announced the Coronavirus Aid, Relief and Economic Security (CARES) Act. The CARES Act provides funding to institutions for emergency financial aid grants to students whose lives have been disrupted, many of whom are facing economic challenges and struggling to make ends meet. 
The Office of Financial Aid at Rutgers-New Brunswick received approximately 5,700 applications on the day the funding application was announced. To date, Rutgers-New Brunswick has awarded approximately $9.1 million dollars to 11,500 undergraduate and graduate students across all schools through CARES Act funding. The online application was open universitywide to all students who were eligible for Title IV financial aid. Additional funding will also assist students for the upcoming fall semester.
"This pandemic has significantly impacted the lives of our students," said Courtney McAnuff, vice chancellor of Enrollment Management at Rutgers-New Brunswick. "We clearly see the need and are responding as swiftly, compassionately and transparently as we can. We hope this aid helps students meet their needs, whether that is paying their bills, feeding themselves and their families or staying connected to their education."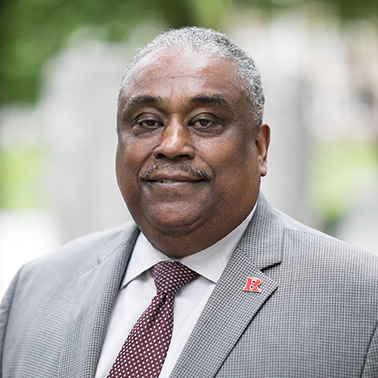 In many ways, the CARES Act funding disbursed to undergraduate and graduates has been a lifeline for students. Pittman was relieved when he learned he would receive the financial assistance. The labor relations and employment relations graduate put the money toward paying some of his educational expenses. This week he starts a full-time position as an area manager at Amazon's Robbinsville warehouse, a position he secured in December. Pittman will use part of his paycheck to help provide for his family members who have been impacted by the pandemic.
Richard Yoo, a rising junior pursuing a dual degree in business analytics information technology and supply chain management at Rutgers Business School-Newark and New Brunswick, says the funding has helped him to think more about the future. He is planning to use the money for rent towards his off-campus apartment in the fall. His mother's business as a freelance wedding planner has softened amidst the pandemic, and his sister, a senior at New York University, needed to take a leave of absence from her job.
"We are struggling, so every cent from the CARES funding is going to help," said Yoo, a Paramus resident, who is currently living with his mother and sister due to the pandemic. He will begin a part-time job as a financial advisor at an insurance company next month. He is hopeful it will get him through the financial hardships.
The campus has also distributed additional financial aid through the Emergency Assistance Fund. The fund is a one-time financial grant to students who are impacted by unplanned emergencies, such as the loss of parents, dwelling fires or family loss of income.
"The Emergency Assistance Fund is in place for financial aid outside of tuition payments," said Jeff Broggi, associate dean of students for Rutgers-New Brunswick Student Affairs. "In an average year, we award between $30,000 and $50,000 in funding from a Board of Trustees account and from fundraising by the University Foundation. During the pandemic, though, we have had an application increase of 3,000% and have awarded roughly $120,000 since March 16."
While financial support has provided some students with monetary relief, food insecurity is also a growing reality on many college campuses nationwide. The Rutgers Student Food Pantry, which has helped students since 2016, has had an increase in new users recently, particularly among students who remain on campus. To use the pantry, students only need to provide their RUID. Of the more than 20 food pantries dedicated to supporting the city's food insecure population, the Rutgers Student Food Pantry is the first to specifically serve Rutgers-New Brunswick students.  
Since March 23, the pantry has had more than 600 visits and is averaging about 80 students per week, said Kerri Willson, director of Off-Campus Living and Community Partnerships. "In the first two weeks of the pandemic, we saw 300 visits, which was above average compared to normal times. In March, we provided 7,500 pounds of food to students. We are proud to make sure our students' basic needs are met during this challenging time," she said.
The Rutgers Student Food Pantry pivoted early in the pandemic to adhere to social distancing measures. When classes were canceled, the pantry moved to the Graduate Student Lounge at 126 College Avenue as a temporary location. The pantry is traditionally a "client choice" model, meaning students can shop for items they need. But in light of social distancing policies and to ensure staff and student safety, the pantry has switched to pre-bagged goods. The pantry now operates three days a week by appointment only with social distancing measures in place. 
To serve all students on campus, the pantry also introduced a mobile pantry that started at the end of April. "The mobile pantry moves to three different locations and reaches students living on Busch and Livingston who have difficulty getting to College Avenue or who do not want to travel due to stay at home orders," said Willson, who added that a Cook/Douglass location will be coming in June.
Not only has the pantry been a source of food for students, but it has also served as a sense of community. One student of clinical psychology and resident of Highland Park said, "I have felt taken care of and safe, especially during this time of the unknown. The pantry has been a very comforting truth throughout my experience as a graduate student. In an already stressful environment as a doctoral student, in addition to the pandemic, the weight that has lifted off my shoulders can't be put into words."
The student said she weathered some challenging transitions, including needing to see clients via telehealth and pivoting to remote learning, but her dreams never faltered. "With the support around me, I'm determined to finish what I started," she said.
To contribute to the Emergency Assistance Fund, visit http://studentaffairs.rutgers.edu/support-students/emergency-assistance/.
To donate to the Food Pantry, email ruoffcampus@echo.rutgers.edu, access their Amazon wish or make a donation through the Foundation.