Rutgers-New Brunswick to Exhibit Papers of Sen. Frank Lautenberg
Lautenberg papers a national resource for scholars from elementary school to university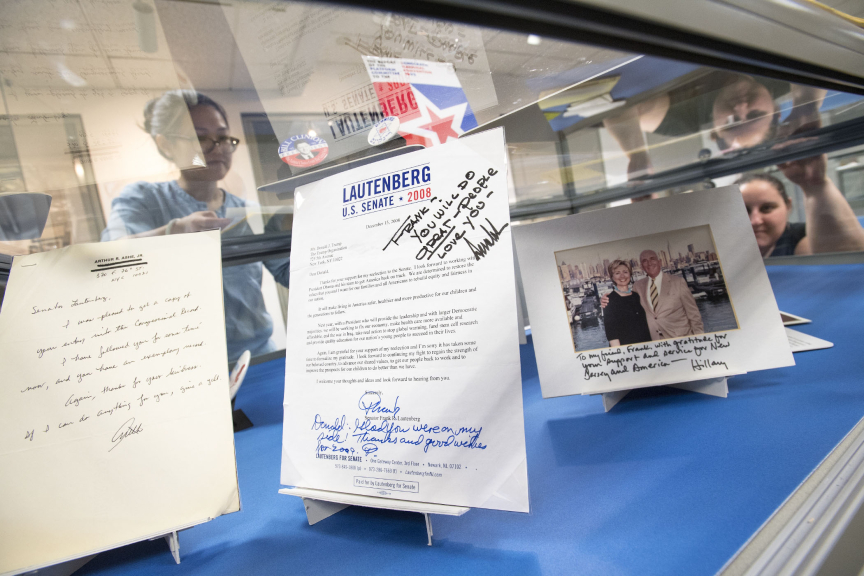 Frank Lautenberg, New Jersey's longest-serving U.S. senator, left an outsize imprint on state politics and national policy by the time he died while in office in 2013.
His papers, now curated and maintained by the Rutgers University Libraries, encompass 2,250 boxes of hats, buttons, campaign stickers, vinyl records, paper documents and other artifacts that, laid end to end, would stretch the length of seven football fields.
Beginning Feb. 21, the Alexander Library at Rutgers University-New Brunswick will launch a public exhibit of the Frank R. Lautenberg papers. The exhibit will include a letter from the late Sen. Ted Kennedy, thanking Lautenberg for his condolence note after the death of John F. Kennedy Jr., and photos taken by a volunteer after the terrorist attacks in Sept. 11, 2001. "They're beautiful photos," said Sheridan Sayles, the archivist who's curating the exhibit. "Devastating to look at, but beautiful."
The collection will stay permanently among the Rutgers library system's Special Collections and University Archives, alongside the Gov. Brendan T. Byrne papers, the Harrison Williams papers and the papers of Millicent Fenwick, the popular Republican congresswoman Lautenberg defeated in his first run for the Senate.
"The Frank Lautenberg papers are a national resource and treasure, the tangible expression of a long, active, important life," said Fernanda Perrone, archivist and head of exhibitions. "As well as representing his home state of New Jersey, Frank Lautenberg played a key role on the national stage through his advocacy of the rights of refugees and immigrants, environmental protection, and public health. These issues and many others are well documented in his papers, which will serve as a rich resource for students, scholars, and the general public."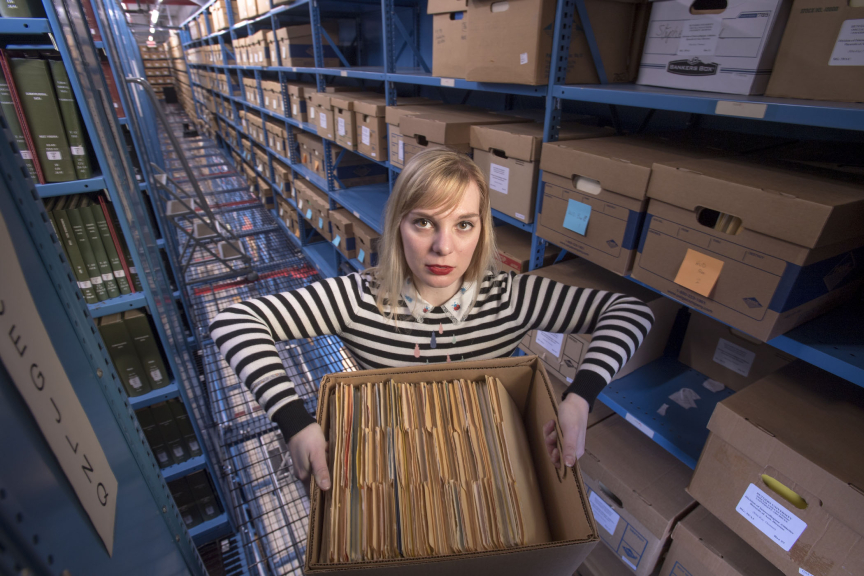 Lautenberg was a tireless advocate and champion for Rutgers University, supporting federal funding for student aid, cutting-edge research, and countless other priorities. For his efforts, the university awarded Lautenberg the prestigious Rutgers Medal in 2000. That medal will be part of the exhibition.
Lautenberg, a Democrat, was elected to five terms and served in the Senate for more than 28 years. He wrote the laws that banned smoking on domestic airline flights, raised the legal drinking age to 21 and prevented individuals convicted of domestic violence from owning firearms. Among other issues, he fought for environmental protection, abortion rights and federal funding for mass transit.
His election campaigns could be famously brutal. Among other illustrations in the archive is a copy of Central Jersey Magazine, pre-dating his 1982 victory against Fenwick. She was favored to win, and the magazine features a cartoon of Fenwick knocking him down in a boxing ring.
Before serving in the Senate, Lautenberg was the president and CEO of ADP LLC, whose philanthropic foundation funded Rutgers' cataloging and maintenance of the archive and exhibit.
"We didn't always know what was in those boxes," Perrone said. "Sometimes they were labeled; sometimes they weren't."
And the labels might be a bit misleading. Sayles recalls finding, inside a box labeled "Environment," a folder box labeled "LUST". She took a deep breath and opened the folder. LUST, it turned out, meant Leaking Underground Storage Tanks.