Rutgers Mandela Washington Fellow Alum Transforming Recycling in Cameroon and Beyond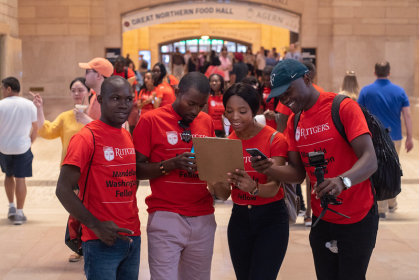 In 2019, Ismael Essome, an environmental engineer from Cameroon, traveled across the Atlantic to Rutgers-New Brunswick to participate in the Mandela Washington Fellowship Institute on Leadership in Business, a six-week U.S. Department of State program that designates a handful of American host universities to welcome young leaders from sub-Saharan African nations to develop their leadership skills, foster connections and collaborate with experts in a variety of professional and academic areas, including business and civic leadership.
Rutgers has been a proud partner of the fellowship program, hosting fellows since it began in 2014.
Essome's work focuses on aquatic ecosystem management to fundamentally change the process of plastic waste management in his home country. Cameroon doesn't have a governmental agency focused on environmental awareness and recycling, so Essome founded Madiba & Nature in 2016, a nonprofit organization that addresses marine plastic pollution and ensures the conservation of nature and its biodiversity.
"People are not educated on how to manage their waste," Essome said. "I realized that all the rivers [in Cameroon] are full of plastic, and no one cares. I was shocked to see that, so I decided to do something. And I think what I can do to help is change people's mindsets by showing the way."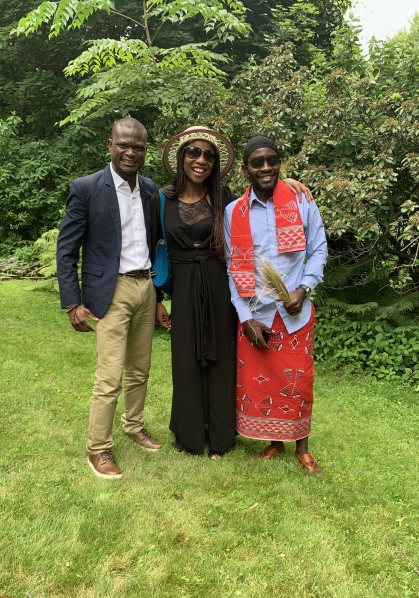 Madiba & Nature has been lauded for its fishing boats, constructed entirely from reclaimed plastic bottles that Essome and his team of 50 staff and volunteers collect from the clogged, overflowing rivers and waterways in Cameroon. By collecting bottles and helping fishermen build boats from the bottles, more people are able to fish and support themselves, and as a result develop the local economy – creating a circular economy by closing the loop in the supply chain from manufacturing to reuse.
While the company reports that at least 37 boats have been constructed from more than 24,000 reclaimed plastic bottles, Essome knew that he also needed professional business acumen to advance his mission. He applied for the Mandela Washington Fellowship and was assigned to the Leadership in Business Institute at Rutgers under the mentorship of Kevin Lyons, associate professor of professional practice at Rutgers Business School, and Johanna Bernstein, assistant dean for global programs at Rutgers Global.
"Young African professionals participate in the fellowship in order to learn about leadership, community service, and American culture. In the case of the Business Institute at Rutgers, we provide an environment where the fellows can learn about business in the U.S. by networking with university faculty, local business leaders, and government officials," says Bernstein.
Thanks to the fellowship at Rutgers, Essome connected with TerraCycle, a New Jersey-based international recycling organization with a mission of "eliminating the idea of waste" and creating new products from hard-to-recycle materials.
Madiba & Nature ventured into a new partnership to supply plastic to TerraCycle in France, addressing marine plastic pollution in Cameroon while helping bring recycled products to market and incentivizing community participation in the process. 
"This is the magic of Mandela Washington Fellowship," Essome said. "With this fellowship, we were able to create a partnership with TerraCycle that wasn't a business-to-business arrangement, but a business-to-social action arrangement – something I wouldn't have been able to achieve without the connections I made through Rutgers."
Through Madiba & Nature, Essome has also introduced the Ecobin, a bin made of plastic bottles that is placed in front of stores in downtown areas in Cameroon to encourage the recycling of plastic bottles and to eliminate the common practice of simply throwing bottles in local rivers and waterways.
Essome has received numerous grants and prizes for his work, including the economic track award from the United Nations Environment Programme through the Think Beyond Plastic program, and the top prize in science and technology from the Ministry of Higher Education of Cameroon.  
Learn more about the Mandela Washington Fellowship program at Rutgers University at https://global.rutgers.edu/global-programs-opportunities/mandela-washington-fellows.