Kick-off conference stresses role of multidisciplined, public-private collaboration in protecting people and property
Mass casualty events – terrorism, natural disasters and biological superbugs – are the challenges of the 21st century and confronting them calls for multidisciplinary public-private partnerships.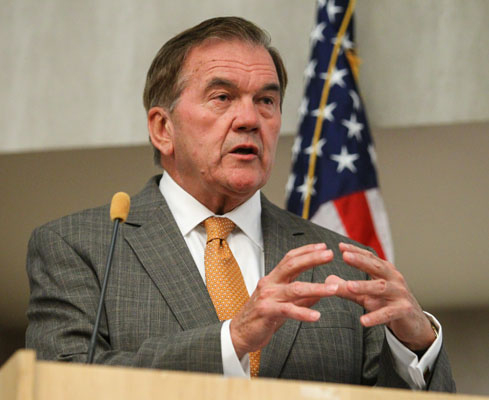 "For the next generation of homeland security professionals, multidisciplined public-private collaboration must be a part of your DNA," said Tom Ridge, the country's first homeland security secretary and keynote speaker at a Rutgers conference that brought together experts in emergency preparedness, disaster response and homeland security.
The conference, held June 6 in New Brunswick, marked the official launch of the Rutgers Institute for Emergency Preparedness and Homeland Security.
"Rutgers established the institute to play a leadership role, nationally and internationally, in the fields of emergency preparedness, disaster response and homeland security," said Clifton R. Lacy, a physician and the institute's director. Lacy was formerly New Jersey's health commissioner and president of Robert Wood Johnson University Hospital.
"It brings together experts from the broad spectrum of disciplines that exist at Rutgers University – to forge collaborations among those professionals and between Rutgers faculty and entities in the public and private sectors."
The institute -- through Rutgers' programs and public-private partnerships -- aims to protect people and property in the event of disasters and emergencies. It will coordinate the university's research, education and readiness initiatives and serve as a single point of access for government agencies, businesses and other groups. The institute also will promote collaborations among Rutgers experts across all statewide locations and in fields that include medicine, public health, life sciences, engineering, physical sciences, humanities, social sciences, public policy, public safety and law.
At the conference, attended by 450 government officials, the business community and Rutgers faculty and staff, experts involved with the institute highlighted their research and expertise. Presentation topics included research into treatment for poison gas attacks and accidents, protection of homes and highways from the ravages of storms and protecting cloud-based computing services from intrusions by cyber criminals.
The conference also featured an address by New Jersey Acting Attorney General John Jay Hoffman, who called the institute a necessary component in the state's emergency preparedness. He emphasized the need to share knowledge as widely as possible among New Jersey's communities.
"Waseca, Minnesota, is not a household name – it is not part of our nation's archive of mass murder," he said, citing the action of a citizen who called police when she saw a student acting suspiciously around a storage container. The police found seven firearms and six bombs and unraveled of a plot to wreak havoc throughout the town.
"Members of the public are absolutely vital," he said. "They are the first line of defense. They are the people this institute – and this conference – must reach."
The new institute will partner with several Rutgers-led federally funded research efforts, including two Department of Homeland Security centers that focus on solving challenging data problems, a National Institutes of Health center that develops drugs to counter chemical terrorism and an Environmental Protection Agency-funded center for exposure and risk modeling.
Collaborating centers at Rutgers focus on transportation, infrastructure, social work, epidemiology and law enforcement. The institute's expertise also includes health care, emergency management, public safety, computer science and communications.
Advisory board members include Michael Chertoff, former U.S. homeland security secretary; Thomas Kean, former New Jersey governor and chair of the 9/11 Commission; Ridge; and other distinguished academic, business and government leaders.
The institute's roles will include policy development; information assessment and intelligence analysis; preparedness planning and initiatives; theoretical and applied research and development; education and training; business development; clinical and practice enhancements; and service and outreach to the community.