More than 350 researchers will work together to unlock the mysteries of life-threatening nervous system disorders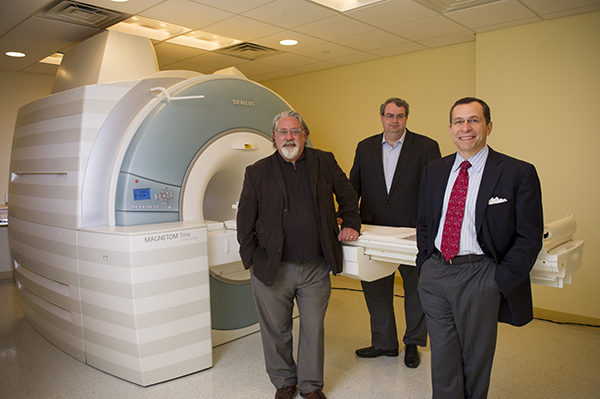 'The great thing now about the new Rutgers is that intellectually we have all the different skills needed to do big things in both science and medicine' - Marco Zarbin
One Rutgers, A World of Discovery
The new Rutgers, combining nearly 250 years of academic excellence with a renewed commitment to medical education, is inspiring faculty, students and staff to form innovative partnerships in academic research and public service. In a new online series, Rutgers Today examines the new ways that members of the university community are collaborating, across a wide range of disciplines, to better meet the needs of the people of New Jersey and beyond.
– The Editors
Alzheimer's disease develops slowly. At first, there is mild forgetfulness –  names, important details and the ability to follow directions. But as time progresses, irreversible structural and chemical changes in the brain rob people of their dignity, unable to function or recognize even their closest family members.
It is estimated that 5.1 million Americans are living with this debilitating, life-threatening brain disorder. And it is only expected to get worse as the population ages.
This neurological disorder is only one of many that underscore the complexity of the brain and what happens when it doesn't function properly. The challenge of understanding the mysteries of the mind has prompted scientists and physicians from Rutgers University and its two new medical schools to launch a neuroscience consortium. Working together to gain more information about the mechanisms underlying basic brain function will serve as a strong foundation for better understanding disease processes.
The consortium is the first step in an initiative by Rutgers to establish a teaching, learning, and research environment where resources and knowledge are readily available across all academic and medical disciplines and where neuroscientists are better equipped to compete for dwindling government research dollars.
"This consortium is as important to developing our universitywide neuroscience program as having a travel guide when you are on the highway,"  says Stephen José Hanson, director of the Rutgers University Brain Imaging Center (RUBIC) in Newark. "Not having one would be like being in the middle of a foreign country and not realizing it because you don't have a guide or landmark familiarity that connects you to your surroundings."
Hanson is a leading researcher on memory, learning, and brain function and is among a group of 25 neuroscientists who began meeting in the spring. The neuroscientists came together to discuss the best way to harness the incredible talent once Robert Wood Johnson Medical School in Piscataway and New Jersey Medical School in Newark became part of Rutgers.
The addition of the medical schools was the impetus for getting neuroscientists out of their laboratories and into a room where they could discuss research, resources, funding, brain and nervous system collaborations, and how to best move forward.
Hanson, who helped Rutgers acquire a full-body magnetic resonance imaging scanner that uses a powerful magnet and radio waves to measure blood flow changes to the brain, realized just how important this was after introducing himself at an exploratory gathering of about 40 neuroscientists in December. When he mentioned the brain imaging center, Hanson heard one person immediately ask, "Really, Rutgers has a scanner?"
Innovative Collaborations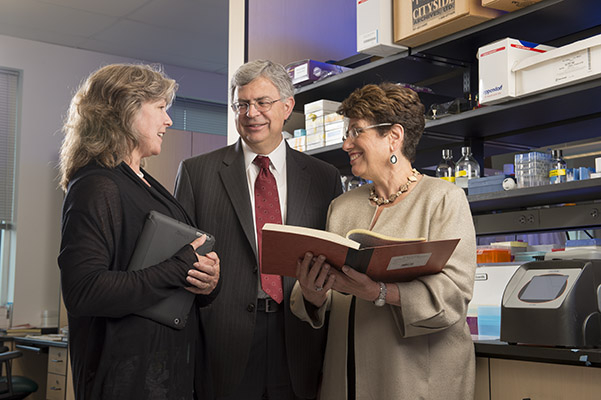 Neuroscientist Robin L. Davis, acting director of Rutgers' Brain Health Institute on the New Brunswick Campus, has led the charge in creating the neuroscience consortium. She says this comment is a prime example of why change is needed.
"This new consortium will coordinate efforts across Rutgers University and our two new medical schools that will not only establish innovative research collaborations, which are certainly important, but also will have an educational mission to reach out to our internal and external community and let them know just who we are," says Davis, who is also the director of auditory aging research at Rutgers. She studies the auditory neurons that are vulnerable to aging, their loss ultimately leading to hearing disorders and deafness.  
There are more than 350 neuroscience researchers working – from bench to bedside – within the university's departments and institutions and its two medical schools. They are studying human learning and decision making; language development; sensory perception; the impact of traumatic brain injury; and the degree to which disorders such as autism, schizophrenia, and Alzheimer's disease affect memory and behavior. The neuroscience field integrates biology, chemistry, physics, mathematics, psychology, and computer science at the level of basic science with neurology, neuroscience, ophthalmology, and psychiatry on the clinical side.
Christopher J. Molloy, Rutgers' interim chancellor of the new Rutgers Biomedical and Health Sciences, says these neuroscientists are individually involved in critical research to prevent or cure many devastating neurological and psychiatric disorders. 
"Together, through collaboration, neuroscientists across all areas of Rutgers, including New Jersey Medical School and Robert Wood Johnson Medical School, will be at the forefront in the quest to fully understand the complexities of the human brain," Molloy says. "It will be these scientists, working together, who will develop treatments to alleviate the debilitating and life-threatening effects of these nervous system disorders."
Funding Brain Research
In 2012, funding for neuroscience-related projects topped $56 million, representing almost 28 percent of all grant dollars awarded to the science and clinical research departments that are part of the new Rutgers.
This includes money for an array of neuroscience projects including a $2.1 million stem cell research grant from the National Institutes of Health, enabling the School of Arts and Sciences, Robert Wood Johnson Medical School, and the Cancer Institute of New Jersey to focus on researching the genetic mysteries of autism, a brain disorder characterized by communication difficulties, social impairments, and repetitive behaviors.
New collaborative research projects investigating multiple sclerosis; the effects of environmental toxins on the nervous system, memory, learning, and brain cell development; and the cause and effect of traumatic brain injury are just some of the projects beginning to take hold as scientists who may not have worked together previously become Rutgers colleagues.
And with President Obama calling for a multibillion-dollar plan to map the human brain to understand its complexities and unlock the mysteries of debilitating neurodegenerative diseases, many neuroscientists say Rutgers is positioning itself to be a university at the forefront of such research.
Building a Bridge
This is a good start, say those involved with the development of the new consortium. But too much information – critical to discovering preventive treatments and possible cures – is still falling under the radar of many who could benefit from the data, says Marco Zarbin, professor and chair of the Department of Ophthalmology and Visual Science at New Jersey Medical School in Newark. Zarbin has done research to develop treatments for retinal eye disease through cell transplantation.
"We end up in our own little silos," says Zarbin, a member of the consortium, who insists that scientists and physicians have become so specialized that fewer collaborations – necessary for big scientific discoveries – are occurring. "The great thing now about the new Rutgers is that intellectually we have all the different skills needed to do big things in both science and medicine."
Moving forward, Suhayl Dhib-Jalbut, professor and chair of the Department of Neurology at Robert Wood Johnson Medical School, says a virtual neuroscience institute needs to be created to connect the neuroscience programs at Rutgers to its medical schools and make access to information seamless. This means developing a robust website through which information about both the work being done at the university and critical funding mechanisms for neuroscience research could be easily accessed by researchers, faculty, and students.
"What we have to do is bring basic science and clinical trials together by creating a structure that allows us to get this done so we can achieve the best results," says Dhib-Jalbut, a leading multiple sclerosis researcher funded by the National Institutes of Health and the National MS Society and president of the Americas Committee for Treatment and Research in Multiple Sclerosis (ACTRIMS).
John McGann, an assistant professor in the behavioral and systems neuroscience program in the Department of Psychology, School of Arts and Sciences, says the new consortium represents a positive first step in undergraduate and graduate education: providing additional resources and opportunities to the next generation of neuroscientists studying at Rutgers.
"What I can say unequivocally is that we (neuroscientists) love our research," says McGann, who studies the brain mechanisms underlying the sense of smell. "So I think that whatever we need to do, everyone will be more than ready. I think our department borders ultimately will become irrelevant as we determine the best way to get this important work done."
---
Click here to read other articles in the One Rutgers, A World of Discovery series.