Rutgers Launches the My Wellness App for Employees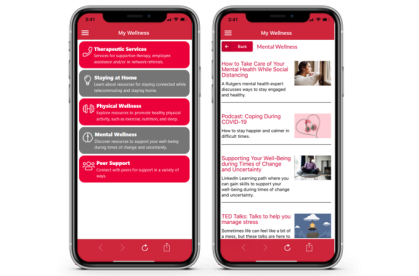 Rutgers University Human Resources has launched the My Wellness app, now available within the Rutgers University mobile app and within the MyRutgers portal as part of the Rutgers Employees First Initiative intended to provide employees with tools and resources to support and promote employee wellness and build communities of interest.
"The purpose of the My Wellness app is to support the physical, emotional and social well-being of Rutgers employees by providing quick and easy access to wellness content from your mobile device," said Vivian Fernández, senior vice president for human resources at Rutgers.
All members of the Rutgers community are encouraged to participate in activities that promote physical, emotional and social well-being. The My Wellness app will feature accessible, mobile-friendly content such as articles, podcasts and videos to cope with stress, uncertainty and other mental health impacts from the COVID-19 pandemic.
"The My Wellness app also brings together an array of therapeutic services and peer support in one place for staff, faculty and students to access quickly," Chantal Brazeau, chief wellness officer at Rutgers Biomedical and Health Sciences, and Frank A. Ghinassi, president and CEO of Rutgers Health University Behavioral Health Care, said in a joint statement.
The My Wellness app was developed in collaboration with Rutgers Institutional Planning and Operations Strategic Services, the Office of Information Technology Application Services, and the Emergency Operations Center's Behavioral Health and Wellness workgroup.