Rutgers Launches Mental Health Helpline for Nurses on COVID-19 Frontline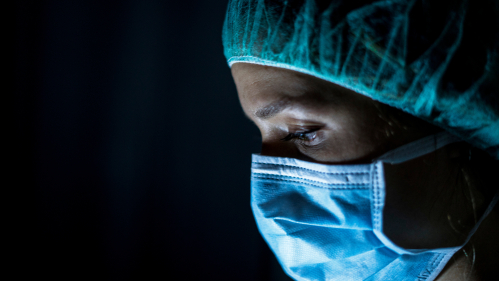 Peer support line, staffed by nurses trained in mental health, will also help families of nurses
To help nurses experiencing mental health issues during the coronavirus pandemic, the Rutgers University Behavioral Health Care National Call Center and the New Jersey Nursing Initiative have launched Nurse2Nurse (844-687-7301), a confidential peer support helpline that connects them with retired or former nurses trained in mental health who can assist them. 
More than 200,000 registered and other nurses throughout New Jersey will have access to the line, which is also available to their family members Monday to Friday from 8 a.m. to 8 p.m. Nurse2Nurse provides one-on-one peer support, virtual support groups, wellness webinars and other resources on its website www.nurse2nursenj.com.
The helpline—funded by the New Jersey Pandemic Relief Fund (PRF), a program of the Robert Wood Johnson Foundation and a collaborative program of the New Jersey Hospital Association—received one of five grants awarded to nonprofit organizations to address the pandemic's impact on mental health issues of the state's most vulnerable populations. 
"The coronavirus has had an adverse effect on mental health of many New Jerseyans, but it has disproportionately impacted communities of color, students and healthcare workers," said First Lady Tammy Murphy, the founding chair of NJPRF. "It's vitally important that we address the resulting mental health problems of our vulnerable populations."
In a December 2020 survey of more than 12,000 nurses across the country, the American Nurses Foundation found that 72 percent report being exhausted amid the pandemic, 64 percent feel overwhelmed and 57 percent report feelings of anxiety or irritability.
"The pandemic has affected nurses who were already experiencing stress, mental health problems and burnout. This year, they have faced long shifts, fear of exposure to the virus that could sicken them and their families, a lack of childcare, financial pressures and the deaths of patients and colleagues," said Mark Graham, the center's executive director. "We are thankful to the New Jersey Pandemic Relief Fund and the New Jersey Nursing Initiative for this support, which will allow the Rutgers National Call Center to help nurses in the state manage their mental health."
"As nurses, it can be hard to share what's going on with us, so we keep it on the inside," says Barbara Brilliantine, RN, one of the Nurse2Nurse peer counselors. "Nurse2Nurse is a sacred space to receive the gifts of connection and wellness that every nursing hero deserves."
Nurse2Nurse joins other helplines directed by Rutgers: Vets4Warriors, NJ Vet2Vet, Cop2Cop, Worker2Worker, Mom2Mom, Care2Caregivers, 4BlueNJ and the AID-NJEA helpline.