Rutgers Inn & Conference Center Thrives on Estate Graced in History and Shrouded in Mystery
Reaching highest-ever occupancy levels in 2015, the inn continues the university's mission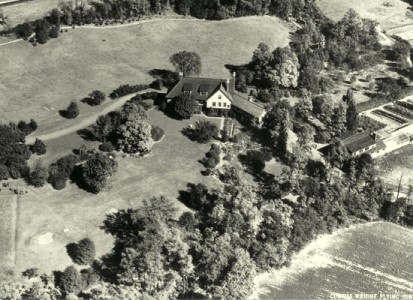 With six meeting rooms, a dining room for up to 100 and 32 guest rooms, the University Inn & Conference Center hosts more than 14,000 annual conference visitors, 5,000 overnight guests, and 260 events. Guests from more than 15 countries visit each year.
A sweeping estate known as Lindenwood that sits high on a bluff above the Raritan River – along today's Ryders Lane on the Douglass Campus of Rutgers University – at the turn of the 20th century held only the ruins of a farmhouse built by one of the city's most prominent families. 
The stately home once on the land, built in 1850, was reported by The New Brunswick Times to be a "magnificent" farmhouse. During the early 1900s, it was converted to a "day nursery" for "sick babies" by "one of the most successful charities this city has ever seen."
But the house was vacated and destroyed by fire sometime between 1899 and 1910 – for mysterious reasons known only to history, since no newspaper reports mentioning the fire can be found, according to a 2012 research paper by Rutgers student Jacquelyn Walsh.
Today housing the Rutgers University Inn and Conference Center, thriving as an on-campus lodging and meeting facility in its 51st year, the Lindenwood estate holds tales both told and untold.
Not even whispered ghost stories could keep occupancy from reaching highest-ever levels in 2015.
Once upon a time, families prominent in Rutgers history – Neilson, Voorhees and Johnson, whose names today grace the buildings and schools they helped create and perpetuate – thrived on the Lindenwood estate property.
James Neilson in 1770 bought a tract of land in the area along the Raritan. In 1783, he willed it to his nephew, Col. John Neilson, who in turn willed it in 1833 to his son, also named James Neilson — and he built Wood Lawn (home of today's Eagleton Institute of Politics) as an estate on some of the property, found Walsh.
Keeping the land in the family, James Neilson sold some 20 acres of it to his niece Catherine Neilson and her husband Jacob Stout Carpender, who built the farmhouse and named it Lindenwood.
The property's history grew thin after the couple's deaths in the 1880s. Ownership remained in the Carpender family, but with unknown use.
But the Lindenwood builders' grandson, Sydney Bleecker Carpender, a mechanical engineer and a business executive with Brunswick Refrigerating Co., again made the property a showpiece. He built a new – and unique – Lindenwood family estate after purchasing it with his wife Louise Wood Johnson. Johnson had the family name most famous of all those related to Lindenwood: Born in 1884, she was daughter of James Wood Johnson, co-founder of Johnson & Johnson and president of the firm from 1910-32.
The Carpender couple not only made the land their family home by building a 20-room manor house in 1911 in the Tudor revival style popular during that period. They made it an historical estate with two unique features:
The new Lindenwood included a residential air-conditioning system, unusual at the time of its 1911 construction. The system piped cold spring water into the house for cooling air. Drainage water flowed through pipes out to the first pond, spilled over to flow into the second pond, and drained along a creek that flows toward the Raritan River.
A horticulture enthusiast, Carpender in 1917 took part in a plant introduction program of the U.S. Department of Agriculture, introducing species first used in the U.S. along an arbor trail adjacent to the brook and ponds. The trail and a few of the introduced species still exist today.
Few buildings of a certain age escape a ghost story. Rutgers Rarities, a now-inactive website devoted to "rare occurrences," in 2005 speculated that the former owners were making their presence known through the unexplained turning on of a room light and other unverified "strange phenomena." Skeptics note the tales were about the conference center, constructed nearly 100 years after the Carpenders' passing.
Today's Lindenwood is operated by the Division of Continuing Studies as part of the conference center for a distinct educational purpose that draws a diversity of university, business and community meetings and guests. The inn is "all in" to support the university's teaching mission, says Deana Pagnozzi, director. "We first and foremost support the mission of the university as a valued resource for departments and faculty, students and staff for events and overnight stays."
In 2016, the inn was named among the "25 Most Impressive University Conference Centers in the World" by Human Resources MBA. With six meeting rooms, a dining room for up to 100 and 32 guest rooms, it hosts more than 14,000 annual conference visitors, 5,000 overnight guests, and 260 events. Guests from more than 15 countries visit each year.
The conference center "is both a tech-ready meeting site and a cozy retreat," Pagnozzi points out. "You can get wi-fi access and then step out to wander along our quiet Arbor Trail." The conference areas offer flat-screen TVs, high-speed internet connectivity, audio and video recording, videoconferencing, and on-site tech support.
---
For more information, contact Beth Salamon at bsalamon@docs.rutgers.edu or visit stay.rutgers.edu.