U.S. Secretary of Commerce Gina Raimondo and Congressman Frank Pallone joined President Jonathan Holloway for a tour of three engineering facilities to showcase federal investment in research
Rutgers President Jonathan Holloway, School of Engineering (SOE) Dean Thomas Farris, and Rutgers researchers and students welcomed Congressman Frank Pallone and U.S. Secretary of Commerce Gina Raimondo for a recent tour of engineering facilities in the state-of-the-art Richard Weeks Hall of Engineering. The Aug. 5 tour highlighted ways in which federal investments in research and innovation impact economic growth in the United States.
Pallone, the chair of the House Committee on Energy and Commerce, said that it is a point of pride that Rutgers is contributing to advancing American innovation.
"After over a year of historic job losses, the American economy is finally growing once again. The time is now to build on this progress and create an economy that supports the American workforce with strong federal investments in innovation and manufacturing right here at home," Pallone said. "I'm proud that Rutgers University is leading the way in the kind of innovation and research we need to advance American manufacturing, innovation, and research."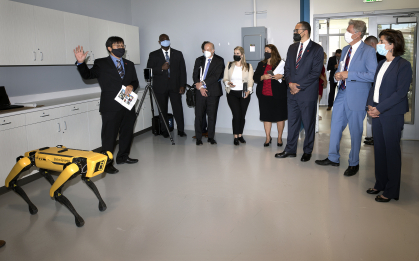 In a visit to the Robotics Lab, engineering professor Jie Gong showcased the robot dog Spot whose autonomous capabilities may have use in a range of areas such as search and rescue, intelligent energy audits for commercial buildings, travel assistance for disabled use, and more. Travis Miles, a marine and coastal sciences professor at the School of Environmental and Biological Sciences, showcased ocean gliders that are used for improved storm prediction and offshore wind energy development.
Faith Johnson, a doctoral candidate in the Department of Computer and Electrical Engineering at SOE, debuted her new robot and discussed the importance of simulations before testing a robot in the real world. She thanked Pallone and Raimondo for their leadership to advance research like hers and her adviser's, engineering professor Kristin Dana, that is exploring how robotic technology can be integrated into society and the consequences of that integration.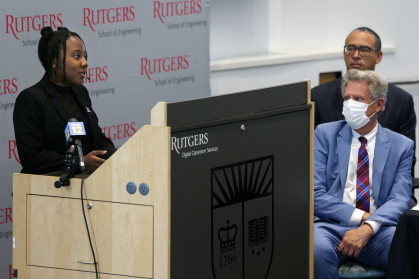 "My research is currently being federally funded. This will help Rutgers train the next generation of graduate students to develop robots for the future that integrate technology with social and behavioral sciences as well as urban planning and public policy," Johnson said. "This federal funding is a critical pipeline for advancing future breakthroughs."
The group also toured the hall's Pilot Manufacturing Lab with engineering researchers Jonathan Singer, Hao Lin, Qizing Zou, Alberto Cuitino and Yuebin Guo. The researchers discussed and demonstrated the Rutgers R2R system, which transforms manufacturing methods and tests new manufacturing approaches, along with a robotics-based automatic recycling system, and metal 3D printer device that supports Rutgers' artificial intelligence manufacturing platform research.
"From offshore wind to robotics and sustainable manufacturing, the kind of research happening at Rutgers is critical to maintaining America's competitive edge," said Raimondo. "I am thankful to Congressman Pallone and President Holloway for their hospitality and look forward to finding additional areas for collaboration between Rutgers University and the Department of Commerce."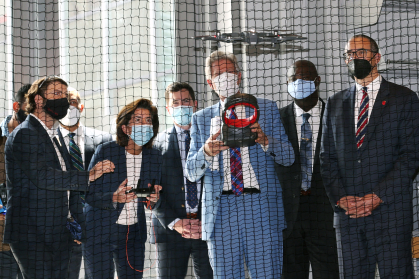 The tour concluded in the Emil Buehler Aerospace Laboratory, where engineering researchers Onur Bilgen and Laurent Bulion demonstrated a dual-axis tilting rotor drone designed by Rutgers students and invited Pallone and Raimondo to fly the device. The drone has the ability to move in a given direction without changing its body orientation, which can enable more alternative and more energy-efficient drone missions.
During remarks, Holloway thanked Pallone and Raimondo for visiting Rutgers and stressed the need for federally funded university research. 
"Universities like Rutgers are laboratories of innovation – spaces where new ideas are tested, tweaked, and perfected to create new products and processes to improve lives," Holloway said. "Today's visit shines a spotlight on the importance of federal investments in innovation, research, and manufacturing, which are all essential to long-term American competitiveness."
For more on the research being conducted at the School of Engineering, visit soe.rutgers.edu, and for more on the research being conducted at the School of Environmental and Biological Sciences, visit sebs.rutgers.edu.