Rutgers Honors Tyler Clementi 10 Years Later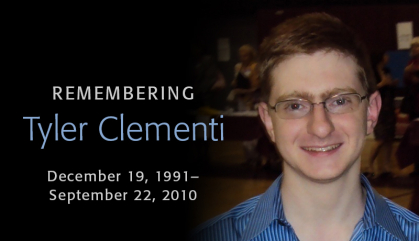 A decade ago, Tyler Clementi arrived at Rutgers to begin his first year of college after he started his personal journey of coming out to close friends and family. At 18, he was an accomplished violinist and composer who wanted to perform with the Rutgers Symphony Orchestra.
But shortly after moving in, Clementi's roommate began to ridicule and mock him on social media because of his sexual orientation. After Clementi asked his roommate for privacy to host a date, he became the victim of an act of cyber-harassment and invasion of privacy. Without Clementi's knowledge or consent, his roommate livestreamed Clementi's time with his date. Clementi died by suicide on Sept. 22, 2010 – less than one month into the academic year.
Although his time at Rutgers was tragically short, his legacy has been long lasting. His death sparked a national conversation about sexuality, cyber-harassment, safety, and inclusion within and beyond college campuses. Clementi's story moved Rutgers and the nation to confront the ways that bias and bullying can affect campus communities, especially LGBTQA students, and has reshaped the support universities provide for students.
Clementi's life will be remembered at Rutgers at a Sept. 30 virtual symposium, Life After the Closet: Enduring Shame at the End of Privacy, featuring Tyler's mother, Jane Clementi, along with leading researchers who will examine the protective and oppressive aspects of being closeted, the implications of the loss of privacy, and the ways other identities intersect with the LGBTQA experience, revealing the cost and utility of the closet.
"I think there is no better tribute to a life lost than to use their name to create supportive and encouraging spaces for others to thrive. I am grateful for the ongoing commitment of Rutgers University to prioritize the safety and well-being of all their students. I am hopeful that the hard-earned lessons of Tyler's story will be useful to create actionable changes in policy and practice at Rutgers and beyond, so everyone can learn to live boldly with their own truth of who they are and who they love. I am excited to hear how these changes can be applied through an intersectional lens to support all marginalized students, regardless of what makes someone different or, as I like to say, special and precious," said Jane Clementi, who also cofounded the Tyler Clementi Foundation.
Over the decade, Rutgers University has made changes to protect LGBTQA students and ensure a welcoming and inclusive campus community for all. Rutgers-New Brunswick reorganized its Division of Student Affairs for a greater focus on student advocacy, health and wellness, and empowered Residence Life staff to identify and support students in need of help.
 "We are a very different university than we were in 2010," said Felicia McGinty, executive vice chancellor for Administration and Planning at Rutgers-New Brunswick. "There were many lessons learned in the aftermath of Tyler's passing. His loss has informed how we view the student experience and served as a catalyst to transform our work. From the time that students are accepted at Rutgers, our key messages make it clear that we are an inclusive community that embraces diversity and welcomes all people, perspectives and identities."
Clementi's death also led to the creation of the Tyler Clementi Center, created in 2013 to examine the ways that bias, peer aggression and campus climate affect students, and to develop tools to help institutions of higher learning promote student well-being.
"We are extending the work of the original center," said Enobong (Anna) Branch, Rutgers' senior vice president for Equity, "renaming it the Tyler Clementi Center for Diversity Education and Bias Prevention to serve as a campus resource that promotes understanding and engagement to build an inclusive campus community."
At Rutgers today, "there is a greater focus on intersectionality by the Cultural Center Collaborative and Residence Life, said Salvador Mena, vice chancellor for Student Affairs at Rutgers-New Brunswick. "A student who identifies as LGBTQA is affirmed in all their identities and doesn't have to compromise any part of who they are. There is just greater awareness across campus about how issues of intersectionality affect the LGBTQA community."
"Ten years after Tyler's passing, we continue to be challenged with policies, laws and social conditions that undermine the health and well-being of LGBTQA people,'' said Perry N. Halkitis, dean, professor and director of the Center for Health, Identity, Behavior and Prevention Studies at the Rutgers School of Public Health, who also will speak at the symposium.
"As a gay man, I remain committed to fighting against all forms of aggression that sexual and gender minority individuals of all races, ethnicities and cultures experience. This symposium is a critical step in keeping the dialogue going,'' Halkitis said.
"In the 10 years since the tragic loss of Tyler Clementi, we at Rutgers–New Brunswick have evolved our approach to building and fostering a community that welcomes individuals of all backgrounds; one that exhibits respect and kindness to one another. We continue to work toward being more inclusive and ensure that our students, regardless of their identity, have a home at Rutgers they deem safe," said Rutgers–New Brunswick chancellor Christopher J. Molloy.
Life After the Closet is free and open to the public. Registration is required to view the livestream.