Rutgers Helps Students to Register, Vote in November Midterm Election
Elizabeth Matto, director of the Center for Youth Political Participation, discusses civic engagement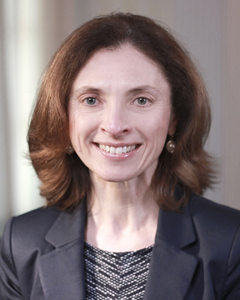 RU Voting, run by the Eagleton Institute of Politics' Center for Youth Political Participation at Rutgers University-New Brunswick, is encouraging students to pay attention to politics, register to vote and turn out on Election Day.
Elizabeth Matto, an associate research professor and director of the initiative, discussed how RU Voting puts research into action; Rutgers-New Brunswick's status as one of "America's Best Colleges for Student Voting"; and what Rutgers students and other New Jersey residents need to know about how to register and vote in the Nov. 6 midterm elections. The deadline for voter registration in New Jersey is Oct. 16.
You say RU Voting "puts research into action" by utilizing data that can be informative in encouraging students to register and vote. How does that work?
Rutgers-New Brunswick has been part of the National Study of Learning, Voting and Engagement since its inception, and the study has been enormously beneficial, both theoretically and practically. The data generated from this national study have produced some excellent research on the characteristics that foster an environment for political learning and engagement.  We have put that research into action. We've been able to assess how strong our registration and turnout rates are, where our weaknesses lie and how we ought to focus our attention when it comes to mobilizing students to register and to vote on Election Day. One practical outcome has been the creation of a Rutgers University Civic Engagement Coalition of administrators, faculty and students dedicated to crafting a civic action plan for the campus and collaborating to support students' democratic education.
Washington Monthly recently ranked Rutgers-New Brunswick among "America's 58 Best Colleges for Student Voting."  What did they consider?
Rutgers-New Brunswick's ranking really reflects our commitment to pursue and make good use of evidence-based resources for teaching and encouraging civic engagement. It's my understanding that the ranking utilizes four measures of a college's commitment to encourage voting by its students, including participation in the national study and publicly releasing the data; signing up for the ALL IN Campus Democracy Challenge; and making its "ALL IN" action plan public. There are best practices on how to prepare our students to be informed and engaged citizens. A campus's willingness to assess its culture and take action to pursue civic engagement methods that are supported with research signifies that it places high importance on producing students who are equipped and motivated to engage in their communities.
The voting rate for Rutgers-New Brunswick students during the 2014 midterms was 11 percent, possibly affected by the perception of a lack of competitive races in New Jersey.  Are there indications that student voter turnout will be different in 2018?
In recent years, we see both survey research and anecdotal evidence that suggest that young adults are more closely connecting voting behavior to solving public problems. Survey research from Harvard's Institute of Politics demonstrates that young adults are more likely now than five or so years ago to see political involvement producing tangible results. I also think the response to the Stoneman Douglas High School shooting in Parkland, Florida, and the subsequent "March for Our Lives" movement suggest more heightened political awareness among young adults and a recognition that political participation is a powerful force for affecting change.
Where can students find resources to vote and what do they need to know?
RU Voting is meant to serve as a one-stop shop for Rutgers students who want to get registered and vote on Election Day. We always remind students that they must vote where they are registered. If registered in their hometown, they must either get to their hometown to vote on Election Day or arrange to vote by mail. Also, if students have changed residence halls or are living at a different address from where they were previously registered, they will need to update their registration. The bottom line is that students need to make a plan to vote, and RU Voting is here to help students make that plan.
Gov. Phil Murphy recently signed a law that changed New Jersey's vote-by-mail system. What do Rutgers students and other voters need to know?
As a result of these changes, any voter who applied to vote by mail for the 2016 election will be automatically sent a ballot for the November 2018 election. These voters will be listed in their polling location's poll books with an indicator that they received a ballot in the mail. If you are a Middlesex County resident and would like to opt out of the vote by mail system, you should complete this form and email it to the address provided. All opt-out applications will be processed after the election. If voters have any questions, I recommend calling the New Jersey Division of Elections at 1-877- NJVOTER (1-877-658-6837).
What is your message for students on the importance of voting in November?
Something I frequently tell students is that politics matters to them and they matter to politics. Decisions are made by officeholders at all levels of government that will affect students now and for years to come – from tuition rates to job availability, to the health of the social security system. Not only do students have a stake in the political process, they have the power to determine who represents them and who makes these decisions. A growing portion of the electorate is made up of young adults. In 2016, there were more eligible 18-29 year olds than voters 65 years old or older. By voting consistently and in large numbers, young adults can influence who represents them in office.