Rutgers Helps Bring Diversity to the Physician Assistant Profession
Rutgers School of Health Professions has been working to attract candidates from different racial, ethnic, sexual, and economic backgrounds
In Ghana, Asana Rashad's grandmother sold her hand-sewn wedding dress so her granddaughter could afford to attend grade school.
The girl who once walked barefoot to school went on to college thanks to a student exchange program in the United States, then chose to pursue her goal to be a physician assistant (PA).
As she searched for a PA program, her criteria went beyond rankings and outcomes – she looked for students of color.
"I wanted to see somebody who looked like me. I was looking for diversity in terms of color, mindset, and race," said Rashad. 
She chose Rutgers School of Health Professions. The physician assistant program's multipronged effort to attract top candidates from different racial, ethnic, sexual, and economic backgrounds is working.  
For the Class of 2021, the representation of students of color is 47% compared to 27% of students in the 2018 graduating class.
Amid growing racial and ethnic diversity in the United States, the PA program four years ago re-examined its student profile, which was predominantly white and female, and resolved to graduate a student body that would more closely mirror the nation's shifting patient population.
The push comes as the national Physician Assistant Education Association has made diversifying the profession its main goal, citing evidence of better patient outcomes. In October, it honored the Rutgers PA program's commitment to inclusion with an Excellence in Diversity Award.
"Studies have shown that patients are more likely to adhere to treatment plans and to keep follow-up visits with practitioners when their practitioners understand their cultural background," said Lori Palfreyman, Rutgers PA program faculty member, assistant director of admissions and chair of the Committee on Inclusion and Diversity. 
"The profession needs people to work with underrepresented populations and statistically, those who are from underserved areas are likely to return to their communities to fill the current gap in health care providers."  
"I wanted to see somebody who looked like me. I was looking for diversity in terms of color, mindset, and race." – Asana Rashad
The Rutgers PA program is one of the most competitive in the country, with only 50 seats and nearly 1,500 applicants.  Program Director Matthew McQuillan said the school's first step in increasing diversity was to expand its pool of qualified applicants of color, in part by working with Rutgers University Graduate Office of Diversity and Academic Success in the Sciences, other colleges and organizations for underrepresented minorities in health care.
Applicants are viewed holistically, taking into account traditional objective standards like grade point average and rigor of academic preparation, and pairing them with attributes such as the languages a prospective student speaks, diverse past life experiences, and resilience.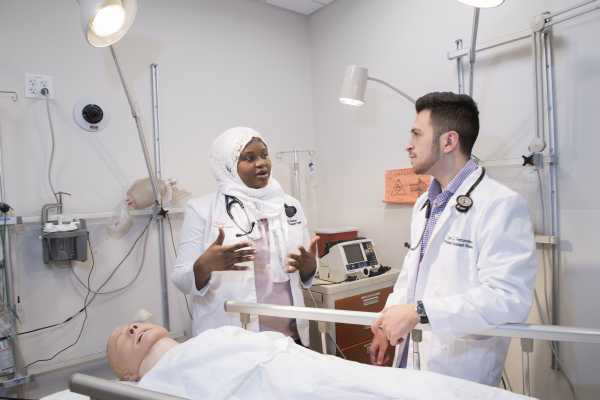 "We consider several different aspects when evaluating who is a strong applicant and who we want to graduate as a future PA, including an applicant's road traveled," said Palfreyman.
 "We want to ensure that when accepting students from a variety of backgrounds, all students have a similarly strong educational foundation as they move through the PA program. A new support program, GRAS (Great Review for Academic Success), helps students who may have had different undergraduate educational preparation excel during their first year of PA school." 
Over the past two years, the average GPA has remained high at 3.6, while the national certification exam first-time pass rate has risen to 100 percent.
"We are picking the best qualified in all demographics," McQuillan said. "We are establishing support programs and setting high expectations. And it works."
The PA program not only changed its outreach and recruitment approach, but also the curriculum and clinical experience, said McQuillan.
Along with science and medicine classes, students have lessons on diversity and inclusion; topics include racial and ethnic folk practices, challenges for economically disadvantaged populations and the unique health care needs of the LGBTQ population.
First-year student Tyler Fernandes narrowed his choice of schools to Rutgers because he liked the way it defined diversity – not just as race and ethnicity, but also gender identity and sexual orientation. A member of the LGBTQ community, he looks forward to being an openly gay physician assistant who can talk to patients candidly about their health concerns – something he didn't encounter growing up.
Through clinical experiences in diverse settings, students say they are learning the importance of tackling health disparities.
"The school's volunteer service requirement – with a focus on underprivileged and underserved populations – has been monumental in causing me and my classmates to step outside of our respective bubbles to confront issues plaguing many communities," said Taofik Oladipupo, a 2018 graduate.
As he prepared to graduate, he took note of the changes in the student population since his first year in 2015.
"I am inspired to observe a sea of faces that increasingly reflects the various colors and cultures represented in our nation."