Rutgers GSE Professor, Alumni Provide Behavioral Resources for Parents and Children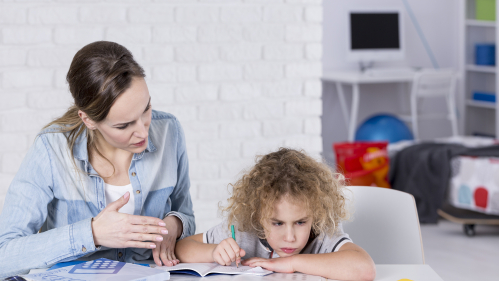 Website created to house resources for parents with children struggling with behavior at home
Got a kindergartener who refuses to practice their sight words? An out-of-sorts elementary schooler who's experiencing nightmares? A middle schooler whose math teacher just informed you they haven't turned in an assignment since April? Or siblings who squabble about anything and everything all day, every day?
You're not alone, says Judith Harrison, an associate professor at the Rutgers Graduate School of Education.

"Families and their routines have been completely transformed by the pandemic," said Harrison, an expert in education psychology with an emphasis in emotional and behavioral disorders. "Many parents are juggling both their child's remote learning and their jobs. Best practices in behavior may fall to the wayside."
To throw overwhelmed parents a lifeline, Harrison created BehaviorBosses.com. The website – a collaborative effort between Harrison's former students – offers a collection of behavioral resources and materials specifically geared to help caregivers through the pandemic.
"We wanted to offer our expertise to help parents who don't know where to start," she said.
After receiving feedback from school districts about the challenges children and adults are facing while learning and working from home, Harrison gathered GSE alumni Colleen Belmonte, a board-certified behavior analyst; Sean Brown, a behavior disabilities teacher; and Alyssa Baran, an elementary teacher, to discuss the kind of support that would most benefit parents. The four experts created multiple how-to videos, academic and morning schedules, behavior plans, activities, visual schedules and ways that parents and children can chart their behavior.
BehaviorBosses.com can be used in a range of ways and for a variety of children, she said, whether helping them engage more with remote learning, keeping them intellectually stimulated or just managing boredom at home. 
Among the site's resources are how-to videos and a sample "First/Then" board. First/Then boards can help manage your child's behavior, Harrison said, but also lets them know what to expect throughout the day. 
"We want to motivate children to complete undesirable tasks, so parents should reinforce the completion of an undesirable task with a desirable one," she said. "Make sure the 'then' activity is something they want to do and equal in time to the task you are asking them to do. For example, 'First, do your math homework, then you can have 30 minutes of free time.'"
The GSE experts have also built visual schedules to help with structure while making time for fun activities. Harrison suggests that parents print one out and put it where their children can see and follow it. 
"We're offering strategies that teachers use every day, but parents might be unaware of or haven't used in a while," said Harrison. "With six different activity boards to follow, parents will also be able to pull ideas for summertime."
In addition to these resources, the website provides parents the opportunity to join a community, converse online with other parents and directly ask the experts questions. 
For more information, visit: BehaviorBosses.com.
See how Rutgers is making a difference during the COVID-19 crisis.