GSE faculty help attract and retain diverse teaching force in four

racially disparate

school districts 
Rutgers Graduate School of Education (GSE) is working with school districts throughout New Jersey—where 82 percent of public school teachers are white compared to 44 percent of the student population—to increase the recruitment and retention of teachers of color.
Nora Hyland, project lead and associate dean of the GSE, says Black and Latinx students in New Jersey are twice as likely to be taught by novice teachers assigned to teach subjects that do not match their training or education.
"Racial gaps in testing outcomes persist, but research shows teachers of color have higher expectations for students of color than do white teachers," said Hyland. "Other research finds diverse teachers improve outcomes for all students, help students confront issues of racism in society, serve as advocates and mentors for students of color and stay in the profession longer than white teachers."
The Community School Partnership Network program (GSE-CSPN), funded by the New Jersey Department of Education and led by GSE, helps districts develop and pilot plans to diversify their teaching staff. GSE faculty are working with the public schools in Neptune Township, North Brunswick Township, New Brunswick and Rahway.
"I always wanted to inspire and teach children," said Shannon Myers, a GSE alumna and second-grade teacher in North Brunswick who is one of 20 teachers and several administrators in New Jersey who participates in the program. "Representation matters and it is very important for students of color to feel affirmed and represented through their educators. North Brunswick is a diverse community, and transitioning from a student to an educator in this district was a very proud moment for me and highlighted the significant need for diversifying the curriculum, literature and teaching staff to reflect the community I serve." 
Five teachers and one administrator from each district underwent a five-day summer professional development boot camp and meet monthly with GSE faculty to learn, brainstorm and implement practices. GSE teacher candidates of color are part of an associated fellowship program that works alongside the teacher-leaders of color and provides insight into their student-teacher experiences.
The participants, all leaders of color, serve as the recruitment and retention planning teams and examine research done that could increase job satisfaction among teachers of color through culture improvements, mentoring strategies, induction and pipeline support. Teachers will present final plans to their administrators at the end of the academic school year.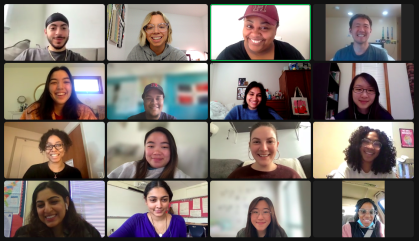 Angelice Ramas is one of 16 student-educators who meet to discuss in-depth ideas like critical race theory, its importance and how to implement certain tools in the field. A first-generation college student, Ramas has known she wanted to teach since she was 4 years old.
"When you don't see a person of color, male or LGBTIA individual, etc., at the front of the classroom, it subconsciously leads students to think that teaching is not for them," said Ramas, who student-taught at New Brunswick Middle School and is now an active substitute. "How can we get more people to want to be educators and make this profession accessible for all? This is just a start. The work is for everybody."
Teachers of color say culturally disconnected conditions in schools are a primary reason for leaving the profession. Myers says she has faced microaggressions and isolation in the past, but that the newfound network of teachers has created a support system.
Hyland said as part of the plan, GSE-CSPN—which serves as a pipeline for new teachers, employing more than 30 GSE graduates in partner districts in the past two years—will also revise and improve how it recruits students of color into its initial licensure programs.
"We want to empower these teachers as leaders to work with administrators to create environments that include culturally responsive school practices," said Hyland.
GSE faculty and staff involved in the project include Nora Hyland, Dan Battey, Maqueda Randall-Weeks, Alex Guzmán, David Atunes, Charles Basden, Parker Geralds, Renée Roundy and Hannah Batren.