Rutgers Graduate Named 2016 Charles B. Rangel International Affairs Fellow
Nathan Gwira awarded $95,000 toward graduate study and a five-year appointment as a U.S. Foreign Service officer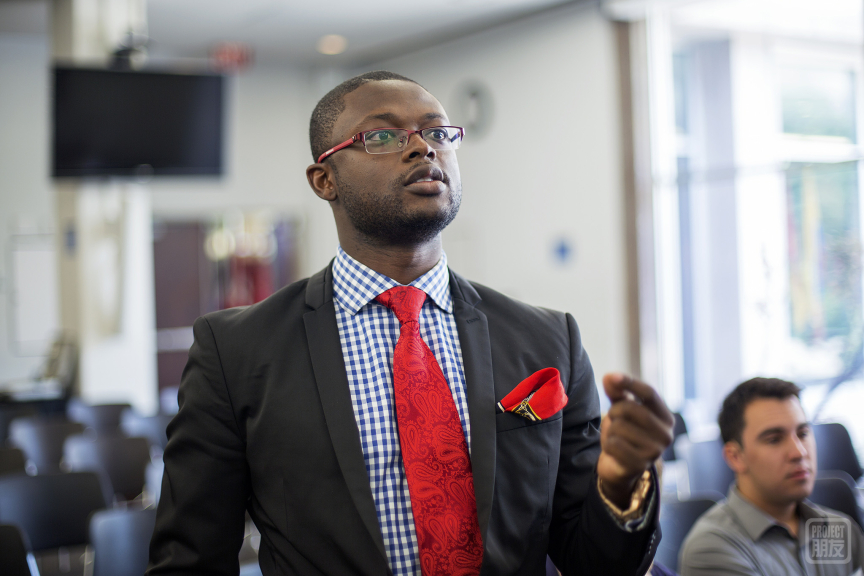 Nathan Gwira has lived in America, Ghana and China, speaks multiple languages and wants, someday, to become a U.S. ambassador.

That goal may be realized now that Gwira, a first-generation American, has been named a 2016 Charles B. Rangel International Affairs Fellow – the second Rutgers graduate to be honored. The prestigious fellowship will provide Gwira about $95,000 toward tuition, fees and living expenses while he pursues a master's degree in international affairs over the next two years. After earning a degree, the fellowship program requires at least a five-year commitment as a U.S. Foreign Service officer.

"It's definitely a dream come true, a lot of hard work with years and years of preparation for this," said Gwira, who works as a contractor at the U.S. Department of State in Washington, D.C. "This is a great honor, not only for my family but for the Rutgers community. I'm really grateful and humbled by it."

Born in Willingboro, Gwira says his life was pretty typical until he was 8 and his oldest brother died after battling cancer. He and his mother moved to Ghana, West Africa, to be near her family. For the next decade he immersed himself in the culture, learned new languages and tried to fit in.

He was like a sponge, he says, getting used to different customs and trying to honor his brother by not taking anything for granted. Still, he says, something was missing.

"Even though it was my heritage, I didn't always feel like I fully belonged so when I was 18 I told my mother I wanted to go back to the land of opportunity and see what was there for me," he said.

At Rutgers, Gwira excelled, graduating with a bachelor's degree in Africana studies, with a minor in economics, from the School of Arts and Sciences, where he was recognized as one of the top 10 students in his major with the Paul Robeson Africana Prize.

Although he hasn't decided which international affairs graduate program he'll attend, Gwira has been accepted to American University in Washington; the Fletcher School of Tufts University in Medford, Massachusetts; George Washington University in Washington; and Johns Hopkins University's Nanjing Center in Nanjing, China.
Fellowship and Foreign Service orientation begin May 18, followed by a 10-week internship program on Capitol Hill. The highly competitive fellowship program provides a U.S. Foreign Service mentor and a 10-week overseas internship at a U.S. Embassy during the summer between the first and second years of graduate school.

Richard VanNess Simmons, professor of Chinese and chair of the Department of Asian Languages and Cultures at Rutgers, taught Gwira Chinese and praised his student's participation in a Rutgers study abroad program in China years ago.
"I think he'll do great," said Simmons, who gave Gwira advice when he was applying for the fellowship and to graduate school. "He'll do very well in graduate school because he's quite committed. He's got some work experience under his belt. He's got his mind set on this goal…. I just find him a wonderful, engaging person."

When he studied abroad in China – with Simmons leading the program – Gwira was so interested in Chinese language and culture that he moved there for two years after graduation and taught English while learning and becoming fluent in Mandarin Chinese. He's also fluent in the West African languages of Akan/Twi and Fante, and he's familiar with French.

The Rangel Graduate Fellowship program – a joint effort between Howard University in Washington and the state department – selects 30 Rangel Fellows each year. Its goal is to prepare those chosen for U.S. Foreign Service careers, where they can help form, represent and carry out U.S. foreign policy.

This year's fellows include graduates of 28 colleges and universities, including Colgate University; Spelman College; Yale University; Syracuse University; University of Rochester; New York University; University of Maryland, College Park; University of Texas at El Paso; University of California, Los Angele; and University of Washington-Seattle.
Arthur D. Casciato, director of Rutgers' Office of Distinguished Fellowships, said "I hope more Rutgers students will emulate Nathan and apply for the Rangel fellowship in the coming years. If the amount of financial support and career development are our measure, then the Rangel should be recognized as one of the premier national fellowships available to American college students."
– Todd B. Bates and Robin Lally
 
---
For more information, please contact Todd Bates at tbates@ucm.rutgers.edu or 848-932-0550.