Rutgers Graduate Makes Her Mark on the Road to Wall Street
Double major Simmi Sharma says Rutgers helped her realize what she is capable of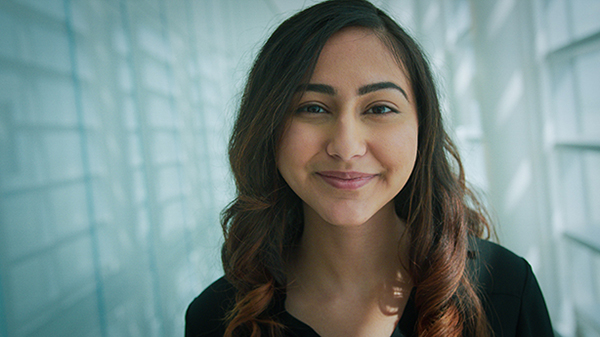 Simmi Sharma's road to Wall Street began as a high school sophomore at JP Stevens in Edison.
A discussion about the Great Recession during an AP U.S. history class caught her attention. As she started to read more about what happened, she began to develop an interest in finance.
"I realized that money is the string that ties the world together,'' Sharma said. "Regardless of the industry, the company, the product or the idea, financing is required. Being in finance means that you have a hand in picking the right ideas and supporting them to a point where they can make a material impact. I wanted to be a part of that."
Sharma, a double major in finance and business analytics and information technology, will graduate in May from Rutgers Business School-Newark and New Brunswick. She is also part of the first graduating class from the Honors College. Her dream to work in the financial services industry came fully realized during her time at Rutgers. With the help of programs like Road to Wall Street, Women BUILD, the Student Managed Fund and the Little Investment Bankers of Rutgers – all programs that provide opportunities for students interested in finance – Sharma figured out what she wants to do and how to do it.
After landing a coveted summer internship with a leading private-equity firm in terms of Assets under Management (AUM), the Blackstone Group, the company offered her a full-time position as an analyst on their real estate acquisitions team. These jobs are high-intensity but extremely sought after. According to Pension and Investments, Blackstone received 15,000 applications for 86 analyst positions in 2018, one of which Sharma earned. She heads to New York City in June.
"Wall Street encompasses a lot more than what people might perceive,'' Sharma said. "Asset management firms like Blackstone often have a variety of investors, from pension plans to foundations and endowments. Making sound investment decisions helps investors make a return that contributes to their missions. In this case, it means another teacher can retire with full benefits or that a foundation has more ability to invest in their projects."
While much of Sharma's experience at Rutgers has been dedicated to her future career, it has also been about giving back. She volunteered during two school breaks. In one, she worked with an organization that empowers homeless people with HIV/AIDS in New Orleans. She also traveled to a juvenile detention facility in South Carolina, where she got an inside look at how the prison system operates.
At the forefront of her volunteerism, Simmi was a Corporate Relations Captain for the Rutgers Dance Marathon. For her, the experience of learning from the families and children with The Embrace Kids Foundation was life changing. She was also heavily involved with the Institute for Domestic and International Affairs, the organization that runs the Rutgers Model UN, teaching students about geopolitics, public policy, and finance. The opportunity gave her the ability to educate, empower, and engage with high-school students and broaden their understanding of international affairs.
Sharma is also the current Assistant Director in the Road to Wall Street program. Designed to help students obtain internships in the financial services industry, the program matches sophomores with an older peer mentor at Rutgers. Sharma mentors students weekly, conducting mock interviews, helping formulate resumes and connecting with alumni.
"Mentoring has been a really impactful and humbling experience for me," she said. "I feel like I'm turning around to help past versions of myself. A lot of these students came in not knowing about finance or Wall Street at all, and now they're receiving offers from top banks. It's not easy to study or prepare for interviews months in advance, especially when all your other friends are out having a good time, but it shows discipline and dedication."
The mentoring Sharma herself received at Rutgers has been invaluable.
Irene Fayn, Rutgers '99, head of capital analytics and forecasting at Citigroup, and Sharma's mentor said, "Simmi's academic success at Rutgers and her professional path have been and will be defined by her strong work ethic, intellectual curiosity, sense of community, and humility. I was impressed by Simmi's thoughtfulness and desire to make the world a better place."
"So many people put in the time and energy to invest in me, and that has been realized as I enter the next chapter of my life. While graduating is exciting and terrifying all at once, I think the biggest thing it signifies is that I'm ready for whatever happens next. There's a lot of uncertainty but I know that with what I've learned here from my friends and faculty, I can face and overcome future challenges," concludes Sharma.