Rutgers Graduate Creates Golf Program to Tee Up Student Veterans for Success
When Jose Sagal needed an outlet to deal with the challenges of transitioning from life in the military to college at Rutgers, he found it on the golf course.
Sagal considered his time getting out of the classroom and onto the range so valuable, he was inspired to start a golf program for other student veterans. Now, after completing his master's degree in global sports business, he will be working to expand the program he started through a fellowship with the New Jersey PGA.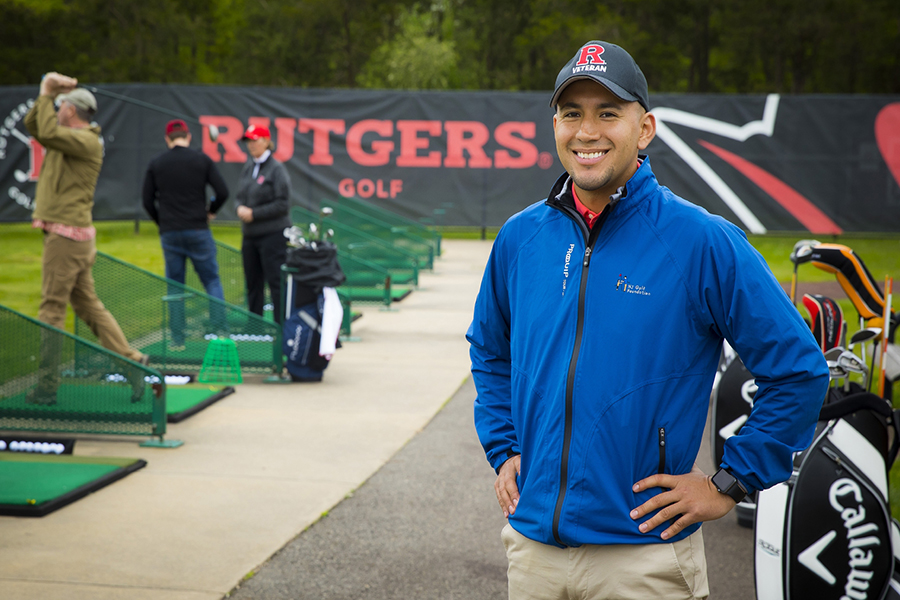 U.S. Army veteran Jose Sagal earned a fellowship through the PGA after launching a Rutgers program to support other vets. (Photo: Roy Groething)
---
"I'm thrilled,'' Sagal said about being chosen, "but I know that I have a strong responsibility in my hands to do this the right way so that others can benefit. It's a huge responsibility to make the program as best as possible."
Sagal, who grew up in North Brunswick after moving with his mother from Ecuador to the United States when he was 10, entered the U.S. Army immediately out of high school.
He was inspired by a sense of patriotism and wanted to follow in the footsteps of his father, who served in the military in Ecuador and remained behind when his son moved to the United States.
"I felt this country gave me a lot, and I wanted to give back," Sagal said. "Also, there was a culture of military in my family because of my father's service and I wanted to have the experience my dad had.''
Sagal became a paratrooper in the 82nd Airborne Division, settling at Fort Bragg in North Carolina, but was never deployed. "At the time,'' he noted, "that was a huge disappointment."
After three years in the Army he chose college over a military career and came home in 2014 to attend Rutgers.
But the pace of life as a student was different than he'd grown used to. He was aggressive in his studies and completed a degree in exercise science and sports studies in the School of Arts and Sciences at Rutgers University-New Brunswick in just three years. He then enrolled in the master's degree program in global sports business and graduated this May.
Throughout his time at Rutgers, when he needed refuge from the stress of college life, he found it on the golf course. He picked up golf while in the Army and became more serious about it in college.
"At Rutgers, there was a lot going on with school, the transition coming from the military into the civilian world, and part-time work. Golf eventually gave me an outlet to just decompress, an outlet to think about my own goals,'' he said. "And sometimes not to think about anything and just hit balls." (His first set of clubs was purchased at a garage sale).
It was also his way to relax.
"I would go to the driving range, watch YouTube videos, watch Tiger Wood and all that stuff,'' Sagal said.
As an undergraduate, Sagal started working for the Office of Veteran and Military Programs and Services at Rutgers, where he served as a recreation series program coordinator.
"With golf, you can play with clients, with your boss; there's the networking aspect." – Jose Segal
That is where he met Bryan Adams, the assistant director in the office who supported Sagal's idea to launch a program at the Rutgers University Golf Course for student veterans.
Another Army vet – a sniper wounded in Iraq during his three years – Adams's started a recreation program that offered hiking, biking, tubing down the Delaware, kayaking and skiing. When Jose approached him with the idea of adding,  Adams' reaction was, "Let's do it.''
"I told Bryan when I presented the idea that the outdoor adventures are fun, but asked what additional skills we are learning that we can take when we graduate?'' Sagal said. "With golf, you can play with clients, with your boss; there's the networking aspect."
Inspired by PGA HOPE (Helping Our Patriots Everywhere), the students receive weekly golf instruction from PGA Professionals, while developing networking skills to enhance their career prospects after graduation. The program, a 12-month paid position, is expected to expand through Sagal's work as a PGA fellow.
His primary responsibilities as a PGA WORKS Fellow will be to support programs that include the New Jersey Golf Foundation Golf Classic, PGA HOPE chapter programming, Golf in Schools, PGA Junior League, and Drive Chip and Putt.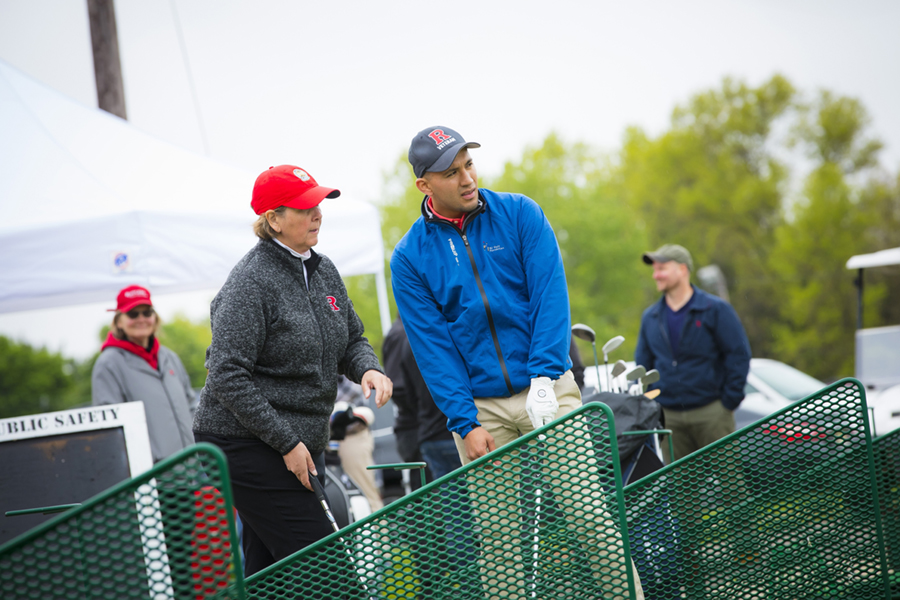 Sagal works on his swing with PGA professional Lisa Jenson (Photo: Roy Groething)
---
In addition to receiving the fellowship, Sagal was recently named Distinguished Student Veteran by the Rutgers Office of Veteran and Military Programs and Services.
"He is one of our most motivated, active students we've had here. He has been very influential in getting students involved with the program, he has a high level of passion and is a hard worker. I wish we had a 100 of him,'' Adams said.
Adams emphasized the strong bonds developed in the service. "When you come out, it's hard to find that again; you just kind of exist in the civilian world. People don't really understand what you've gone through,'' he said. "So having a program like this where you can be with people who do understand, and especially this time of year when you're spending hours and hours and hours studying, sometimes you need a break to re-center yourself and relax.
Adams estimates there are 2,400 vets between the three Rutgers campuses, with 1,100 enrolled in New Brunswick.
"I'm very grateful that the university allows us to do programs like this and has invested in the military veterans' community,'' Adams said.
"For me,'' Sagal said, "ideally, I want to someday have my own business. It may not necessarily be golf-related, but I want to build it with my values; a lot of which is to serve. I'm still young, and I want to accomplish a lot of things. So it's important for me to get out there and learn as much as I can.''