Rutgers Grad Helps Women's Basketball Improve Its Game, at Rutgers and for Team USA
Brian Shank recently volunteered at the Under-19 International Basketball Federation trials and the Pan American Women's National Team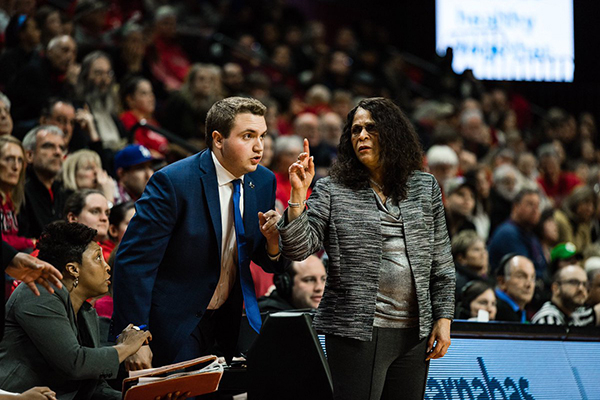 Brian Shank's dedication to Rutgers women's basketball runs so deep the players jokingly call him Brian Stringer, an honorary son to their legendary head coach C. Vivian Stringer.
He is entering his fourth full-time season with the program at Rutgers-New Brunswick, where he works as coordinator of operations/video coordinator. Shank, a 2016 Rutgers graduate, plays a crucial behind-the-scenes role and is often at Stringer's side.
His love for the game is in his DNA. His mother, Kathleen, is a former Rutgers assistant basketball coach and was a graduate assistant for Stringer when she coached at Iowa. His aunt is Theresa Grentz, Rutgers first women's basketball coach and the first full-time women's basketball coach in the country. His mom remains at Rutgers as a senior academic advisor in athletics. His father is also a Rutgers grad.
Shank stays busy even after the season ends. That is when he organizes spring recruiting visits, preps for evaluation periods, sets up spring practices, team activities, and meetings about the new RWJBarnabas Health Athletic Performance Center opening in the fall. He also traveled on a recruiting evaluation weekend with coaches to the Virginia area. Despite all his spring responsibilities, he jumped at the chance to volunteer at the United States Olympic Training Center in Colorado Springs this summer. He served on the Team USA support staff for the Under (the age of)-19 Women's World Cup trials, as well as the Pan American Women's National Team trials.
His duties out there included gathering and distributing equipment, shuttling coaches and athletes to and from the airport, setting up courts for workouts, doing laundry for players, running the clock during practices and keeping statistics.
"I agreed to go to the trials because when USA basketball asks you to serve, you serve. My mom and my aunt had the opportunity to serve USA basketball in different capacities over their careers, so things have just come full circle,'' Shank said. "For me to build relationships with the staff and other college coaches, that's pretty special. The thing I enjoy the most is the people you meet. You come together four or five days and you share this special bond because you're representing the United States.''
Shank wasn't on the court for the Pan Am Games in July. Instead, he returned home to Somerset, N.J. That's a short distance from the Rutgers Athletic Center, which has become his second home. It's not unusual for him to go home, get in bed, click the remote, have his projector screen drop from the ceiling and watch team videos.
During the regular season Shank scouts upcoming opponents' film for game preparation. He'll also break down Rutgers drills from practice, and after games cut up film and breaks down the offense and defense; providing coaches what they did well, what they did not do well and why. 
He and an assistant coach prepare reports on the next two to three upcoming opponents, assessing a team's personnel, their offense, defense and special situations. "The report needs to be ready right after the most recent game,'' he pointed out. "Coach Stringer will go home that night and she'll watch that report because she has to be ready the next day to present it to the team.''
At games Shank sits next to Stringer, charting the offense, conversing and taking notes that Stringer will implement at the next day's practice. Some of that is shared with the team at halftime.
"When you talk about taking the words off the page and putting them into real life, that's what Brian does,'' assistant coach Tim Eatman said. "And he does it with a sense of humbleness and a sense of pride.
"He sits in on every meeting and is an integral part of what we try to do to get this program back to national prominence,'' Eatman said. "There's been days when Brian has taken videos to Coach Stringer's house at two o'clock in the morning. There's nothing that moves during the season that doesn't affect him, that he doesn't put his hands on.''
Said Stringer, "Brian is just crucial. He is key to our success and always has been, and will do whatever he needs to do to support Rutgers. He is a high-level professional and a special young man, and I feel like he's my son.''
Team managers handle videos during games, though Shank routinely checks to make sure they are coding everything correctly. Prior to landing the full-time job he was a team manager his final two years as a Rutgers student. His assignments included itineraries, hotel plans, meal plans, gear, and inventory. He still assists in those areas.
"During the season he hears his name called probably more than all the players combined,'' Eatman said. "It's to the point where during a staff meeting, I will ask him, 'Can you actually do that? Don't over-extend yourself, because you're only one person.
"Marketing," he adds, "will depend on Brian. Our vision will depend on Brian. So everyone is depending on Brian because of the fact he's involved with everything that's part of our program. Everything this program stands for, and everything we want the public to see, actually come out of his office.''
In mid-June, for example, Shank was director for a girls' Rutgers summer camp. No extra pay of course. Nor was there compensation in Colorado Springs.
"You're volunteering your time,'' said Louisville coach Jeff Walz, head coach of the U-19 team. "That says volumes about him, his work ethic, his commitment. He's just a good person and fun to be around.''
It might sound like a lot to take on. But for Shank, who earned his undergraduate degree in exercise science with a concentration in sports management, it's fulfilling a dream.
"I always wanted to go to Rutgers and to work in athletics,'' he said.
Though he never played the game, even in high school, being a coach is something he has long desired. For now his position remains much more general. But the passion remains.
"I grew up around coaches my whole life,'' he said. Pausing, he added with a smile, "I don't have much of a life. Basketball is who I am.''