Rutgers' Flagship Enhances Website to Improve Storytelling, User Experience, Accessibility
A newly designed newbrunswick.rutgers.edu site launches today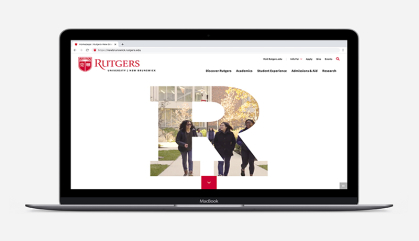 Rutgers University-New Brunswick relaunches its website today into a modern virtual experience. 
The new site, which will serve more than two million visitors this year, has been updated to incorporate stronger photography, more interactive elements, more video and richer storytelling. It also includes a complete content overhaul that speaks to its largest external audiences -- prospective students and parents.
"The redesigned newbrunswick.rutgers.edu site gives us an opportunity to represent the campus experience in a more visually modern, consistent and impactful way," said Jennifer Hollingshead, vice chancellor for Marketing and Communications at Rutgers University-New Brunswick and Rutgers Biomedical and Health Sciences. "With 55 percent of prospective or recently enrolled students in the U.S. visiting a college website to inform themselves about an institution, prospective Rutgers students will now be able to experience Rutgers-New Brunswick through a fresher lens."
One new content feature is Rutgers for Real, which shares student stories and perspectives on what campus life is like. It's a chance for prospective students to learn about a day in the life of Rutgers from students themselves, Hollingshead said.
Additionally, the new newbrunswick.rutgers.edu site includes:
a 

cost estimator 

tool that enables prospective students and parents to calculate the cost of attending, including tuition and fees for in-state and out-of-state residents;

content features that highlight the bustling and vibrant New Brunswick community to better illustrate the 

student experience

; 

a more visually forward perspective of the 

schools and colleges

 at Rutgers-NB and RBHS;

content features that highlight faculty and students, among others.
The website updates are the first in a phased series of updates that will be ongoing. 
Why Is the Site Changing?
The redesign of newbrunswick.rutgers.edu is one part of a larger web transformation project shared between University Communications and Marketing (UCM), Rutgers Communications and Marketing (R-Comm) and the Office of Research and Economic Development (ORED).
R-Comm manages the Rutgers University–New Brunswick website, while ORED manages university-wide research sites, including research.rutgers.edu. Rutgers.edu was redesigned earlier this year, and research.rutgers.edu will launch later this year. All three sites were redesigned as part of a collaboration to streamline the development of each site and collectively will:
showcase Rutgers' strengths;

unify Rutgers' design and messaging;

provide an improved experience for site visitors;

allow prospective students, faculty and staff to see themselves at Rutgers;

create accessible websites for people with disabilities on an upgraded technical platform.