While the COVID-19 pandemic has hampered many traditional sports programs, the growth of esports – competitive video gaming – is giving Rutgers and other academic-led teams an outlet to compete that can continue despite the virus.
"We've largely been able to operate unimpeded," said Rutgers Esports President Seth Santos. "Although we obviously can't meet in person right now, we are together online. Our club has actually been strengthened a bit, because we appreciate our avenue to socialize even more."
Esports is growing in popularity at universities across the country including Rutgers, which has more than 2,800 members on its digital engagement and gameplay distribution platform - known as a discord - and has created a state-of-the-art center for gamers.
Esports is more than kids playing video games. It's a very enriching community that caters to everybody, everywhere.

Seth Santos

Rutgers Esports President
In 2019 Rutgers' Heroes of the Storm team beat Cal Poly Pomona 3-1 in the grand finals of the Tespa Collegiate Series at the George R. Brown Convention Center in Houston, an event covered by ESPN.com. The six winning team members received scholarship money and a laptop.
Rutgers Esports Center, the new gaming hub on the Busch campus, is slated to officially open when students are able to return to campus, led by director Michael Fay.
It will feature 60 state-of-the-art gaming PCs, console lounge, virtual reality station, broadcast studio and a competitive lounge to review game play and discuss strategy.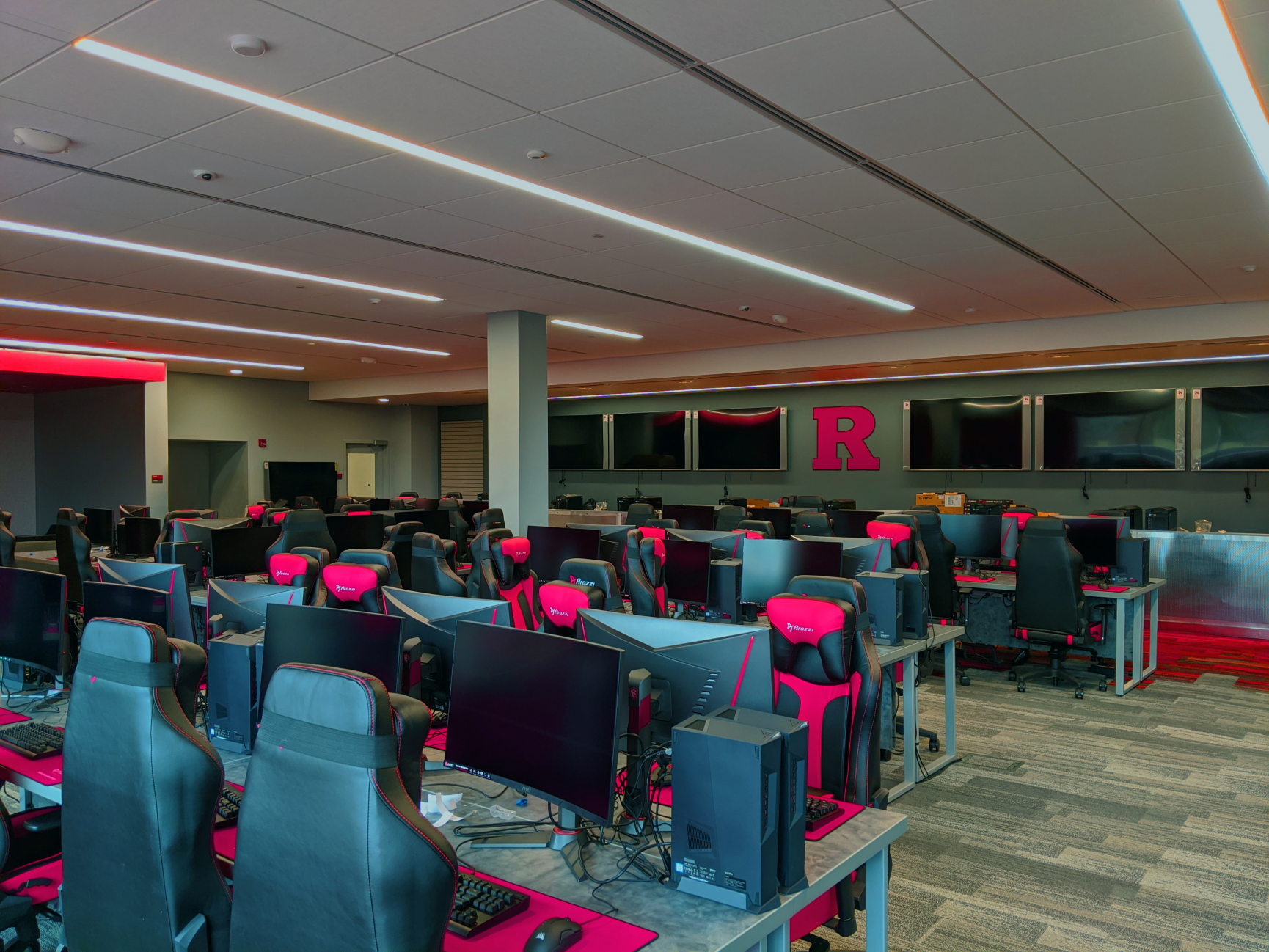 "It's huge for the club," said Fay, a former director of esports and head coach at The University of Akron who also serves as an advisor to the 12 officially sponsored gaming clubs. "The center will give access to the equipment needed to compete at the highest level, without students having to maintain or purchase it themselves.
"More important, it will create an opportunity for students that share the same interest to meet face-to face and actually gain hands-on, interpersonal work experience in all of esports, including broadcasting, event management, and commentary and analysis."
The popularity of esports at Rutgers is aligned with industry growth. Esports revenues are expected to increase to $1.1 billion in 2020, a 15.7 percent from 2019 while its global audience will expand to 495 million people. These esport video gaming competitions will even be included in the 2024 Summer Olympics in Paris.
"Esports is more than kids playing video games," said Santos, an information technology major in the accelerated master's program. "It's a very enriching community that caters to everybody, everywhere. It fosters all levels of skill and mindset. Yes, there are competitive groups, but it's fundamentally about fostering an inclusive community."
Prior to the pandemic, meetings took place every Friday evening on the second floor of the Science and Engineering Resource Center. Now meetings are held virtually.
One of the long terms goals of Rutgers Esports is to offer scholarship money to aid in recruitment and retention of top players. Although Rutgers has a Tespa charter, which enables players to compete for scholarship money through events and tournaments, it does not formally sponsor varsity esports scholarships.
Per the National Association of Collegiate Esports (NACE), the governing body of collegiate esports, 117 colleges currently provide athletic and/or academic aid for esports, including 16 that compete at the NCAA Division I level.
"We receive emails all the time from prospective students inquiring about whether or not we offer scholarships," said Santos. "Unfortunately, we have to say no, but in the immediate future we hope to establish a better foothold within the University. We have grown to become the biggest collegiate esports organization on the east coast."