Rutgers Doctoral Graduate Makes Helping Bilingual Students Her Mission
High school teacher Amanda Lowry earns doctorate at Rutgers' Graduate School of Education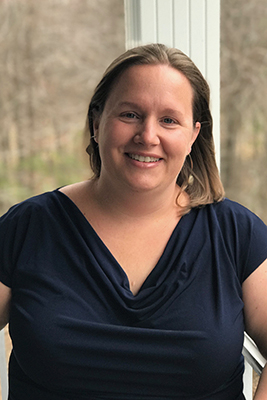 Amanda Lowry's path to pursuing a doctorate at Rutgers University–New Brunswick's Graduate School of Education began with an undergraduate degree in engineering, a stint as a Peace Corps volunteer and teacher in Uganda, and a job teaching math to New Jersey students for whom English is a second language.
"I knew I wasn't interested in becoming an engineer but I wasn't sure what to pursue. I didn't realize the personal fulfillment I would receive after working with these underserved populations," she said of the winding road that followed her undergraduate degree.
Her Peace Corps experience, in which she spent two years traveling the eastern Africa country and teaching in its school system, inspired her to pursue a master's degree in comparative and international education. That led to a teaching position at Hunterdon Central High School while the school was beginning to introduce ESL math courses. Lowry has been teaching there for the last eight years.
She describes ESL math as "filling in the holes as students make the transition from one educational context to another." It helps reduce the linguistic complexities while keeping the math rigorous.
She will earn her doctorate from the Graduate School of Education, where she wrote her dissertation on immigrant students' experiences with high school math, in May.
"The students I work with every day inspire me. I knew this degree was a next step in helping them, and I chose Rutgers in part because it gave me the flexibility to continue teaching while pursuing my doctorate."
"There is a lot of research on kids that were born in the U.S. or came here when they were younger – but not on students like mine, who went to school in other countries before facing the new and different expectations of the American system," Lowry said.
Students experience the educational differences in various ways. One student achieved near-perfect scores on math tests – but would not attempt word problems, having never encountered them before.
In addition, many of her students face immigration-related challenges such as separation from family members, having family members with different immigration statuses, and poverty.  But, she said, the students are resilient and want to succeed.
One of Lowry's former high school students, Lisseth Lainez, is now a junior accounting major at Rutgers Business School.
"Ms. Lowry had a big impact on me when I came to the U.S. She was very patient when I didn't understand English, and took extra time and effort to explain everything in detail so I could understand," Lainez said.
"In her classes, I found a passion for numbers which led me to take an intro to accounting and finance class at high school, and that inspired me to become a business major in college. Ms. Lowry taught me to be so passionate about my career, just as she is. Many other ESL students feel the same way."
Lowry said, "I never want my students to feel out of place. I chose to pursue this Rutgers doctorate to better understand how I can help students from immigrant populations grasp math and graduate – and so future teachers will be able to see what I've learned and experienced."