Rutgers Dedicates Plaza to Paul Robeson, Renaissance Man for the Ages
The dedication illustrates the entertainer-activist's relevance to today's conversations about social justice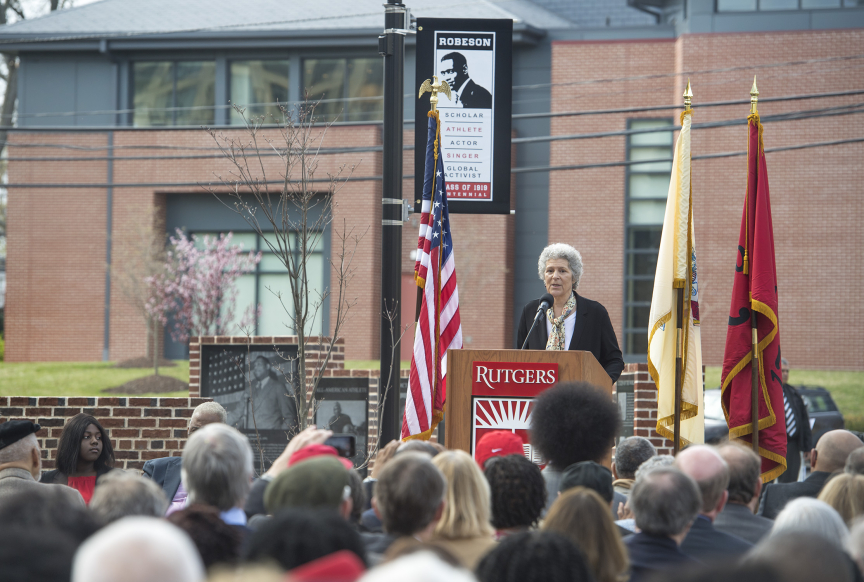 Celebrating the 100th anniversary of the graduation of its most acclaimed alumnus, Rutgers University dedicated a plaza named for Paul Robeson on Friday to honor his legacy as distinguished a scholar, athlete, actor and global activist for civil rights and social justice.
The open-air plaza, which features eight black granite panels detailing the story of Robeson's life, stands in a prominent location next to the Voorhees Mall on the College Avenue campus at Rutgers–New Brunswick. The Paul Robeson Plaza was unveiled Friday during a ceremony that attracted hundreds of students, alumni and community members.
"There's no question, as you've heard, that Paul Robeson is among the greatest of the hundreds of thousands of Rutgers alumni – simply one of the greatest," Rutgers President Robert Barchi said. "In fact, we may never see again so many talents combined in one person – a superior scholar, an all-American athlete, a world-renowned singer and actor, a spellbinding orator and a passionate activist and humanitarian."
Robeson's granddaughter, Susan Robeson, said "what was so extraordinary about my grandfather was that the more successful, the more wealthy, the more famous, the more accomplished he became as a singer and an actor, the less focused he was on himself and the more attuned he became to the suffering of others. To him, all the success in the world was meaningless if it didn't benefit someone else."
"My greatest hope is that students today strive to become global citizens who transcend boundaries and engage with the issues of peace and social justice in every corner of the globe and, like Paul, never fear to speak truth to power," she added. "My grandfather often said, 'I'm not free until we're all free,' and he wasn't just talking about black folks. He was talking about every single person who walks on the planet Earth."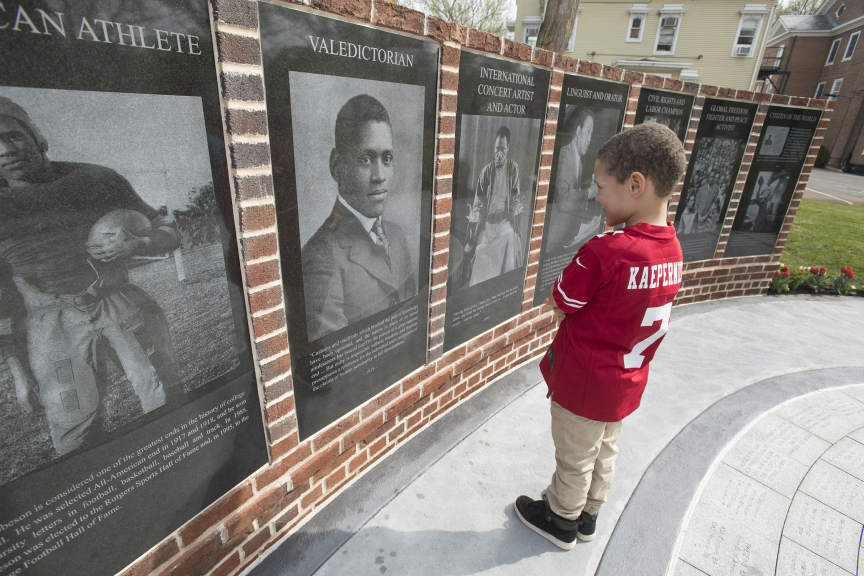 The plaza was envisioned and championed by the Class of 1971 for its 45th anniversary, with strong support from the Rutgers African-American Alumni Alliance, Inc.
"President Barchi, this is our milestone gift and it is the hope of the Class of 1971 that the Paul Robeson Plaza will stand as a public and lasting tribute to the extraordinary life and legacy of Paul Leroy Robeson and will serve to inspire future generations to stand up, to speak out (on) social injustice and human rights with Paul Robeson as their model and their mentor," said Claude White, president of the Rutgers College Class of 1971.
In the 20th century, Robeson was a quintessential Renaissance man who championed equal rights. Globally recognized at the time, his name faded from public consciousness even though the issues of justice and equity have flared anew, from Black Lives Matter to the #MeToo movement.
Black Lives Matter cofounder Opal Tometi recently told a Rutgers audience that today's civil rights movement wouldn't be possible without Robeson and Martin Luther King Jr. "Robeson is so important because he paved the way for us to have a global perspective on our movements," she said.
Paul Robeson Plaza was dedicated on April 12
---
Robeson, a native of Princeton, attended Rutgers College in New Brunswick on an academic scholarship, becoming the university's third African-American student. He soon became a star scholar with a consistently high grade point average. In his junior year he became one of only four classmates admitted to Phi Beta Kappa and, in his senior year, was one of four men chosen to join the Cap and Skull Honor Society.
He earned acclaim as an orator and singer while at Rutgers, and won oratorical competitions each of his four years.  At his 1919 graduation he gave the valedictory speech titled "The New Idealism," which called upon his audience to fight for a government where "character shall be the standard of excellence."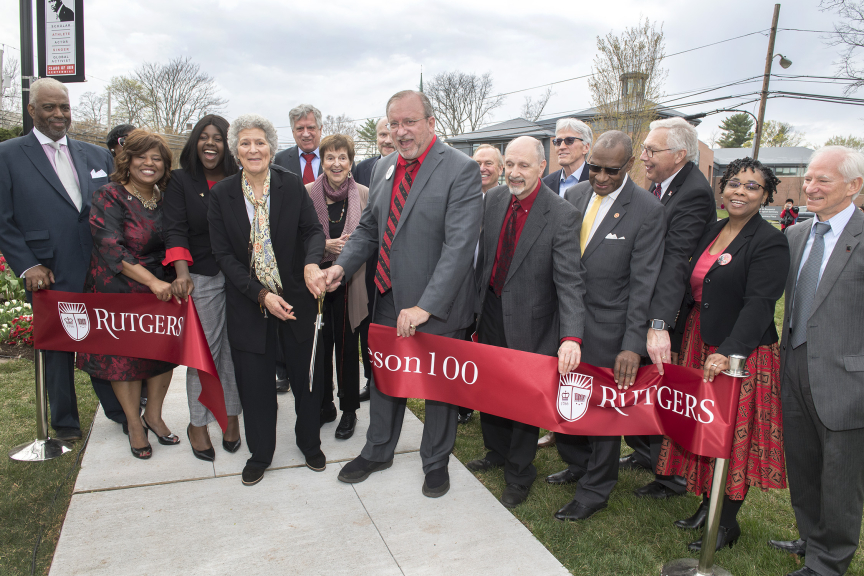 Robeson also excelled as a Rutgers athlete. He was the university's first black football player and was named an All-American in 1917 and 1918. He won 15 varsity letters in football, baseball, basketball and track.
He persevered at Rutgers despite the racism he faced. On one occasion, the football coach benched Robeson when an opposing team refused to take the field against a black man – though the coach regretted that decision and refused to give in the next time such a request was made.
After Rutgers, Robeson earned a law degree at Columbia Law School and then launched a successful career as a performing artist. Robeson's deep baritone led to fame as a singer. He starred in films and plays and, as Othello, led the longest-running Shakespeare play in Broadway history.
Robeson used his fame to advocate for the rights and dignity of African Americans and oppressed people throughout the world. He spoke out for the rights of miners and other workers; for India's independence; and for the anti-fascist cause during the Spanish Civil War.  His relationship with the Soviet Union generated controversy and attention from the House Un-American Activities Committee.
But, as shown in his song "Ballad for Americans," he expressed a view of the common humanity of all Americans and belief in America's promise: "Our country's strong, our country's young, and her greatest songs are still unsung."
---
This year marks the centennial anniversary of Robeson's graduation from Rutgers College in 1919. In recognition, the Rutgers community is honoring his achievements in a yearlong celebration featuring lectures, performances, art exhibitions and more. Learn more about the celebration by visiting robeson100.rutgers.edu or by following #Robeson100 on social media.